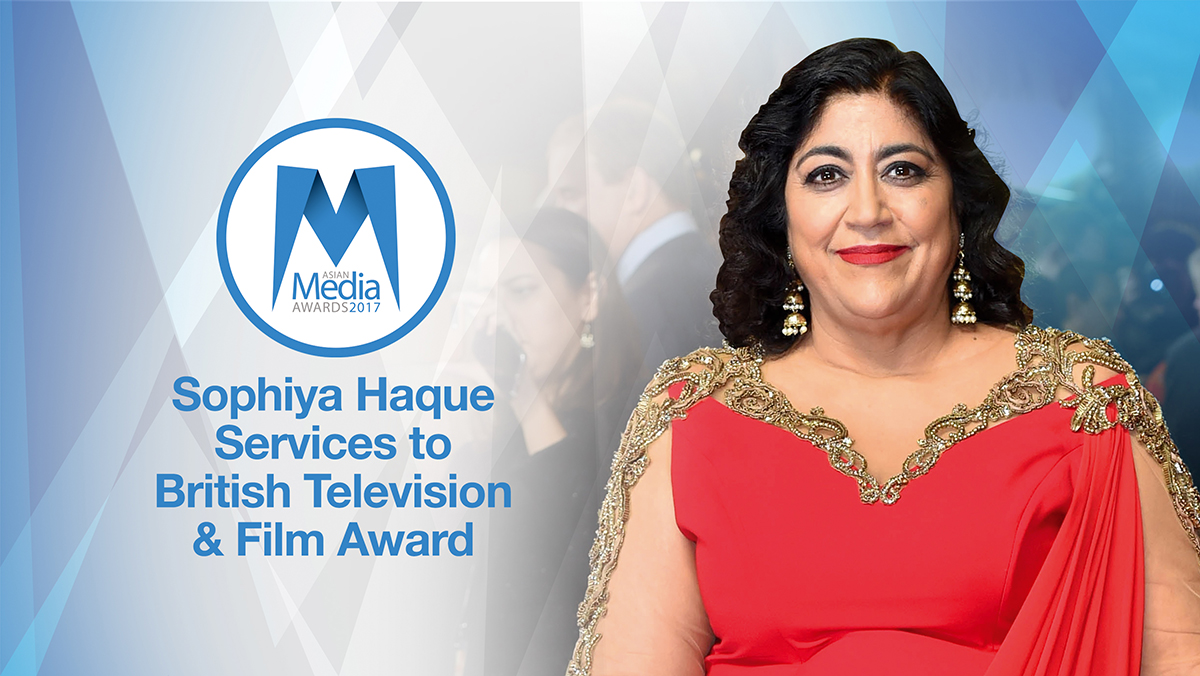 Film director Gurinder Chadha was honoured with the Sophiya Haque Services to British Television and Film Award at the 2017 Asian Media Awards.
The Asian Media Awards, honours journalists, broadcasters, presenters, bloggers and marketing professionals and took place at the Hilton Manchester Deansgate.
Gurinder is one of the world's most respected film director and producers.
Her award-winning films such as Bend It Like Beckham, Bride and Prejudice, Angus Thongs and Perfect Snogging have earned over £200 million.
Her latest film released earlier this year was Viceroy's House.
The release of Viceroy's House was timed to coincide with the 70th anniversary of the partition of British India with the hope that the film will help people who are still affected by the legacy of Partition and ongoing tensions between India and Pakistan.
It was she admitted a quite personal journey and one which also inspired her to highlight the forgotten stories behind this historical event.
Sayera Haque, sister of Sophiya and nephew Adam Barak introduced a personal message from Gurinder to the audience.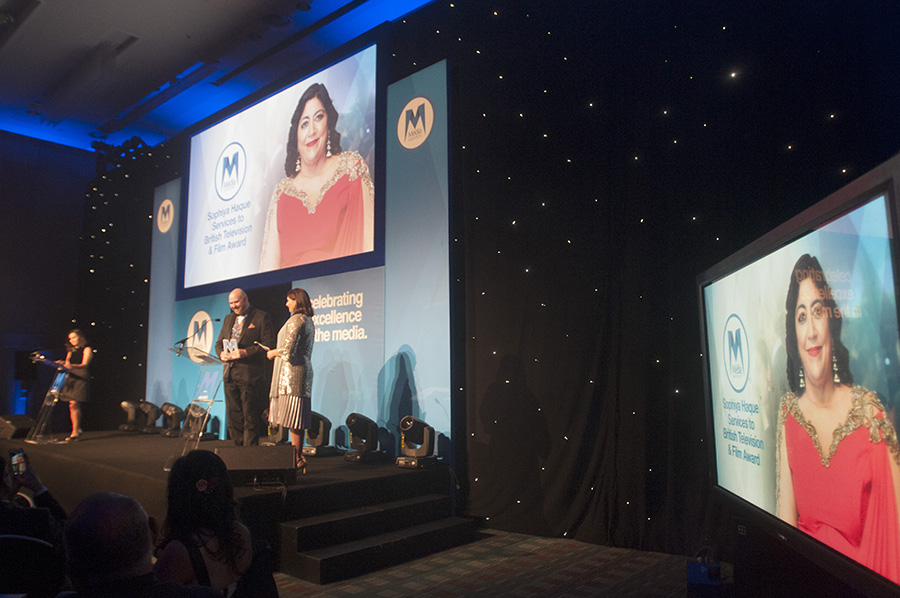 Gurinder said, "I want to thank you all at the Asian Media Awards for giving me this wonderful award and recognising my work in the media.
"It has been quite a long time since I have been working in the media.
"I started off as a BBC local news reporter in the West Midlands in Radio WM and worked my way through television to movies and back into television which I love.
"I think that this is a time when it is really important that we are out there.
"My congratulations to all the other winners who are pushing themselves forward and making our voices heard and making our faces be seen.
"This is the time where we really must stand up and be counted."
She added, "I'm also delighted that it's the Sophiya Haque award. She was an amazing actress and it's wonderful to have a little bit of a connection with her for this award."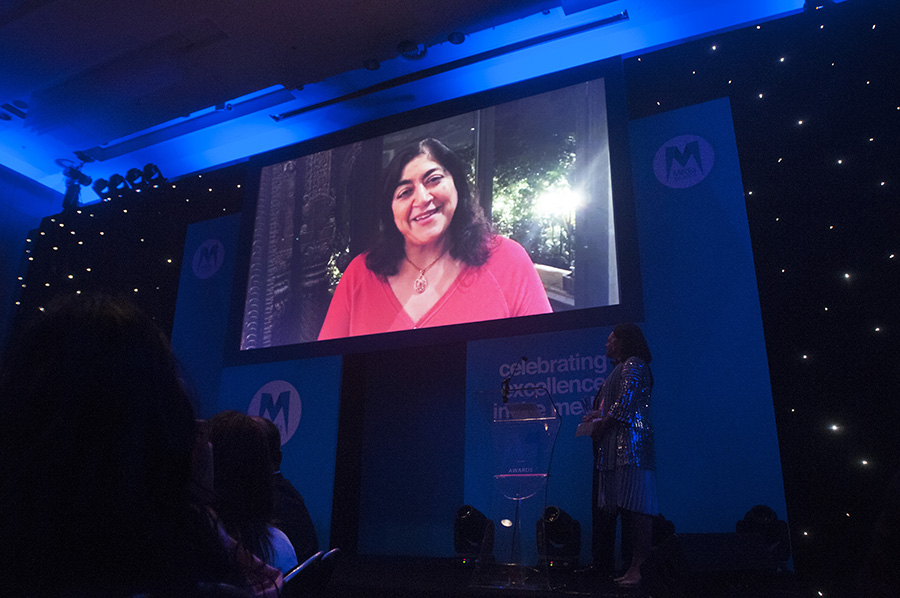 Born in 1960 in Kenya, Gurinder and her family were forced to move to India due to political tensions leading up to Kenya's independence from Britain. In 1961 she moved with her parents to Britain, where she grew up in Southall, London.
At an academic level Gurinder faced many challenges from teachers who dissuaded her from pursuing her ambitions.
Through her determination, she went on to study at the University of East Anglia and for her degree spent a year in Amritsar, which would later be the setting for Bride and Prejudice.
Following her degree Gurinder became a broadcast journalist for the BBC.
She rose quickly from researcher to reporter and then director and made several documentaries about the British-Asian experience.
Under a BFI programme she made a short film about bhangra music called 'I'm British But…'
She directed her first feature film, comedy-drama Bhaji On The Beach, in 1993, following three generations of British Asian women on a day out in Blackpool, making her the first British Asian woman to direct a major feature film.
Gurinder's most accomplished and commercially successful film to date is Bend It Like Beckham (2002), the story of a young Asian woman trying to pursue her ambitions as a footballer while accommodating the demands of family and tradition.
After many requests to produce a sequel, Gurinder turned her hit film into a successful West End musical.
In 2006 Gurinder was awarded an OBE for services to the British film industry.
Gurinder's films have received nominations from the Golden Globes, BAFTA, European Film Academy and the Writers Guild of America.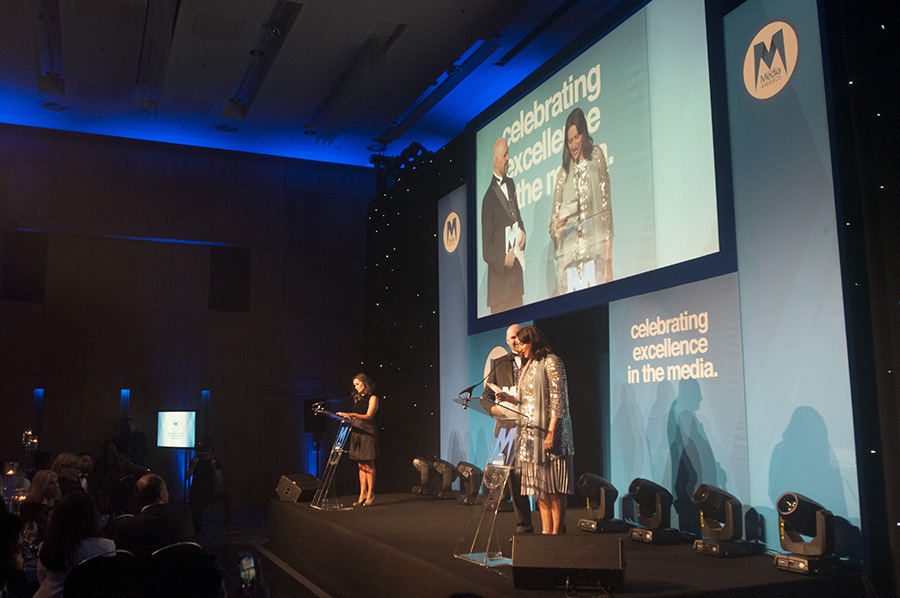 ---
The Asian Media Awards were held at the Hilton Manchester Deansgate on Wednesday October 25 2017.
The University of Salford were premier sponsors and partners to the event include ITV, MediaCom, M.E.N, Press Association Training & Primesight.
The official Charity Partners for 2017 are Sightsavers.
The event is also supported by Manchester Metropolitan University, Routes Into Languages, AMT Lawyers, Hilton Manchester Deansgate, Tauheedul Education Trust, Supreme Dream Events, Payal and Cleartwo.