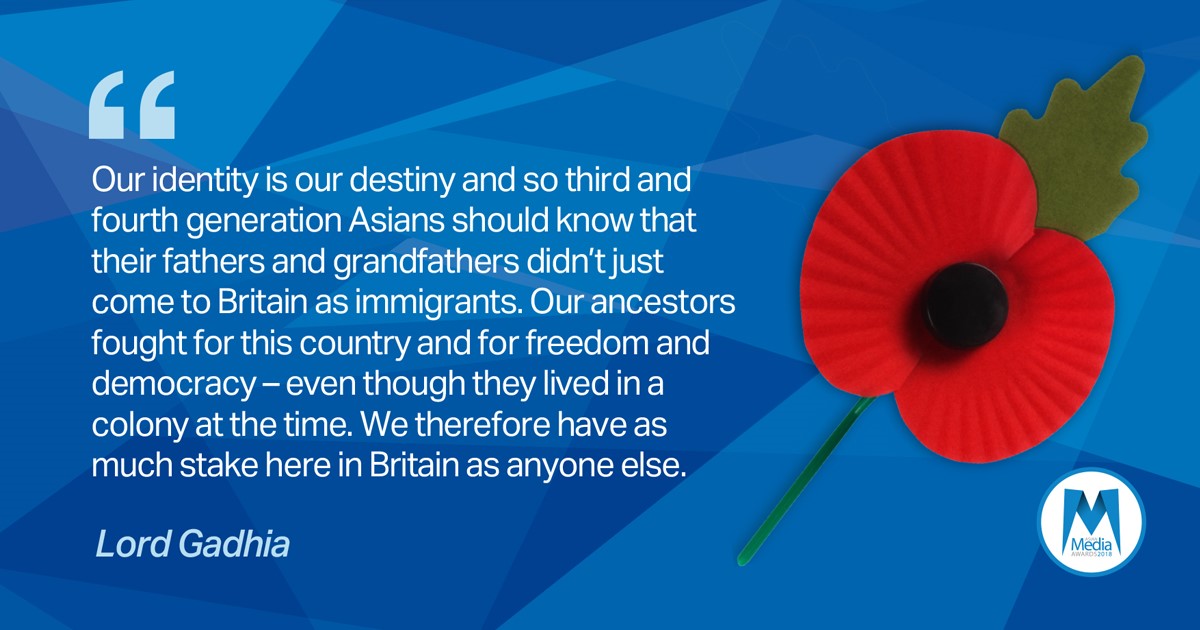 The hundredth anniversary of the end of the First World War will be on November 11th 2018. Ahead of this momentous date Lord Gadhia has been aiming to highlight the contributions of those from South Asian background who sacrificed their lives for Britain.
On Thursday 25th October he will join guests from across the UK at the sixth Asian Media Awards in Manchester.
'Our ancestors fought for this country and for freedom and democracy – even though they lived in a colony at the time,' says Lord Gadhia who is leading a campaign to honour those who died in the Great War.
In this special interview he tells us why it is important, now more than ever to honour those who have died in all wars.
Lord Gadhia said, "With time, the contribution from the Commonwealth has tended to fade, as we have lost the generation who fought and their own personal stories.
More than 1.3 million soldiers from undivided India served in World War One across multiple continents, from the Somme to the Sahara, and over 74,000 lost their lives. They fought with courage and distinction, with 11 individuals awarded the Victoria Cross for their outstanding bravery.
And Indians not only put their lives on the line but also made a generous financial contribution of over £20 billion in today's money, as well as providing 3.7 million tonnes of supplies, over 10,000 nurses and 170,000 animals to the war effort."
But Lord Gadhia said figures alone don't do justice to the human dimension.
"These were predominantly young men, who had travelled thousands of miles by ship from their homeland to fight a distant war.
"They adjusted to a cold and harsh climate with completely different food, language and customs. The first Indian soldiers arrived on the Western Front within six weeks of the outbreak of war, poorly prepared for the freezing weather, grappling with unfamiliar equipment and lack of ammunition. Some didn't even fully appreciate the cause they were fighting for – but they did their duty and their nation proud.
This massive contribution has not necessarily been airbrushed from history. David Lloyd George, who served as Prime Minister during the last two years of World War One, was very clear about the impact of the Commonwealth armed forces:  'had they stay stayed at home…the history of the world would have taken a different course'. The onus is on us to take this powerful message further and not forget this invaluable contribution as we mark this year's special anniversary. "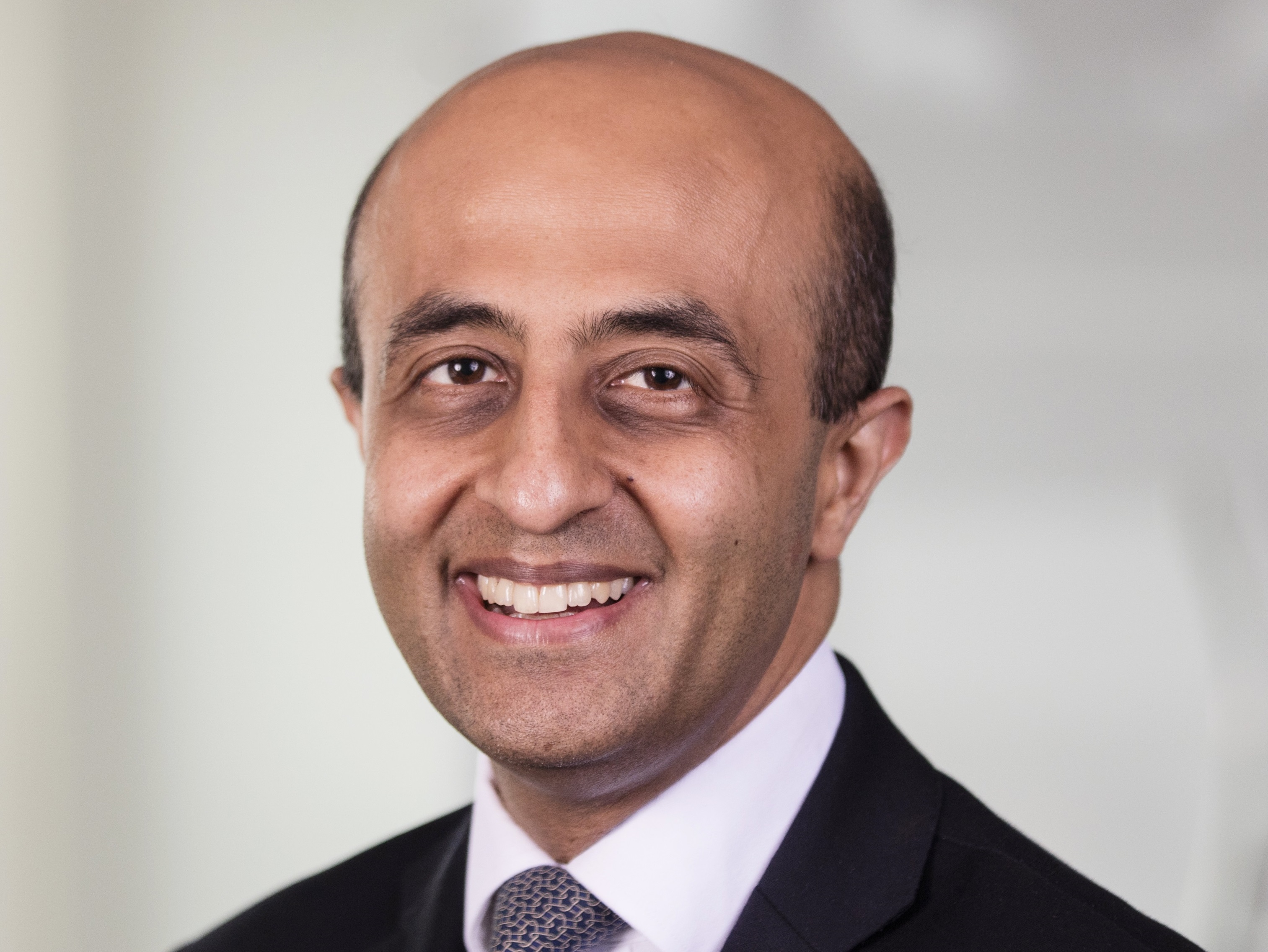 During  the past year Lord Gadhia said he had the privilege of working closely with The Royal British Legion – famous for the Annual Poppy Appeal – on a series of activities to thank, remember and honour everyone who served, sacrificed and changed the world 100 years ago.
A specially commissioned video has been released narrating some of the stories and includes original photographs from the time.
A converted double-decker bus, with a travelling exhibition, is visiting schools and community centres around the country supported by the Golden Tours Foundation.
He said, "We have also created a unique Khadi poppy, the handwoven cotton closely associated with Mahatma Gandhi and the freedom movement.
"I am delighted that the England and Indian cricket captains, Joe Root and Virat Kohli, became the first to wear these specially commissioned poppies during the final test match at The Oval.
"The Khadi poppy is particularly symbolic. It has not been created to simply separate out the South Asian contribution to the war effort, from others. To the contrary, the Khadi poppy is designed in every way possible to look like the poppies we wear every year.
"Therein lies its beauty – it is the ability to appreciate the contribution from the Commonwealth and South Asia, but yet simultaneously integrate and embed this within the collective Allied war effort.
So, I hope everyone joins in these wonderful initiatives and campaigns to say our heartfelt thank you to the First World War generation – expressing our eternal gratitude for all they did for us."
Lord Gadhia said history would very much have taken an alternative course had the Commonwealth not played a role in the War effort.
"I certainly believe this ought to be highlighted more, and particularly for those who trace their history back to South Asia. We should certainly take the lead and be pro-active in highlighting the Commonwealth war effort.  It sends an important signal to young Asians growing up in Britain.
"Our identity is our destiny and so third and fourth generation Asians should know that their fathers and grandfathers didn't just come to Britain as immigrants.
"Our ancestors fought for this country and for freedom and democracy – even though they lived in a colony at the time.
"We therefore have as much stake here in Britain as anyone else. British Asians should be proud of the role that their forbears played in shaping the destiny of the world."
---
Winners and recipients of AMA special awards will be announced at the Hilton Manchester Deansgate on Thursday 25 October.
Previous recipients of an Asian Media Award include Krishnan Guru-Murthy, Waris Hussein, Art Malik, Mehdi Hasan, Nina Wadia and Anita Rani.
The University of Salford are premier sponsors and partners to the event include ITV, MediaCom, M.E.N, Press Association Training, Primesight & The Palace Theatre & Opera House.
The official Charity Partner for 2018 is CLIC Sargent.
The event is also supported by Manchester Metropolitan University, Routes Into Languages, Namey, AMT Lawyers, USI Money, Hilton Manchester Deansgate, Supreme Dream Events, Payal Events & Cleartwo.