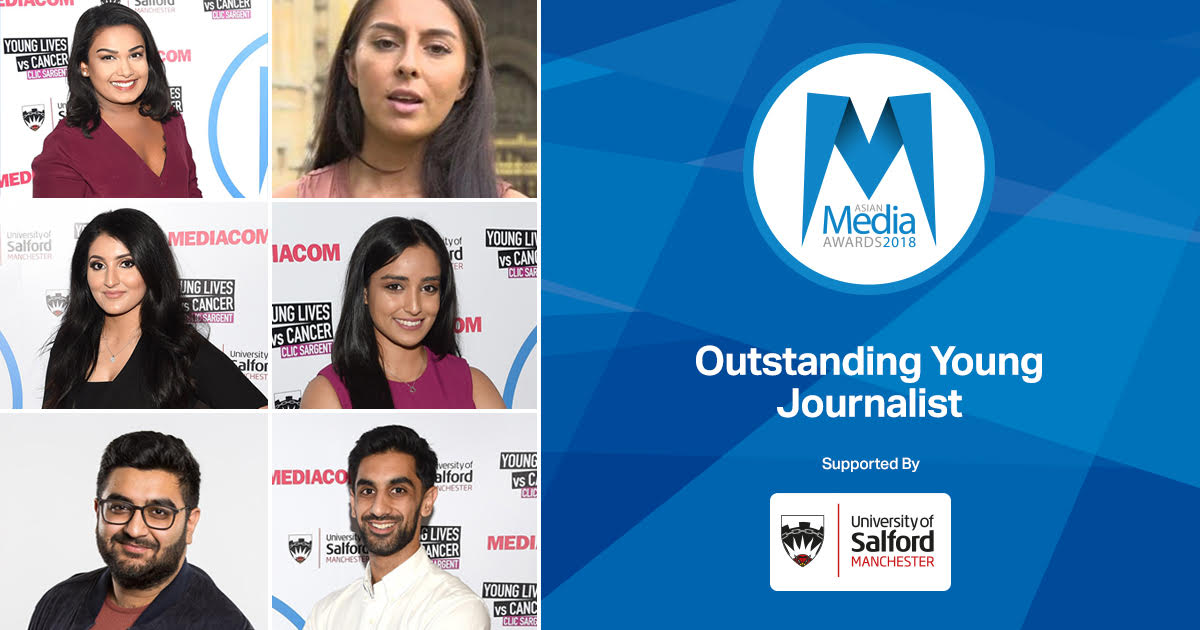 The 2018 Outstanding Young Journalist category finalists are six reporters and presenters who have tackled a range of issues at regional and national level. This category is supported by the University of Salford.
Ashna Hurynag  – Journalist, ITV News West Country
The multi-talented Ashna produces and presents regional bulletins for both ITV News Country and Good Morning Britain. She also produces a political show from Westminster, the West Country Debate. During the qualifying period she has reported on how some residents claim in parts of Bristol landowners are exploiting the housing crisis in the city by converting garages into residential properties.
She investigated the background to a case of a woman from Bath who was jailed for five years for exploiting teenage girls from Vietnam and using them as modern slaves. Ashna reports from live events regularly and is also a 'Diversity Champion' at ITV West Country.
She runs quarterly meetings with the public, getting them to engage with what the newsroom produces.  In May 2018, Ashna joined ITV Cymru Wales on a secondment as an on-screen journalist.
Miriam Walker-Khan – Sports Journalist, BBC
In a short period of time Miriam has produced and reported on a number of high-profile sports stories. During the past year Miriam has produced a story on the hijab in sport for TV, radio and digital where she interviewed Olympic medallist Ibtihaj Muhammad.
Her first TV package saw her pitch, plan, produce and edit the piece, which explored a new Para sport, a feature close to her heart.
Her first piece for gal-dem magazine focused on Stormzy, mental health and fatherlessness. She won gal-dem magazine's first Journalism of the Week award for a story she wrote on the rapper Lowkey and his tribute to Grenfell Tower.
Her feature Man City playing 'best football in Premier League history' appeared on BBC Sport Online.
Amani Khan – Journalist, Granada Reports/ ITV News
Amani has been with Granada Reports for two years and during that time has been instrumental in producing a number of high-profile reports.
Within just months of starting the role she set out to make a special series about Forced Marriage. Her exclusive report was transmitted which accurately represented the truth behind forced marriages and looked at statistics that showed how many young girls turning 16 are taken away after their GCSE's during the summer holidays to marry against their will.
As well as her forced marriage piece she has worked on exclusive reports on the first Muslim panto in Manchester, a story about how Muslim communities in Blackburn were coming together to lower levels of loneliness at Christmas as well as the Northern Rail chaos, the moorland fires in June and the anniversary of the Manchester Arena bombing.
Ravneet Nandra – Production Journalist, ITV News Meridian
Ravneet Nandra only joined ITV News Meridian in December 2017 and has reported on national and regional issues affecting the South, South East and Thames Valley.
This has included the ongoing stories surrounding the Russian nerve agent poisonings in Salisbury and the joyous occasion of the Royal wedding in Windsor. On one of her first weekends as a news producer she managed to secure an exclusive interview with Sir Christopher Chope. The MP made headlines when he blocked the so-called 'upskirting bill' in parliament.
She has just become one of the youngest members of the team to take on the demanding role of Chief News Editor. Ravneet regularly produces the station's lunch and late news but can also craft edit and is also camera trained.
Ravneet is credited with generating 1.2 million views on ITV Meridian social media platforms since joining the team.
Inzamam Rashid – Reporter & Presenter, BBC
Inzamam produces content for radio, television and online and BBC Radio Manchester.
He reported from the Moorland fires on Saddleworth and Winterhill and was instrumental in an investigation into a Manchester mosque attended by the Manchester Terror Attack bomber.
Inzamam has delivered some of the first reports on the growing Spice drug problem and reported live from the border of India and Pakistan for the 70th year of Partition. He spent time with Amir Khan's family at the family home as they watched 'I'm a Celebrity Get Me Out of Here.'
In the qualifying period he has also interviewed residents living in cladded tower blocks, award winning dinner ladies and England fans who have painted their gardens in the England flag for the World Cup.
Haider Saleem
In the space of two years Haider has completed the flagship BBC Journalism Trainee Scheme, worked full-time at the BBC World Service, freelanced on multiple programmes, reported abroad in Pakistan and has been selected on the BBC News Under 30s Panel.
The 24-year-old says he has looked to find positive stories to report on particularly focusing on community cohesion, minority voices and underserved audiences.
For North West Tonight he created three original digital stories which he reported, self-filmed and edited. It included a story of an Asian taxi firm giving free rides after the bombing. Other stories included how local Christians visited Muslims at Didsbury mosque.
For BBC Minute at the World Service he presents one-minute news bulletins every 30 minutes to millions of people around the world.
---
Winners and recipients of AMA special awards will be announced at the Hilton Manchester Deansgate on Thursday 25 October.
Previous recipients of an Asian Media Award include Krishnan Guru-Murthy, Waris Hussein, Art Malik, Mehdi Hasan, Nina Wadia and Anita Rani.
The University of Salford are premier sponsors and partners to the event include ITV, MediaCom, M.E.N, Press Association Training, Primesight & The Palace Theatre & Opera House.
The official Charity Partner for 2018 is CLIC Sargent.
The event is also supported by Manchester Metropolitan University, Routes Into Languages, Namey, AMT Lawyers, USI Money, Hilton Manchester Deansgate, Supreme Dream Events, Payal Events & Cleartwo.