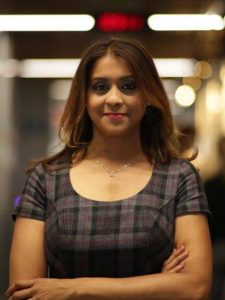 Journalist & Broadcaster
Shamim is a journalist, writer, co-author and public speaker. Her vast experience spans more than twenty years. She is the world's first British-Bangladeshi foreign correspondent for a 24-hour international English-language news channel.  She was based in Istanbul from 2015 to 2021 when, as a correspondent for TRT World, she covered some of the biggest world events of our times, including the Syrian war from the front line, the Rohingya refugee crisis and the battle against ISIS in the Philippines city of Marawi. She has also reported from Turkey, Mongolia, Iraq, South Korea, Sri Lanka and Jerusalem and across Europe.
Shamim has made several documentaries, has interviewed Heads of State and senior government ministers and has co-authored two books. The first, The Refugee's Messenger: Lost Stories Retold, recounts her experiences of reporting the Rohingya refugee crisis. The second, Reporting War and Conflict in the 21st Century, gives an insight into the challenges facing war correspondents today.
She is also the creator of an exclusive 5-part series on Bangladesh's burgeoning economy. The project was Shamim's brainchild; she planned and executed all aspects of it, including securing exclusive interviews with industry leaders.
Shamim previously worked for Al Jazeera English, when she reported and field-produced from Bangladesh on numerous occasions, including the 2013 Rana Plaza collapse and the January 2014 elections. She was also closely involved in Al Jazeera's coverage of the 2013 unrest in Ukraine and was in Crimea in March 2014, when her team covered the referendum and witnessed the region go into Russian control.
In addition, she secured interviews with the Bangladeshi Prime Minister, Sheikh Hasina and the legendary Bollywood actor, Amitabh Bachchan for the channel.
She has also worked in various capacities for Sky News, the BBC and ITV News, The Daily Express, The Daily Mail and The Daily Telegraph and has written comment and opinion for The Independent, The Huffington Post and Al Jazeera English.
Shamim is an experienced public speaker and is signed with UK-based 'The Speakers Agency'. She is also involved in mentoring projects focusing on diversity and inclusion. She is the recipient of a British-Bangladeshi outstanding achievement award and has a black belt in karate.