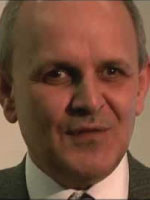 Diversity Consultant
Vidar Hjardeng MBE is currently the Inclusion and Diversity Consultant with ITV News across England, Wales, Northern Ireland and the Channel Islands, having previously spent more than twenty-five years working on regional Political, Religious and Social Action programmes in the Midlands – for much of that time as either Editor or Executive Producer.
Concurrently, Vidar spent five years as Consultant Producer with the then daytime Political Programme for Channel Four produced by ITN. Visiting Professor of Media Inclusion at Sunderland University, Vidar also regularly delivers Guest Lectures to Journalism students at a number of other Universities and also reviews audio described theatre performances for Connect Radio.
Vidar has been an Advisor and Board Member – on occasions Chair – with a variety of both regional and national organisations in the Arts, Disability, local Government and Public Transport sectors and is a Fellow of the Royal Society of Arts. Awarded an Honorary Doctorate by Wolverhampton University, Vidar was also short-listed for the lifetime Achievement category in the National Diversity Awards' tenth anniversary year.
NOTE: Vidar Hjardeng will not be judging categories where ITV entries have been shortlisted