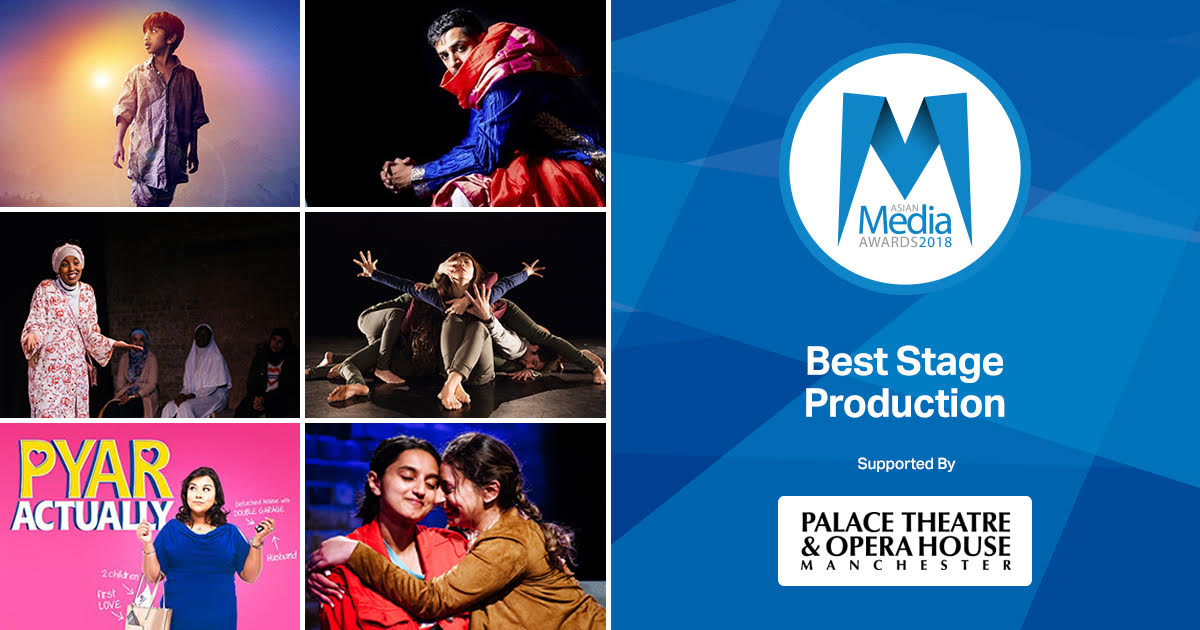 The 2018 Best Stage Production finalists is a mix of dance, drama, comedy and endearing stories. This category is supported by Palace Theatre & Opera House Manchester.
Child of the Divide
Child of the Divide is set during the summer of 1947 when sixteen million people are on the move between India and the newly-formed Pakistan. Amid the violent political upheaval, young Pali's fingers slip from his father's hand and his destiny changes forever.
It tells the story of family, identity and belonging and is set against the fractured landscape of displacement, of families torn apart and of stolen pasts where friendships and love are found in unexpected places.  The UK tour of Child of the Divide travelled to seven venues in autumn 2017 with 37 performances in London, Manchester, Birmingham, Bradford, Letchworth, Luton, Liverpool & Stornoway supported by a programme of educational workshops and post-show discussions.
By Sudha Bhuchar & Directed by Jim Pope, Featuring, Karan Gill, Halema Hussain, Devesh Kishore, Nyla Levy, Diljohn Singh. Produced by Bhuchar Boulevard In Association with The Partition History Project (PHP), Polka Theatre & Big Imaginations Festival
Handlooms
This wonderful immersive production was performed inside working businesses Alankar House of Sarees in the heart of Manchester's Curry Mile and Anokhi House of Sarees in Leicester to give audiences a close encounter of the world of Asian fabric shops.
A mixture of live performance and audio storytelling through headphones, the play gave a fascinating insight into these rich traditions and the inter-generational conflict between a mother and son who are both seeking opposing solutions to a crisis in their sari business.
Written by Rani Moorthy; Directed by Alan Lane, Rasa Theatre & Contact. Supported by Curve & Slung Low
Hijabi Monologues
A fascinating production which provided a platform for Muslim women who wear the headscarf to share their experiences on the mainstage of a major London theatre. The cast included a first-time writer and a first-time performer (Amal Abdi and Hibo Muuse respectively). This was also designer Khadija Raza's first professional production and director Milli Bhatia's first full length professional mainstage production. Every performance was completely sold out with the performances allowing women from a range of backgrounds to share their enlightening anecdotes on life as a Muslim woman.
Written By: Sahar Ullah, Nimmo Ismail, Hanan Issa, Amal Abdi. Directed by Milli Bhatia, Featuring: Zainab Hasan, Ayesha Dharker, Nadi Kemp Sayfi, Hibo Muuse, Aryana Ramkhalawon, Michal Keyamo. Bush Theatre.
#JeSuis
#JeSuis is an intriguing and timely dance production exploring oppression in all its guises, layers and contexts.
Aakash Odedra developed #JeSuis with a group of Turkish dancers he met in Istanbul. It is inspired by their collective responses to 'misinterpretations of their motherland by the media.'
Wrapped up in wider issues of displacement, refuge, instability, both politically and geographically, it portrays their frustrations of life in a homeland that doesn't know the meaning of 'home' anymore.
#JeSuis was accompanied by a musical score composed by long-term collaborator Nicki Wells and lighting design by Fabiana Piccioli.
The work in progress of #JeSuis won the 'Freedom of Expression Award' 2017 presented by Amnesty International Scotland at Edinburgh Festival Fringe (performed at Zoo Venues).
Concept, Direction, Choreography: Aakash Odedra. Created & Performed By: Melissa Ugolini, Su Guzey, Beril Senoz, Gizem Aksu, Yasin Anar, Evrim Akyay, Taner Gungor
Pyar Actually
The first full length play by writer Sukh Ojla played to 6000 patrons across venues in the South East and the Midlands: Birmingham Rep, Slough Curve, Warwick Arts Centre, Woodville Gravesend, Theatre Royal Stratford East and Watford Palace Theatre.
It follows thirty-something Polly whose picture-perfect life is interrupted when her first love Bali gets in touch 20 years later.  Polly has a reliable husband, two bright children, a well-paid job at the council and a detached house with a double garage. She's got it all. She senses she may not be living the life she dreamed of back when she was a teenager.
Sukh developed the play, which explores themes of duty, love and missed opportunities, through a series of community workshops, readings and peer-to-peer mentorship as part of the Rifco Associates programme over a period of two years.
Written By Sukh Ojla; Directed by Pravesh Kumar; Designer Rebecca Brower; Lighting Designer Jack Weir; Sound Designer Matt Eaton. Rifco Arts & Watford Palace Theatre
Spun
Spun is the debut play from Rabiah Hussain. Seen through the eyes of two British Pakistani Muslim girls from East London, this funny and moving drama unravels the makings of a friendship, microaggressions in the city and the challenge of keeping rooted through unstable times.
Safa and Aisha have been best friends for years. They used to bunk off school, revise for exams together and even went to the same University.
But now they're forging different paths for the first time, Safa to work in the City and Aisha to teach in Newham. When London is attacked one day in July, Safa and Aisha feel the whole world spinning. As extremes from all sides take hold of the city, the play explores whether their friendship can survive the upheaval.
By Rabiah Hussain. Directed by Richard Speir. Featuring Aasiya Shah & Humaira Iqbal. Arcola Theatre
---
Winners and recipients of AMA special awards will be announced at the Hilton Manchester Deansgate on Thursday 25 October.
Previous recipients of an Asian Media Award include Krishnan Guru-Murthy, Waris Hussein, Art Malik, Mehdi Hasan, Nina Wadia and Anita Rani.
The University of Salford are premier sponsors and partners to the event include ITV, MediaCom, M.E.N, Press Association Training, Primesight & The Palace Theatre & Opera House.
The official Charity Partner for 2018 is CLIC Sargent.
The event is also supported by Manchester Metropolitan University, Routes Into Languages, Namey, AMT Lawyers, USI Money, Hilton Manchester Deansgate, Supreme Dream Events, Payal Events & Cleartwo.