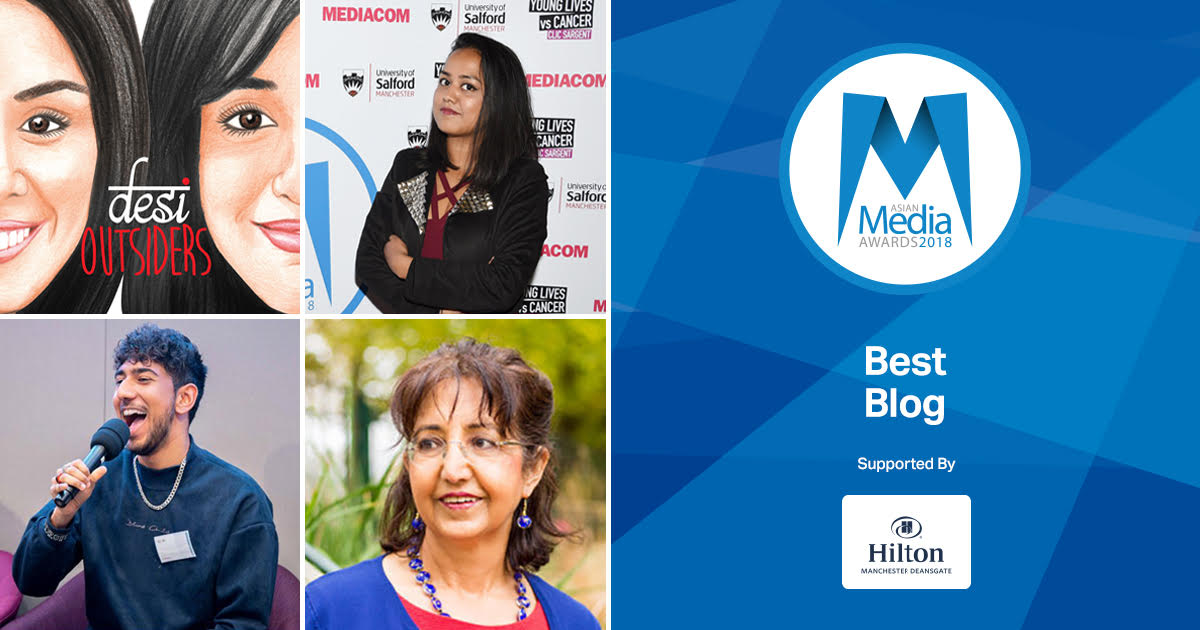 Here we take a look at the Best Blog finalists for 2018. The Best Blog category is supported by Hilton Manchester Deansgate.
Desi Outsiders
Desi Outsiders are a podcast 'working towards bringing a social movement' in the Desi culture. This engaging podcast has featured India's leading activists and entrepreneurs and their guests have shared inspiring personal stories of perseverance and strength. It is a medium to share stories, opinions and beliefs on how one can live harmoniously in ones Desi culture and how one can overcome the hurdles and obstacles faced as Indian women today. The show is hosted by Ankita Narayan, Digital Coach at the Google Digital Garage in Edinburgh and Meenal Viz, a doctor in London.
Faima Bakar
Faima is a blogger and staff writer for the Metro Online. Her personal blog is an amalgamation of her personal life experiences as well as issues that concern a contemporary society including why Bangladesh is perceived by some to be at the bottom of the South Asian hierarchy and how some young British Bengali's are flattered when they are told they don't look Bengali. Fahima's Metro columns tackle a variety of subjects including why many Asian communities silence sexual assault. She questions whether veganism goes again Muslim beliefs and also discusses feminism and Islam.
Ibz Mo
Ibrahim Mohammed, better known as Ibz Mo is a student YouTuber who is breaking down Cambridge stereotypes with the hope of inspiring prospective applicants. Mohammed, a Psychological and Behavioural Sciences student, makes videos that give an insight into life at Cambridge University. He speaks candidly about formal dinners, end-of-year parties and the idiosyncrasies of Cambridge's student body as well as the challenges he faced in joining the University. Ibz talks unapologetically about being an ethnic minority, aiming to empower others to recognise their culture and use that as a positive force for change.
Ravinder Randhawa
Ravinder is a fiction writer and blogger interested in British-Asian society, feminism, the arts, politics, history, freedom of speech, war and violence, morality and religion. Having grown up in England and having grappled with identity and culture conundrums, Ravinder has written candidly about being a British-Asian woman. She has also approached sensitive topics including honour-based violence, rape and the pernicious concept of favouring the birth of sons. Ravinder is an acclaimed author and a blogger at the Huffington Post. She is also the founder of the Asian Women Writer's Collective.
---
Winners and recipients of AMA special awards will be announced at the Hilton Manchester Deansgate on Thursday 25 October.
Previous recipients of an Asian Media Award include Krishnan Guru-Murthy, Waris Hussein, Art Malik, Mehdi Hasan, Nina Wadia and Anita Rani.
The University of Salford are premier sponsors and partners to the event include ITV, MediaCom, M.E.N, Press Association Training, Primesight & The Palace Theatre & Opera House.
The official Charity Partner for 2018 is CLIC Sargent.
The event is also supported by Manchester Metropolitan University, Routes Into Languages, Namey, AMT Lawyers, USI Money, Hilton Manchester Deansgate, Supreme Dream Events, Payal Events & Cleartwo.