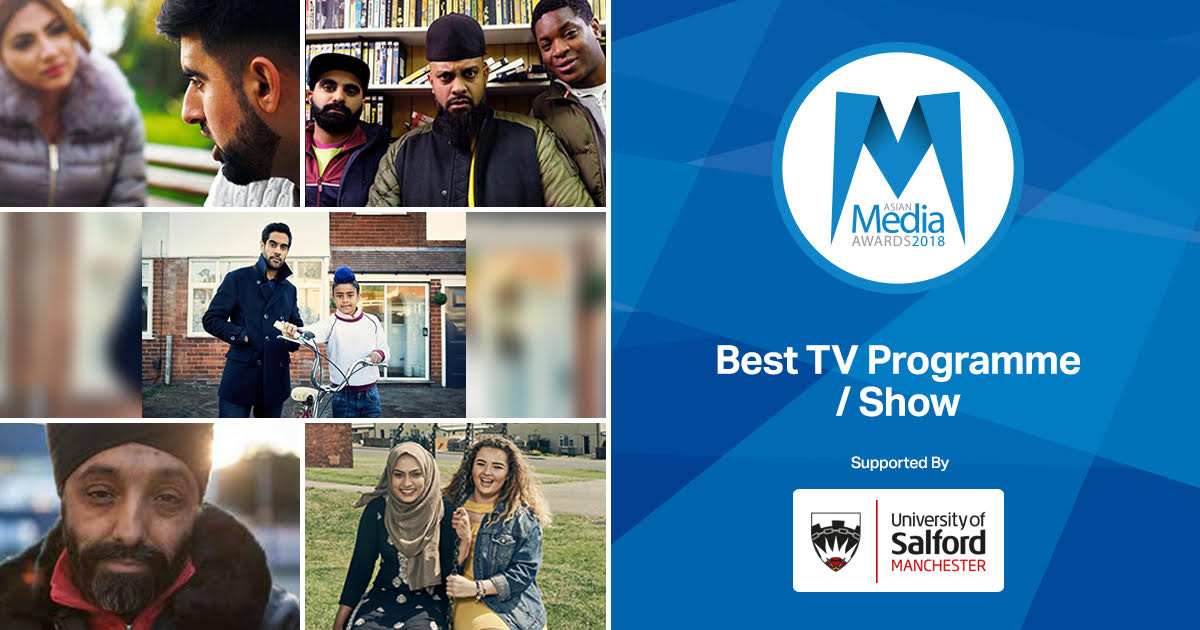 The 2018 Best TV Programme / Show shortlist features drama, comedy and insightful programmes highlighting current issues. The Best TV Programme / Show category is supported by University of Salford.
Lost Boys? What's Going Wrong for Asian Men
Mehreen Baig goes behind the headlines and meets young men to understand their experiences of growing up in modern Britain. Mehreen begins her journey with British-Pakistani men travelling to Bradford, which has the highest proportion of Pakistani residents of any British city. Here, youth unemployment stands at 26% (nationwide the figure is 12%) and drug crime has risen in recent years, with British-Pakistani men making up a disproportionate number of convictions. Mehreen also meets young boys who are looking to change those perceptions and hears their aspirations. She also travels to Pakistan to explore some of the issues faced by young men there.
Swan Films Presenter Mehreen Baig; Executive Producer Joe Evans; Executive Producer Neil Crombie; Director Toby Trackman. BBC Two.
Man Like Mobeen
Guz Khan is Mobeen, a 28-year-old Brummie Muslim who is single-handedly raising his 15- year-old sister. This comedy documents the struggles of his criminal past, the friendships he has and the controversies he faces as a Pakistani Muslim. From liaising with the local drug dealer to philosophical conversations with a far-right activist, Mobeen is not about to let the world get the better of him. The four-part series was praised for looking to deviate away from traditional stereotypical portrayals of Muslims as well as challenging views. Guz Khan is ably supported by Duaa Karim, Tez Ilyas and Tolu Ogunmefun. A second series has been commissioned.
Written by Guz Khan and Andy Milligan; Directed by Ollie Parsons, Tiger Productions. BBC Three.
The Boy with the Topknot
This touching adaptation of Sathnam Sanghera's memoir of family, love, life and career highlighted the unspoken issues of mental illness within families. Born to traditional Punjabi parents and growing up in Wolverhampton, Sathnam (played by Sacha Dhawan) moves to London after graduating from Cambridge University. Now in his late 20s he is planning to reveal to his family that he will defy expectations of an arranged marriage – but instead learns a painful family secret. The story of second-generation Indians growing up in Britain was widely praised for raising important issues surrounding mental health.
Written by Mick Ford (based on the novel by Sathnam Sanghera); Directed by Lynsey Miller; Produced by Nisha Parti. A Kudos Production In Association with Parti Productions. BBC Two.
Street Food Servants
In Street Food Servants Anita Rani tells the story of one man who has devoted his life to helping the homeless. Randeep Singh started his small Southall charity with just a handful of volunteers but has now transformed it into a sophisticated national task force that feeds and clothes thousands of people every week. As the charity tries to expand to other outposts they face obstacles and challenges that test their dedication. The programme shows a rare insight of the demands of making a charity as effective as possible. The altruistic nature of Randeep and his team has been poignantly captured on camera.
Part of the BBC's Our Lives series.
Narrated by Anita Rani; Produced by George Henton; Executive Producer: Dippy Chaudhary. BBC Two.
White Kid, Brown Kid
A one-off film for Channel 4's First Cut series explores racial integration in Dewsbury. Director Luned Tonderai, brings together two teenage girls growing up in different neighbourhoods to try and better understand each other's lives. The documentary follows two girls from very different worlds as they try to become friends. Dewsbury is home to a growing Asian Muslim community with parts of the town 98% Asian, whilst other parts remain totally white. Luned spoke of the complexities of making the programme and persuading people that he was not making a film about terrorists. What transpires are unprecedented moments where both teenagers and their families realise they have a lot more in common than they first thought.
Filmed, produced and directed by Luned Tonderai; Executive Producer Ian Duncan. Channel 4.
---
Winners and recipients of AMA special awards will be announced at the Hilton Manchester Deansgate on Thursday 25 October.
Previous recipients of an Asian Media Award include Krishnan Guru-Murthy, Waris Hussein, Art Malik, Mehdi Hasan, Nina Wadia and Anita Rani.
The University of Salford are premier sponsors and partners to the event include ITV, MediaCom, M.E.N, Press Association Training, Primesight & The Palace Theatre & Opera House.
The official Charity Partner for 2018 is CLIC Sargent.
The event is also supported by Manchester Metropolitan University, Routes Into Languages, Namey, AMT Lawyers, USI Money, Hilton Manchester Deansgate, Supreme Dream Events, Payal Events & Cleartwo.