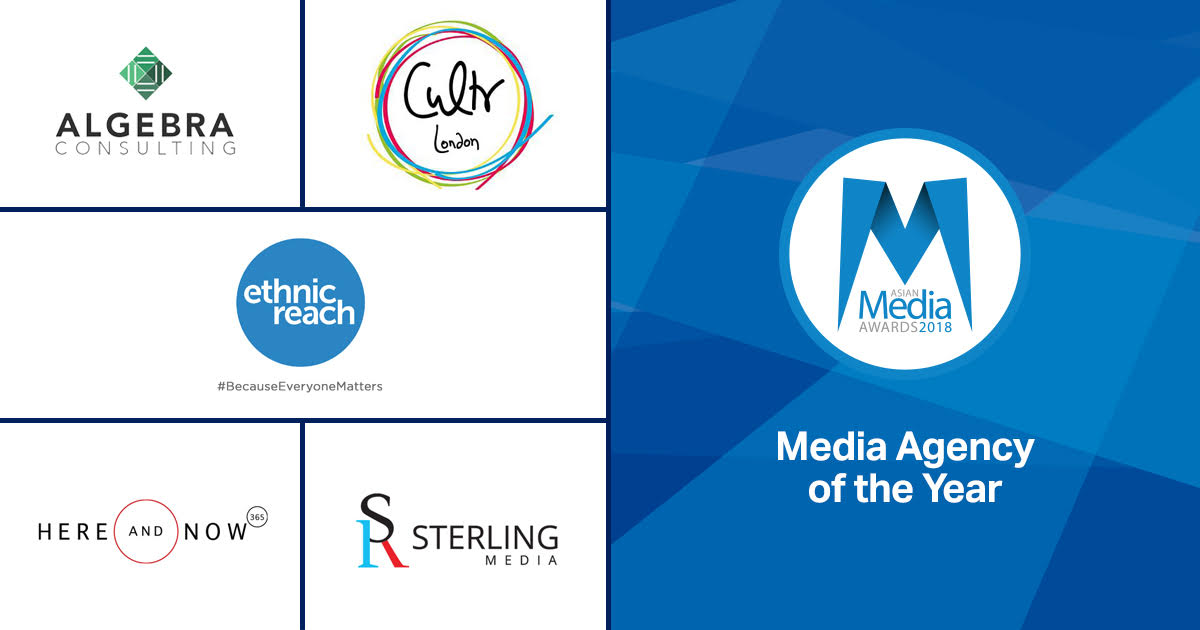 Five media, creative and PR agencies are featured in the 2018 Asian Media Awards Shortlist.
Algebra Consulting
In just four years this agency has helped to stage some of the UK's foremost Halal inspired events. Algebra Consulting aims to showcase the wealth and future potential of the Islamic economy to mainstream markets and brands and also break down social barriers.  Their portfolio in the past two years has included the Muslim Lifestyle Show London, the London Halal Food Festival and the London Eid Shopping Festival at Westfield. The London Muslim Lifestyle Show saw 200 companies from over 16 different countries attract 20,000 visitors. The London Halal Food Festival attracted 130 food companies and over 20,000 guests over two days. The London Eid Shopping Festival attracted over 50,000 people into the shopping centre with an overall increase of footfall by 43%. The agency has also looked to bring mainstream brands and traditional halal brands together and one of their biggest deals was to assist Tariq Halal Meat to negotiate a three year, three million pound deal between the company and Sainsburys.
Cultr
Founded in 2012 as a Brand Consultancy and Creative Studio this innovative agency has helped to launch a range of campaigns. Cultr has worked with several blue-chip brands operating in the British-Asian market segment, notably Asset India, Dabur International, Indo European Foods (Kohinoor), Indiabulls Housing Finance, Lebara Mobile, Shaadi.com and State Bank of India. In the qualifying period the agency has helped to launch Kohinoor's Cooking Sauces and Meals in Minutes with their wonderful 'India on a Plate' campaign. In April 2018, State Bank of India transitioned into a UK Limited company after operating in the UK as a branch of SBI for 97 years. Cultr celebrated this momentous occasion by producing the 'March in Time' advert featuring archive footage through the ages. The agency has also worked on the Twiss 'Together We Rock' campaign, Future Bricks and Four Monks.
Ethnic Reach
Now in its 19th year, Ethnic Reach is a full-service agency providing ATL and BTL solutions to both Government and Corporate sectors focusing on the BME communities.  In the qualifying period the agency has worked on One Family's inaugural #WeAreOneFamily launch campaign.  The campaigns have received widespread support through high profile personalities and events across the UK and beyond. Ethnic Reach developed an experiential sampling activity promoting the new improved Coke Zero Sugar to South Asian communities. They worked on marketing events promoting Elephant Atta and Chakki Gold.  One of their most successful ventures included their marketing campaigns promoting Ria to all their ethnic corridors including South Asian, European, African and South American.  This year they have provided marketing support to a number of NHS national campaigns including 'Be Clear on Cancer,' Stay Well Pharmacy and the three-digit telephone service NHS 111.
Here and Now 365
Here and Now 365 is one of the leading multicultural marketing agencies in the UK offering integrated marketing solutions for clients targeting the ethnic audience. The agency has worked on some of the largest campaigns targeting the Asian community including Asda's Ramadan and Eid campaigns this year which focused on providing a deeper understanding and involvement with the community. The agency also aimed to bring Morrisons closer to the Muslim community by conceptualising the 'Living is Giving' campaign, where people were encouraged to donate food items to their local London Morrisons store, which were later donated to local charities and foodbanks. During the England and India Cricket series and Hockey World Cup, the agency created bus wrap campaigns for Air India and Odisha Tourism. This was complimented by campaigns for State Bank of India, Air India, Remit 2 India and Star Plus during the same period. The agency has also worked with Veetee Rice and tied up with celebrity chef Monisha Bharadwaj.
Sterling Media
Sterling Media has managed some of the most high-profile Bollywood film launches in the country. The agency also represents corporates, consumer brands, charities, celebrities, countries, governments, global thought leaders and private clients. In one of their most successful campaigns this year, Sterling Media was engaged by Sony Pictures India to manage the international communications strategy for Pad Man, a feature film tackling the global issues around menstrual hygiene and the associated taboos. Sterling drew up a raft of creative ideas to link the film with the debates taking place.  The proceeding 'Pad Man Challenge' reached millions worldwide. The agency has worked on numerous film and charitable campaigns which have been featured in media outlets across the world. Earlier this year the agency celebrated the appointment of managing director Natasha Mudhar in Management Today's 35 Women Under 35 list of young, female business talent.
---
Winners and recipients of AMA special awards will be announced at the Hilton Manchester Deansgate on Thursday 25 October.
Previous recipients of an Asian Media Award include Krishnan Guru-Murthy, Waris Hussein, Art Malik, Mehdi Hasan, Nina Wadia and Anita Rani.
The University of Salford are premier sponsors and partners to the event include ITV, MediaCom, M.E.N, Press Association Training, Primesight & The Palace Theatre & Opera House.
The official Charity Partner for 2018 is CLIC Sargent.
The event is also supported by Manchester Metropolitan University, Routes Into Languages, Namey, AMT Lawyers, USI Money, Hilton Manchester Deansgate, Supreme Dream Events, Payal Events & Cleartwo.