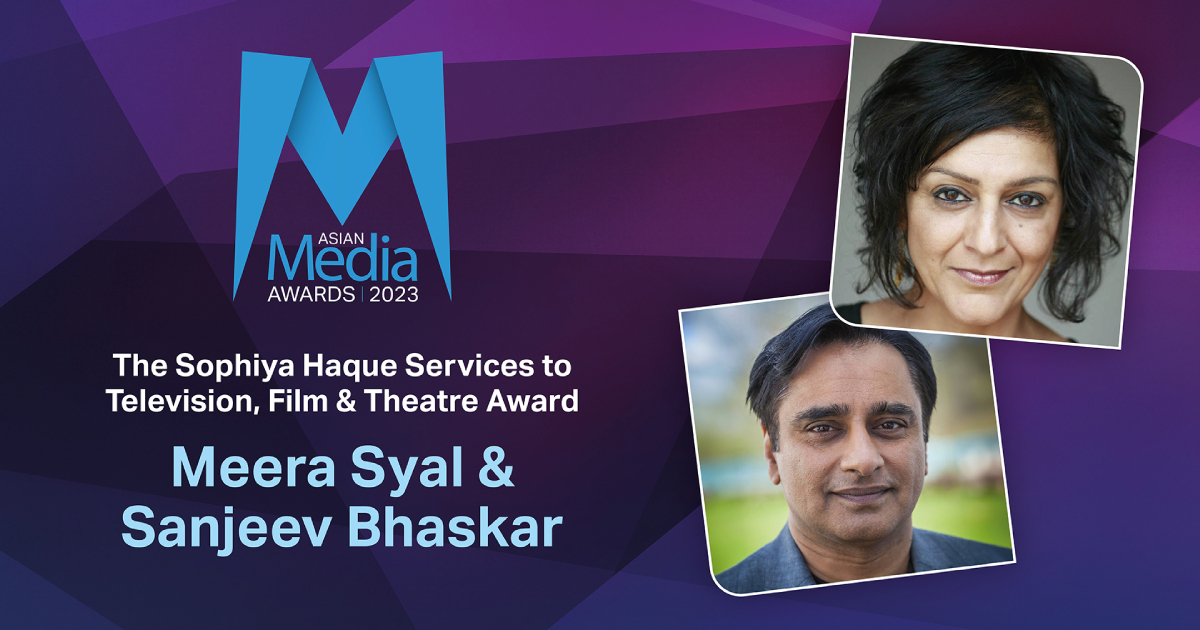 Meera Syal and Sanjeev Bhaskar were honoured with Sophiya Haque Services to British TV, Film and Theatre Award at the 2023 Asian Media Awards.
The stars of radio, TV and broadcasting gathered at the 11th AMA ceremony at the Hilton Manchester Deansgate.
The awards, which are supported by the University of Salford, celebrated winners in a range of categories in journalism, stage, online and creative media and were hosted by Magic FM's Neev Spencer.
Those honoured on the night included broadcaster Tina Daheley, LBC presenter Sangita Myska and Mihir Bose who received the Outstanding Contribution to Media Award.
This year Meera Syal and Sanjeev Bhaskar were honoured for an award which is named in tribute to the late Coronation Street and stage actress, who died of cancer aged 41 in 2013.
The husband-and-wife team have been instrumental in shaping British Asian culture through their work and helped in many ways to lay the foundations for others to follow.
Meera Syal was educated at Manchester University where she read English and Drama. She would go on co-write the script for 'My Sister Wife', a three-part BBC Television series, and wrote the film Bhaji on the Beach for Channel 4.
Sanjeev Bhaskar hails from Ealing and grew up in Heston. After graduating he would go on to work for IBM. But his passion lay in comedy and he teamed with Nitin Swahney to start a musical comedy double act named 'The Secret Asians'.
Later his path would cross with Meera Syal, Nina Wadia and Kulvinder Ghir and the first Goodness Gracious Me episode would air in January 1998, 25 years ago this year.
The programme would go on to create some of the most iconic characters of a generation. It was a watershed moment for British Asian culture which up until then had been sidelined with stereotypical plots and scripts. It was the first time a group of actors and writers had been given the license to use Punjabi and Hindi phrases and also tackle prejudice on mainstream television head on.
Much of the wit and humour has stood the test of time and still resonates with the challenges faced by minority communities today.
The series ran until 2000 with further reprisals and specials in 2014, 2015 and 2018.
Meera and Sanjeev said: "We truly appreciate being recognised by our peers, so thank you AMA's and thank you also for working tirelessly over the years to celebrate the achievements of our vibrant creative community.
"Congratulations also to all the other nominees and award winners, we all know what a hard and lonely road it can be smashing those glass ceilings and claiming your place at the table.
Together we are stronger so enjoy celebrating and supporting each other tonight."
Both Meera and Sanjeev were reunited in the Kumar's at Number 42, a chat show which helped redefine the programme.
In January 2005, the couple married.
Sanjeev has appeared in a whole host of sitcoms, dramas and films including, The Guru, Notting Hill (very briefly), and Anita and Me. He also had a cameo in Yash Raj Films' production Jhoom Barabar Jhoom.
He appeared alongside Meera, in Danny Boyle's 'Yesterday', in which they played the parents of Himesh Patel.
Meera has roles in Beautiful People and Doctor Who among others.
Both Meera and Sanjeev have had a close association with the theatre world. In 2008 Bhaskar made his musical theatre debut as King Arthur in Spamalot at London's Palace Theatre.
And in 2015 Meera's book Anita and Me was adapted for a stage play. Alongside this, Meera has taken on a whole host of roles on stage.
They are also both keen authors. Meera Syal has authored Anita and Me (1996), Life Isn't All Ha Ha Hee Hee (1999) and The House of Hidden Mothers (2015).
Sanjeev's first book based on the documentary series, became a Sunday Times bestseller in 2007.
In recent years they have appeared in critically acclaimed TV dramas. Sanjeev played DI Sunil Sunny Khan in ITV's Unforgotten and Meera took on the role of a caterer with a taste for solving mysteries in Mrs Sidhu Investigates.
---
This year's Asian Media Awards winners were announced at the Hilton Manchester Deansgate on Friday October 27.
Previous recipients of an Asian Media Award include Krishnan Guru-Murthy, Waris Hussein, Art Malik, Mehdi Hasan, Nina Wadia, Anita Rani, Shobna Gulati, Faisal Islam, Adil Ray & Lisa Aziz.
The University of Salford are Premier Partners to the Asian Media Awards.
Partners to the awards include ITV, EssenceMediaCom, Reach PLC & Women In Journalism.
The awards are also supported by Manchester Metropolitan University, AMT Lawyers, DKR Accountants, Opus Broadband, Hilton Manchester Deansgate, Fritz AV, Payal Events & Cleartwo.