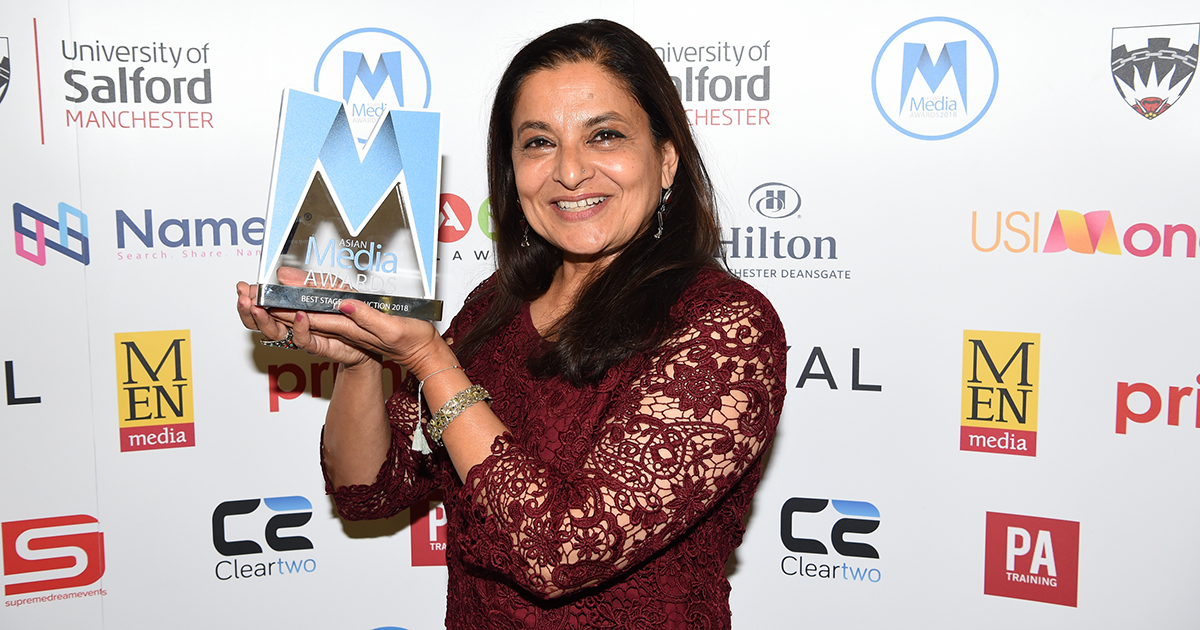 Child of the Divide won the Best Stage Production category at the 2018 Asian Media Awards.
The Asian Media Awards ceremony took place at the Manchester Hilton Deansgate (Thursday October 25) attracting journalists, broadcasters and media professionals from across the country.
The evening also saw BBC Breakfast's Naga Munchetty, East is East and Ackley Bridge creator Ayub Khan Din and Sky News Political Editor Faisal Islam honoured.
The 2018 Best Stage Production shortlist was a mix of dance, drama, comedy and endearing stories.
The award was presented by Sheena Wrigley, Executive Director at the Palace Theatre and Opera House.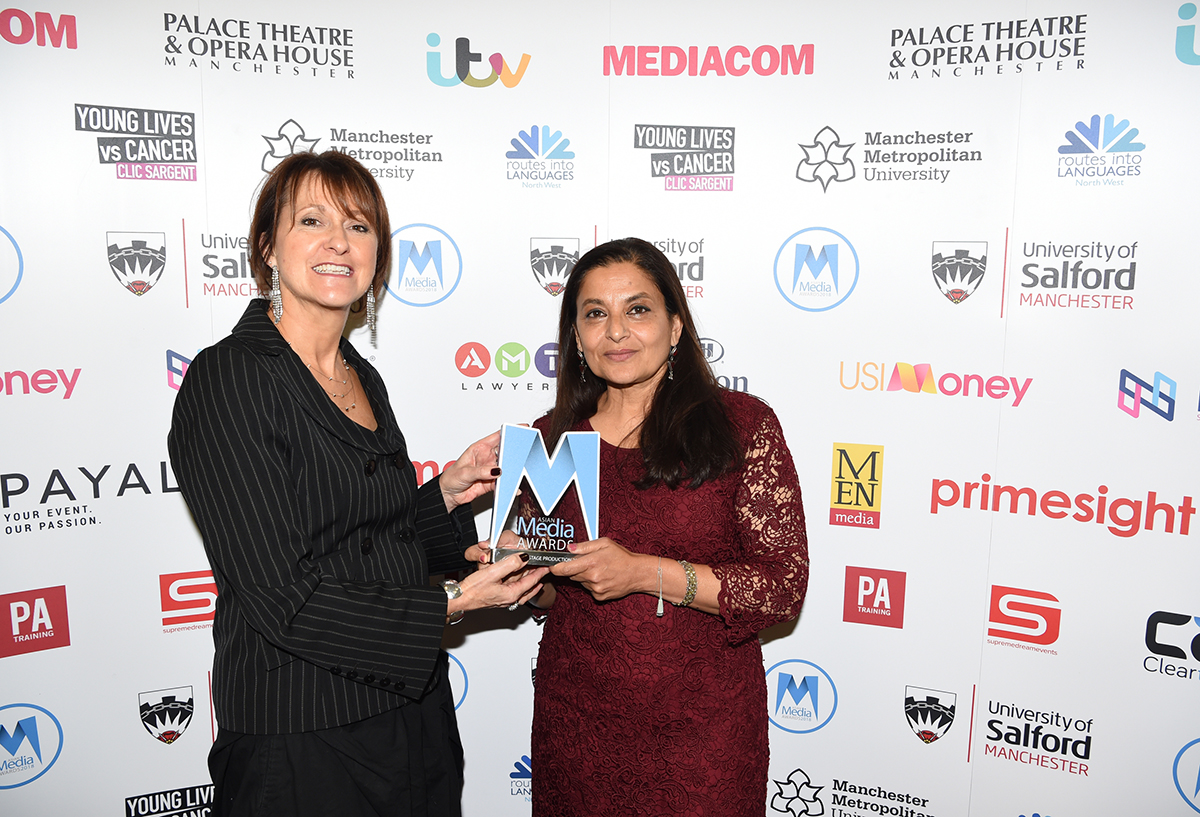 Speaking on stage Sudha Bhuchar said, "It has been a long journey. Child of the Divide was a play that I wrote in 2006 and it has been my play that seems to have this momentum that I am chasing behind.
"It was so wonderful to bring it back last year for the 70th anniversary of partition.
"I would like to thank our partners – Z-Arts, Big Imaginations, Polka Theatre, Tara Arts, The National Archives, The Partition History Project and academics such as Professor Sarah Ansari."
She added, "I would like to dedicate it to my family and my children who inspire me."
Sheena said, "It was a real pleasure to be part of the stage production award panel and to see this incredibly rich mix of work. The work was thought-provoking and challenging, in some cases funny.  It was absolutely stimulating and very difficult to make a final decision."
Child of the Divide is set during the summer of 1947 when sixteen million people are on the move between India and the newly-formed Pakistan. Amid the violent political upheaval, young Pali's fingers slip from his father's hand and his destiny changes forever.
It tells the story of family, identity and belonging and is set against the fractured landscape of displacement, of families torn apart and of stolen pasts where friendships and love are found in unexpected places.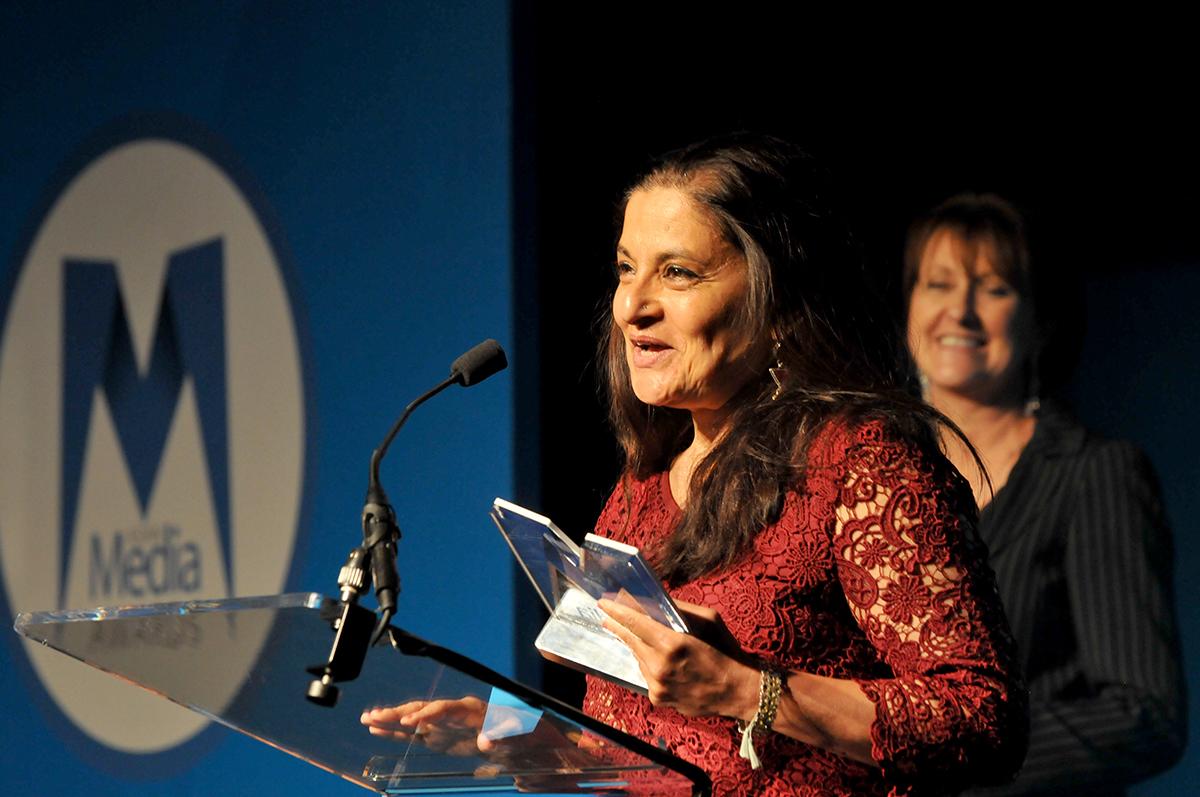 The UK tour of Child of the Divide travelled to seven venues in autumn 2017 with 37 performances in London, Manchester, Birmingham, Bradford, Letchworth, Luton, Liverpool & Stornoway supported by a programme of educational workshops and post-show discussions.
Child of the Divide By Sudha Bhuchar & Directed by Jim Pope, Featuring, Karan Gill, Halema Hussain, Devesh Kishore, Nyla Levy, Diljohn Singh. Produced by Bhuchar Boulevard In Association with The Partition History Project (PHP), Polka Theatre & Big Imaginations Festival
---
Winners and recipients of AMA special awards were announced at the Hilton Manchester Deansgate on Thursday 25 October.
Previous recipients of an Asian Media Award include Krishnan Guru-Murthy, Waris Hussein, Art Malik, Mehdi Hasan, Nina Wadia and Anita Rani.
The University of Salford are premier sponsors and partners to the event include ITV, MediaCom, M.E.N, Press Association Training, Primesight & The Palace Theatre & Opera House.
The official Charity Partner for 2018 is CLIC Sargent.
The event is also supported by Manchester Metropolitan University, Routes Into Languages, Namey, AMT Lawyers, USI Money, Hilton Manchester Deansgate, Supreme Dream Events, Payal Events & Cleartwo.