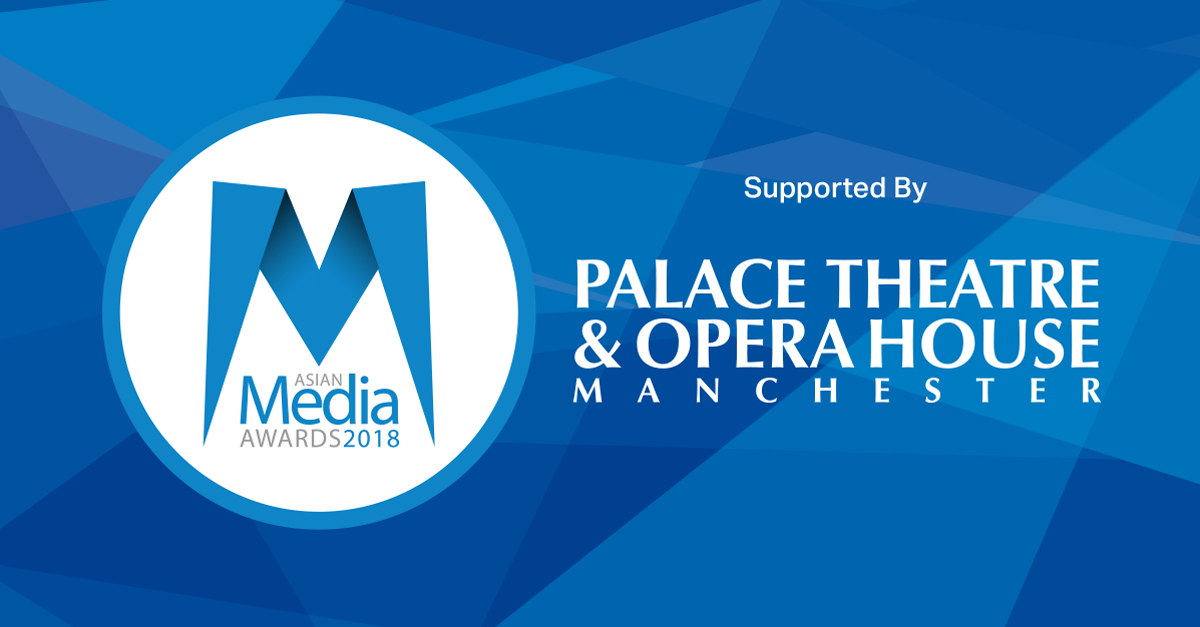 Manchester's iconic Palace Theatre and Opera House have been announced as partners for the 2018 Asian Media Awards.
The ceremony will take place at the Manchester Hilton Deansgate on Thursday 25 October. Before then the official Shortlist Announcement will be held at MediaCom HQ, London in September.
The Palace Theatre on Oxford Road is one of the city's most defining buildings and hosts some of the most popular West End & Broadway musicals throughout the year.
The Opera House is based on Quay Street and plays host to touring musicals, drama, ballet, concerts, comedy and a Christmas pantomime.
The Palace Theatre and Opera House are part of the Ambassador's Theatre Group. ATG are the largest theatrical management company in the world, owning and operating over 45 theatres in the UK, USA, Australia and Germany.
The Asian Media Awards launched a Best Stage Production category in 2014 and since its inception has been a keen supporter of live events and theatre.
The awards have helped to shine a spotlight on the growing level of diversity within the theatre industry and both AMA Best Newcomer recipients from 2016 and 2017 hailed from the theatre backgrounds.
Umbreen Ali, Media Manager said, "We are delighted to be welcoming The Palace Theatre and the Opera House as event partners for 2018.
"The Awards have been an avenue to highlight arts and cultural performances from across the UK and we feel we share the aims and objectives of both theatres.
"The Asian Media Awards are proud to celebrate these quintessential landmarks that help to make the city of Manchester the city it is."
Sheena Wrigley, Director of the Palace Theatre & Opera House said, "'Manchester Palace Theatre & Opera House are proud to partner with the Asian Media Awards through support for the Best Stage Production Award.
"The Palace Theatre and Opera House have a great heritage and are committed to playing a central role in the future of 21st century Manchester.
"Working with the Asian Media Awards we can recognise and celebrate excellent, diverse and contemporary talent at the forefront of the British theatre scene."
---
This year's Asian Media Awards returns to the Hilton Manchester Deansgate on Thursday October 25 2018.
The official shortlist announcement will take place at MediaCom HQ on Monday September 17 2018.
Nominations for 2018 open Tuesday April 24 2018.
A full list of categories including special awards can be viewed at www.asianmediaawards.com/categories.
Previous recipients of an Asian Media Award include Krishnan Guru-Murthy, Waris Hussein, Art Malik, Mehdi Hasan, Nina Wadia and Anita Rani.
The University of Salford are premier sponsors and partners to the event include MediaCom, M.E.N, Press Association Training, Primesight & The Palace Theatre & Opera House.
The event is also supported by Manchester Metropolitan University, Routes Into Languages, AMT Lawyers, Hilton Manchester Deansgate, Namey, Supreme Dream Events, Payal Events and Cleartwo.