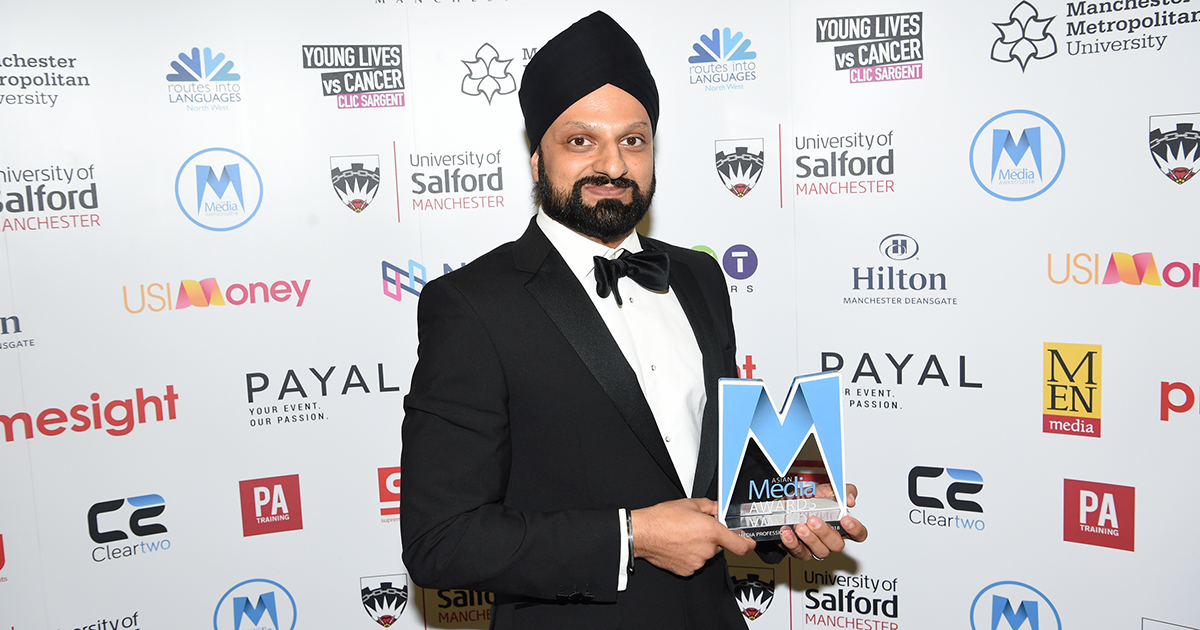 Vickram Sembi of Exterion Media UK was named Media Professional of the Year at the 2018 Asian Media Awards.
The Asian Media Awards ceremony took place at the Manchester Hilton Deansgate (Thursday October 25) attracting journalists, broadcasters and media professionals from across the country.
The evening also saw BBC Breakfast's Naga Munchetty, East is East and Ackley Bridge creator Ayub Khan Din and Sky News Political Editor, Faisal Islam honoured.
Four of the country's leading media and PR professionals made-up our 2018 list.
Vickram was presented the award by Professor Sharon Handley from Manchester Metropolitan University.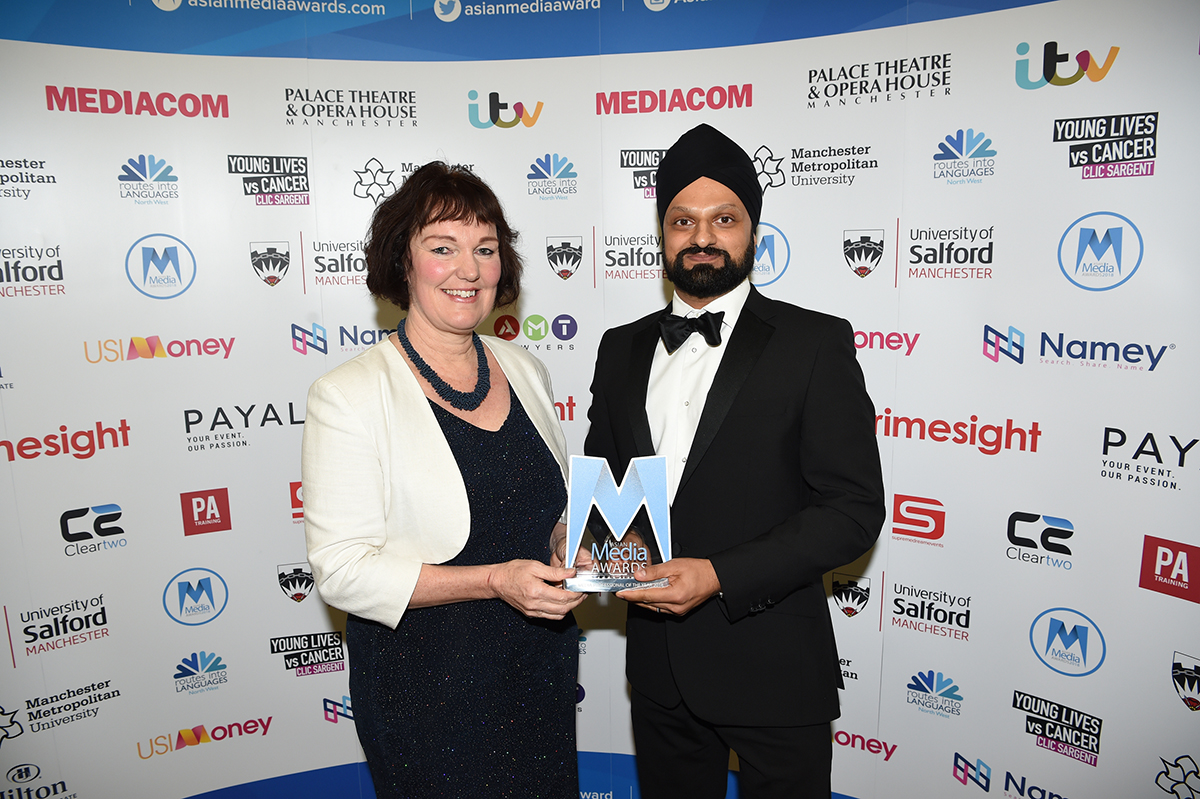 Vickram said, "I think I bought something different to the category this year.
"Whilst the others are agency owners and are doing some fantastic work and they work with us.
"With Exterion Media over the past ten years I have been able to bring campaigns and brands who we recognise on some of our TV channels and bring them on to mainstream media."
Whilst working at Exterion Media Vickram has successfully created and developed an ethnic portfolio of high-profile clients and effective Out-of-Home (OOH) campaigns to showcase on mainstream media in particular, nationwide buses and the London Underground.
His agency has helped to dress towns and cities across the UK with Asian and ethnic brands such as Shaadi.com, Star Plus, Zee TV, Colors, SBI, Incredible India and Moneygram.
In the past year Vickram worked tirelessly on creating targeted packages to showcase brands to Indian and Pakistani cricket fans, producing memorable campaigns for Lebara and bespoke packages for ZEE TV.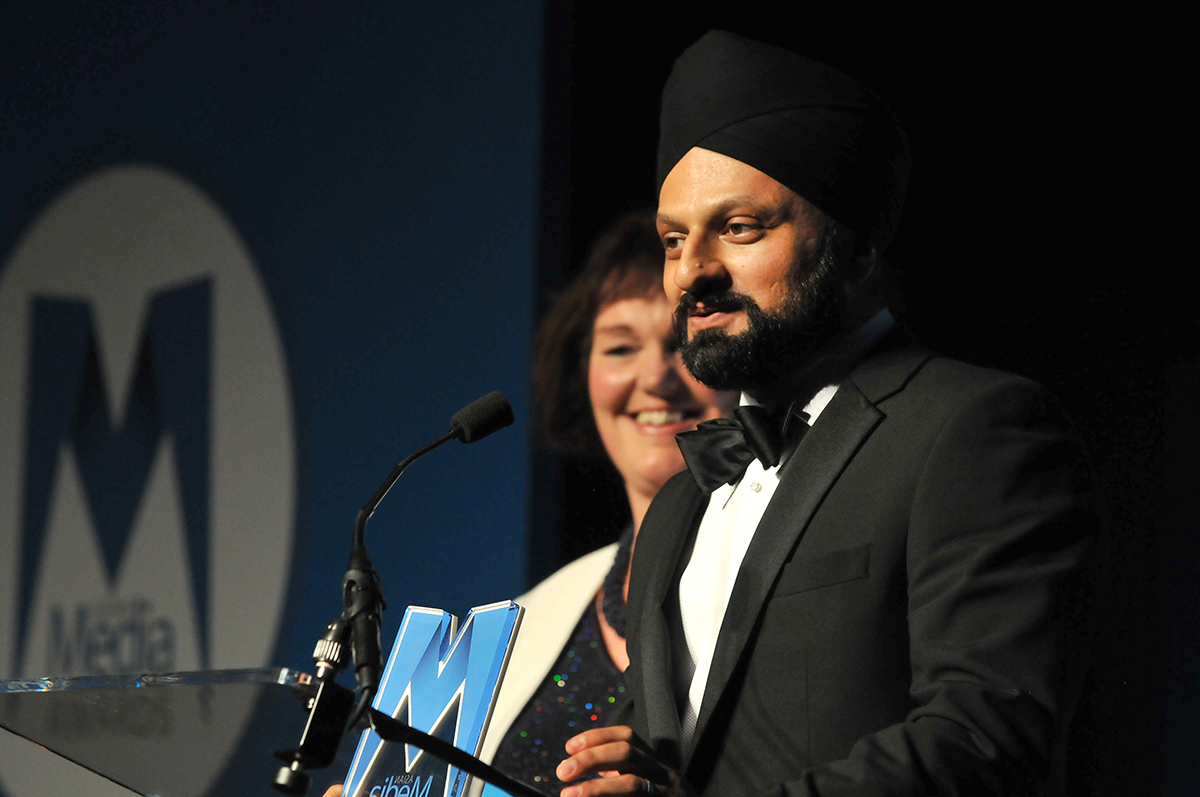 ---
Winners and recipients of AMA special awards were announced at the Hilton Manchester Deansgate on Thursday 25 October.
Previous recipients of an Asian Media Award include Krishnan Guru-Murthy, Waris Hussein, Art Malik, Mehdi Hasan, Nina Wadia and Anita Rani.
The University of Salford are premier sponsors and partners to the event include ITV, MediaCom, M.E.N, Press Association Training, Primesight & The Palace Theatre & Opera House.
The official Charity Partner for 2018 is CLIC Sargent.
The event is also supported by Manchester Metropolitan University, Routes Into Languages, Namey, AMT Lawyers, USI Money, Hilton Manchester Deansgate, Supreme Dream Events, Payal Events & Cleartwo.