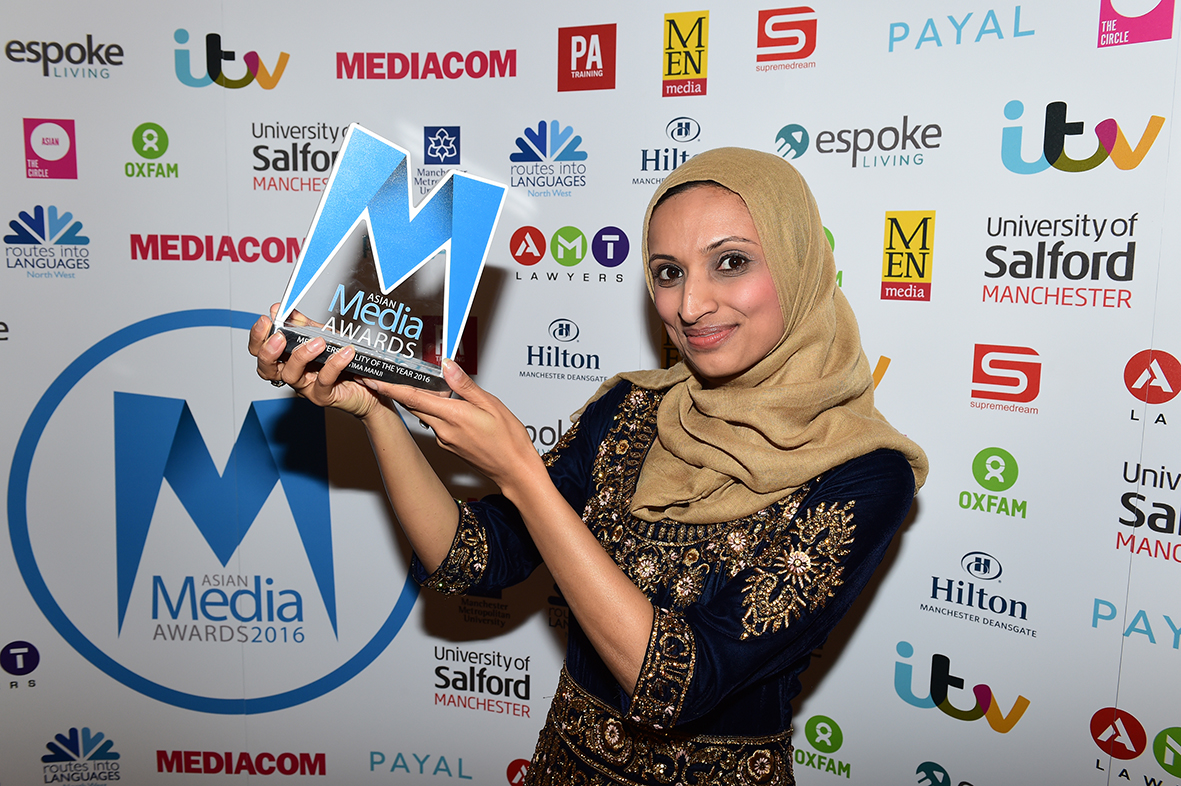 Channel Four news correspondent and presenter Fatima Manji was named Media Personality of the Year at this year's Asian Media Awards.
Fatima has been responsible for reporting on a range of national and international stories.
The AMA's recognise excellence in the media with categories in journalism, online, radio, television and marketing. The awards are sponsored by the University of Salford.
Fatima got one of the loudest cheers on the night as she took to the stage.
Her acceptance speech was measured and she rose above recent controversies alluding to her head wear.
She said, "I want to thank my editors and colleagues at Channel Four news and ITN. TV News is a team game and they really make it possible.
"I want to extend my gratitude to the people who have let me in to a little part of their lives and allowed me to tell their stories which is why I wanted to be a journalist in the first place."
Speaking of the award on the night she said, "It is brilliant it is a real honour. And I really hope that young people of all backgrounds realise that you will be recognised for your hard work even when things are difficult and that is the real special thing about tonight.
"I'd like to be in a place where we don't have to talk about diversity anymore – by that I mean it wouldn't be a problem.
"We are still in a place where Britain on TV isn't looking like the Britain we know. So I would like for the Asian community as well as all the other multi-cultural communities to be properly reflected and for us to have to stop banging on about diversity."
She was presented the honour by 2015 Journalist of the Year Kavita Puri and film maker Robb Leech.
She started out as a reporter in local radio and then worked as a reporter, presenter and video journalist for BBC regional television in the East of England, where she investigated stories including exploitative landlords and hate crime against migrants.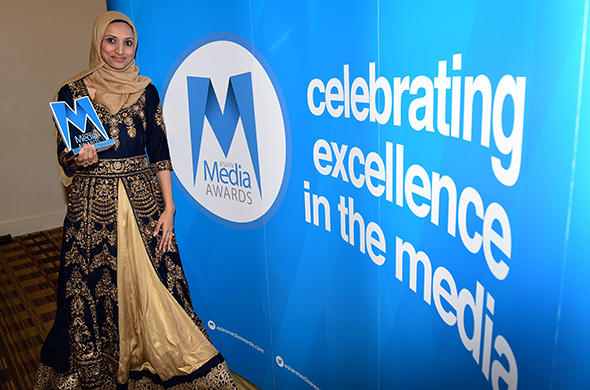 Fatima joined Channel Four in January 2012 and was quick to establish herself as one of the leading news correspondents in the country covering breaking news stories and special investigative features.
In recent times, Fatima has been at the forefront of reporting on some of the most pressing issues facing all communities and also looked to highlight human rights abuses and issues relating to race relations.
She has reported extensively on the migration and refugee crisis across Europe – from the camps of Calais, the Bavarian towns of Germany welcoming refugees and the Hungarian border where fences have been raised.
Fatima has covered some of the recent major terror incidents in Europe including the Nice attacks. She has also reported on stories from conflicts such as telling the stories of those who have survived ISIS massacres in Iraq.
In 2016 her inquisitive and balanced reporting of the European referendum helped to bring to the fore the conflicting issues facing the nation at this important time.
Whilst she has been commended nationally for her reporting skills, her appearance as the first hijab wearing presenter on a national news channel garnered attention in some quarters.
This 'controversy' later led to her speaking out against the attitudes in some sections of the media.
---
The University of Salford are premier sponsors to the 2016 events and partners include ITV, MediaCom, Press Association Training and the Manchester Evening News.
The official charity partners for 2016 are The Asian Circle and Oxfam.
The Asian Media Awards 2016 are supported by Hilton Manchester Deansgate, Manchester Metropolitan University, Routes into Languages, AMT Lawyers, Espoke Living, Supreme Dream Events, Cleartwo & Payal.
For further information please e-mail umbreen@asianmediaawards.com.