The three sisters of the late Sophiya Haque presented an award named in her honour to actor Art Malik.
Art has been one of the most recognisable faces in both British film and television for over 30 years. During that time he has featured in some of the most celebrated films, dramas and stage productions.
The AMA's recognise excellence in the media with categories in journalism, online, radio, television and marketing.
The awards are sponsored by the University of Salford.
Art was presented the Services to British Television and Film Award by Aisha, Sayera and Suraya at the Hilton Manchester Deansgate.
He was applauded to the stage by a packed venue.
Speaking on the night Art Malik said, "It is a huge honour and a wonderful honour coming from within the community in that there is recognition there.
"One always wonders whether the community thinks you as good as you think you are.
"It is great to be recognised by this. It is great to be recognised in Manchester because this is where my career really took off because this is where we did Jewel in the Crown.
"If it wasn't for Granada I wouldn't be here."
He had this advice for any young people thinking of going into acting, "Do it. It is very simple just do it.
"When you do it do it right and proper and give it the respect it is owed."
Art is renowned for his role as Hari Kumar, the conflicted, British public school-educated Indian in Jewel in the Crown.
He went onto secure film and TV success in Passage to India, James Cameron's True Lies, Bond film The Living Daylights, Sex and the City 2, John Carter, Wolfman and most recently in The Infiltrator.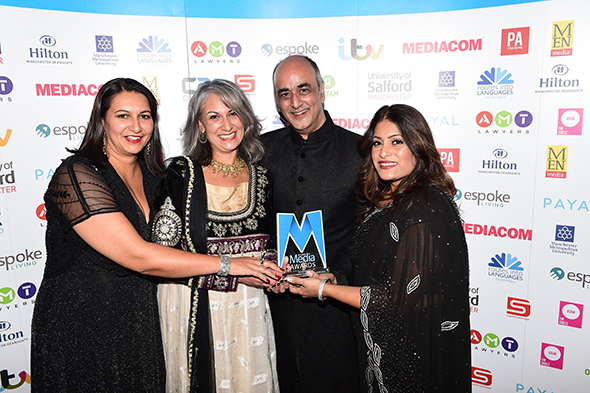 Born in Pakistan, Malik was the youngest of five brothers and grew up in Tooting, south London.
Art has spoken publicly about the lack of diversity in the media particularly in the industry's upper echelons.
Art's film roles have been complimented by a range of characters on British television, including a vicar in ITV's Arthur & George, the revival of ITV's Cold Feet, The Far Pavilians, Holby City, Poirot, Homelands and the Maharaja in Channel 4's Indian Summers.
Art's stage ventures have seen him perform in classics including Othello, Romeo and Juliet and Equus.
He has also been keen to support a range of charitable causes.
He took on a major role in fundraising for relief work for victims of the Gujarat earthquake in 2001 and six years ago appeared in the DEC Pakistan Floods Appeal.
The Sophiya Haque Award for Services to British Television & Film is a category named in tribute to the late Coronation Street actress, who died of Cancer aged 41 in 2013.
The talented actress starred in the popular soap as barmaid Poppy Morales. She also featured in a number of West End shows including Bombay Dreams, The Far Pavilions and Wah! Wah! Girls.
The award has in the past been presented to Roshan Seth, Nina Wadia and Jimmi Harkishin.
---
The University of Salford are premier sponsors to the 2016 events and partners include ITV, MediaCom, Press Association Training and the Manchester Evening News.
The official charity partners for 2016 are The Asian Circle and Oxfam.
The Asian Media Awards 2016 are supported by Hilton Manchester Deansgate, Manchester Metropolitan University, Routes into Languages, AMT Lawyers, Espoke Living, Supreme Dream Events, Cleartwo & Payal.
For further information please e-mail umbreen@asianmediaawards.com.