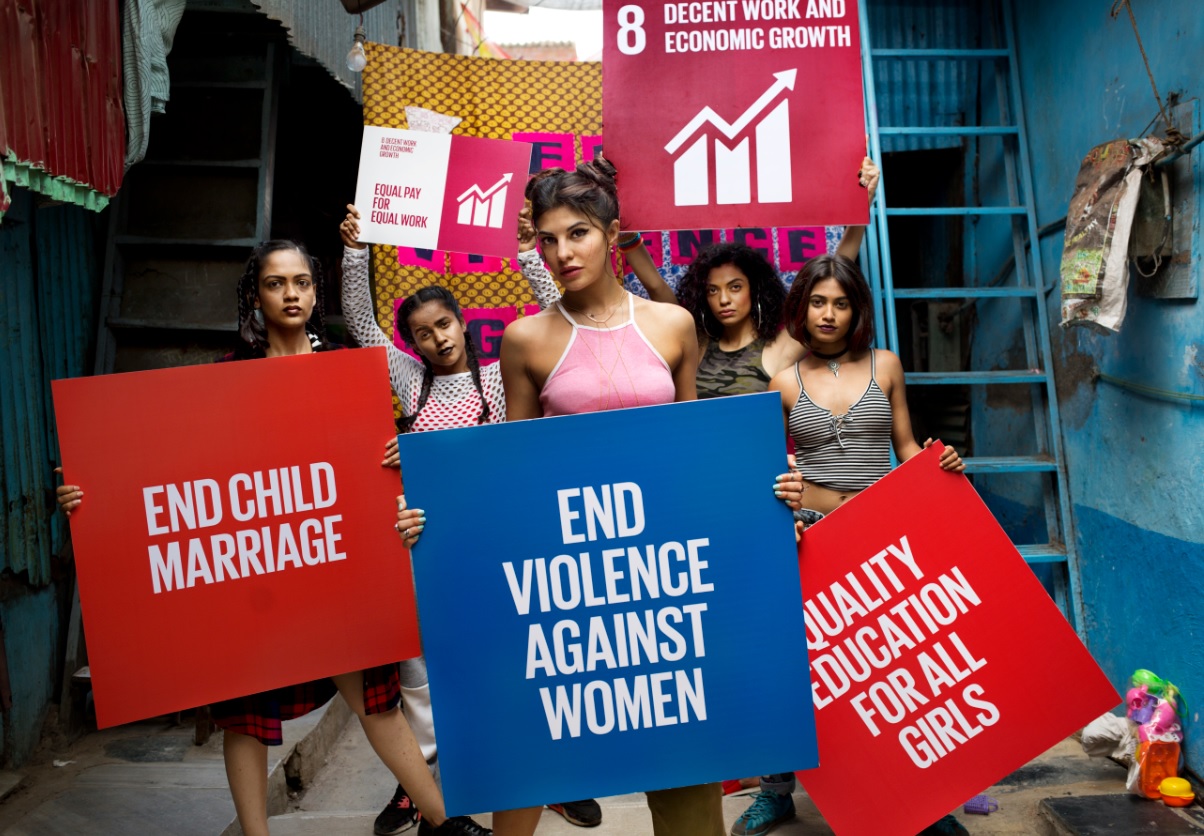 The #WhatIReallyReallyWant Campaign picked-up the Creative Media Award at the Asian Media Awards.
Our first Creative Media award finalists featured a cross-section of work which has made the most effective use of digital or other media in a campaign to promote an idea, product, brand or service.
The AMA's recognise excellence in the media with categories in journalism, online, radio, television and marketing. The awards are sponsored by the University of Salford and took place the Hilton Manchester Deansgate.
On the 20th anniversary of the Spice Girls' Wannabe video, 'Project Everyone' (founded by filmmaker Richard Curtis) released a remake of the video called #WhatIReallyReallyWant.
The campaign aimed to tell world leaders what they really, really want for girls and women empowerment and was soon recognised as one of the most disruptive of 2016.
The visual response to the #WhatIReallyReallyWant campaign was presented to world leaders at the UN.
Natasha Mudhar of Sterling Media said, "We were honoured to be part of Richard Curtis's team Project Everyone which was launched to popularise the sustainable development goals which were agreed by 193 world leaders at the United Nations in 2015."
She added, "Many of people in the audience today were part of the media industry. I would like to dedicate this award to you and every person in the communication sector. Whether you are journalists or reporters that present facts to the public or whether we are in advertising marketing and PR – we are educating and inspiring and changing behaviours through our campaigns.
"As we all have been blessed with an opportunity to move that needle for positive change through the work that we do.
"We all the power in our hands to create positive impact.
"On behalf of all the team at Sterling Media and Project Area One we thank you for this beautiful award."
Sterling Media orchestrated the global communications campaign for the launch of the film which raked in more than 150 million Facebook views and more than 1.6 million YouTube hits in the first few days.
A number of high-profile personalities such Victoria Beckham, Jacqueline Fernandez, M.O, Emma Watson and Richard Branson backed the campaign.
The Creative Media Award category was sponsored by Cleartwo.
---
The University of Salford are premier sponsors to the 2016 events and partners include ITV, MediaCom, Press Association Training and the Manchester Evening News.
The official charity partners for 2016 are The Asian Circle and Oxfam.
The Asian Media Awards 2016 are supported by Hilton Manchester Deansgate, Manchester Metropolitan University, Routes into Languages, AMT Lawyers, Espoke Living, Supreme Dream Events, Cleartwo & Payal.