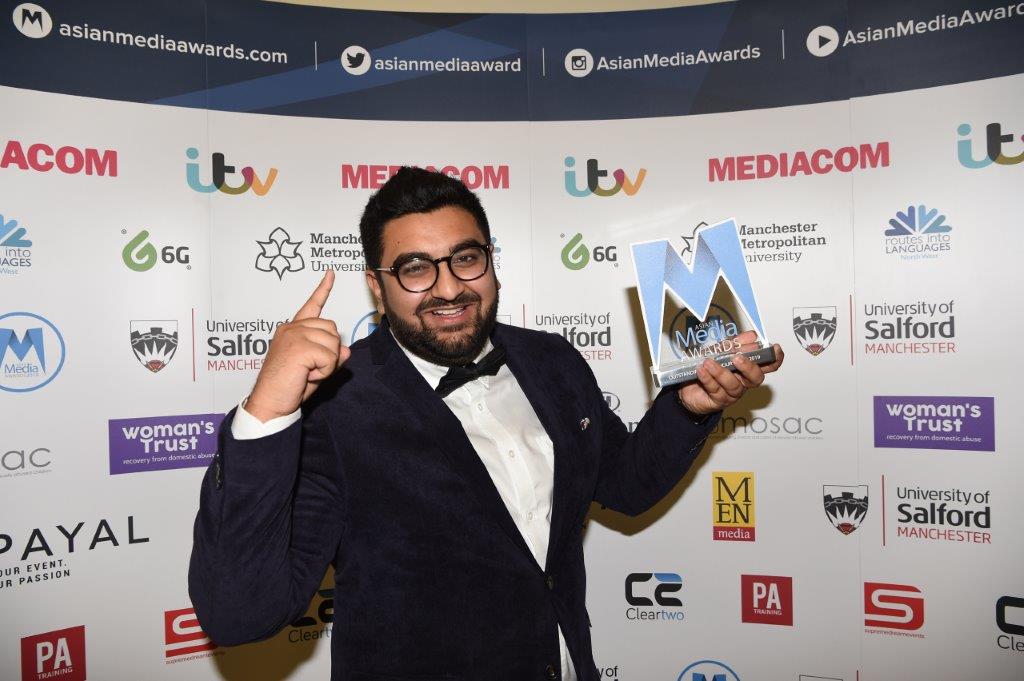 Sky News Correspondent Inzamam Rashid picked-up the Outstanding Young Journalist Award 2019. The Oustanding Young Journalist category was supported by the University of Salford.
The seventh University of Salford Asian Media Awards ceremony (October 24) at the Hilton Manchester Deansgate was attended by journalists, bloggers and media professionals from across the UK.  The 2019 awards were hosted by Dani Sinha of Channel 5 news.
At the age of 24, Inzamam has showcased journalism of the highest standard to feature on one of the world's leading news platforms.
He has created continuous content of original, interesting and exclusive journalism which has been witnessed by millions of people around the globe.
Inzamam was presented the award by Academic Director (MediaCity & Politics/Contemporary History) at the University of Salford, Paul Broster.
Speaking on stage he said, "I want to say thanks to Sky it is a sensational place to work. And this past year has been phenomenal.
"To the guys who were also nominated in this category – five sensational journalists – well done.
"I wanted to go back to what Shobna said earlier. It is people like Shobna, people like Faisal Islam, Ashish Joshi and Mishal Hussain who have knocked down doors for us in the past.
"Hopefully we can take your lead and carry on knocking doors.
"A big thank you to my beautiful mum and dad – without you I would be nowhere."
After two years of working at the BBC as a broadcast journalist, predominantly in radio, Inzamam joined Sky News where he was appointed correspondent to cover UK Home News.
His exclusive report looking at IVF treatment in women from a BAME background was something which picked up a lot of traffic online. It prompted a healthy debate on Sky's flagship programme 'Sunrise' and was an interesting yet informative watch for the viewer.
His display of original journalism is evident through stories including: Forced marriage in men, India vs Pakistan cricket, Westminster Harassment and Child gangs.  As well as constructing creative and informative packages, Inzamam has had continuous success as a live broadcaster.
He often broadcasts live with Breaking News, whether in the studio or out on location. In August his dance skills were on show at the Notting Hill Carnival piece that went viral.
---
This year's Asian Media Awards took place the Hilton Manchester Deansgate on Thursday October 24 2019.
The University of Salford were premier sponsors and partners to the event included ITV, MediaCom, M.E.N, & Press Association Training.
The official Charity Partners for 2019 were Mosac & Woman's Trust.
The event was also supported by Manchester Metropolitan University, Routes Into Languages North West, AMT Lawyers, DKR Accountants, 6G Internet, Hilton Manchester Deansgate, Supreme Dream Events, Payal Events & Cleartwo.