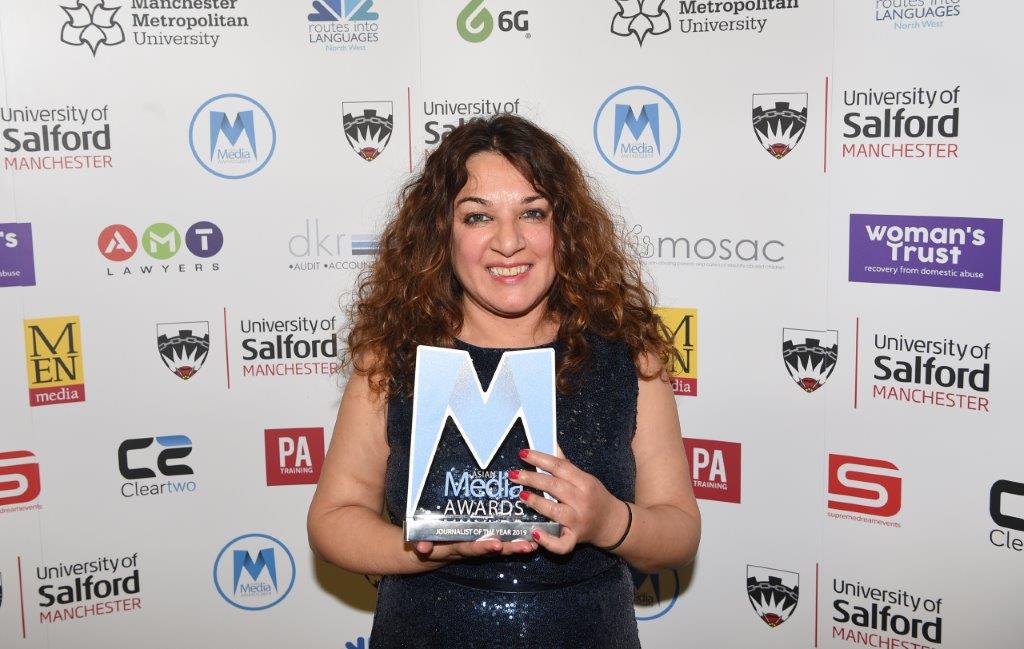 Yasminara Khan was named MMU Journalist of the Year for her work in conducting a wide range of investigations.
The seventh Asian Media Awards ceremony (October 24) at the Hilton Manchester Deansgate was attended by journalists, bloggers and media professionals from across the UK.  The 2019 event was hosted by Dani Sinha of Channel 5 news.
The much-coveted Journalist of the Year category is supported by the Manchester Metropolitan University and Routes into Languages North West was made up of six individuals producing a wide range of reports and investigations.
Journalist and producer Yasminara said: "It's shocking, exciting and I'm just really happy. I've been lucky to work on a range of films that particularly impact on the South Asian community, like the far right, LGBT issues or Windrush.
"…My advice for anyone is it's hard, but be authentic. And chase. Chase stories. When you feel it, you know. Obviously be backed up by the facts, but chase it, be authentic and be tenacious."
And alongside Katie Razzall, Yasminara also picked up the TV Report award for 'Britain's Yellow Vest Activists'.
Senior Lecturer in Multimedia Journalism and Programme leader of the MA Multimedia Journalism course at the Manchester Metropolitan University Andrew Dickinson presented the award to Yasminara.
Yasminara has helped to highlight a range of sensitive topics and issues. The stories she has worked on are regularly picked up by the wider BBC, social media and other media organisations.
All the investigations were sourced, researched and produced by Yasminara.
She persuaded Newsnight to commission her to produce a film about "The first far right women's group" and alongside reporter Katie Razzall, Yasminara attended far-right demonstrations led by Tommy Robinson, the Democratic Football Lads Alliance and Justice for Women and Children (JW&C).
Yasminara led an investigation into the Relationship and Sex Education (RSE) row in Birmingham and looked into how Muslim and Christian groups campaigned against the introduction of school lessons designed to counter prejudice against minorities.
She secured the first UK broadcast interview with the fiancée of Jamal Khashoggi.
During the Windrush scandal Yasminara was one of the only journalists to find a woman who had been in a detention centre for nine months due to the immigration policy.
---
This year's Asian Media Awards took place the Hilton Manchester Deansgate on Thursday October 24 2019.
The University of Salford were premier sponsors and partners to the event included ITV, MediaCom, M.E.N, & Press Association Training.
The official Charity Partners for 2019 were Mosac & Woman's Trust.
The event was also supported by Manchester Metropolitan University, Routes Into Languages North West, AMT Lawyers, DKR Accountants, 6G Internet, Hilton Manchester Deansgate, Supreme Dream Events, Payal Events & Cleartwo.