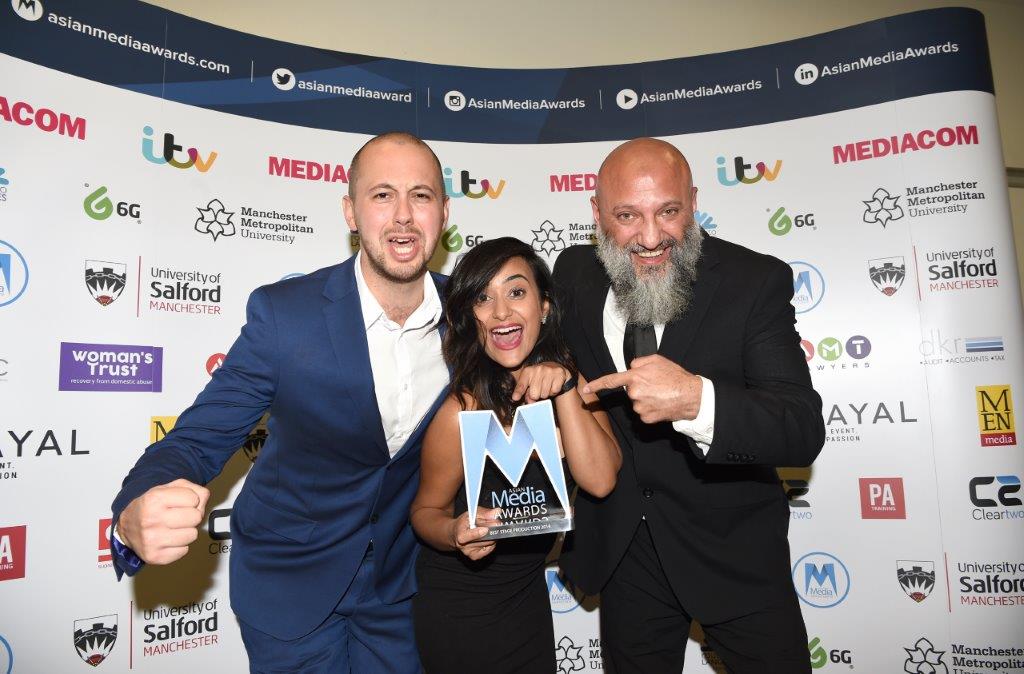 'Memoirs of an Asian Football Casual' which explored football hooliganism and racial tensions in Leicester won the Best Stage Production category. The Best Stage Production was supported by Routes Into Languages North West.
The seventh Asian Media Awards ceremony (October 24) at the Hilton Manchester Deansgate was attended by journalists, bloggers and media professionals from across the UK. The 2019 event was hosted by Dani Sinha of Channel 5 news.
A real eclectic mix of stage productions made up the 2019 Best Production shortlist which celebrated dance, drama and music.
The award was presented by on stage by Talat Farooq-Awan and Tommy Nagra.
Accepting the award on the night, from Curve Theatre, "Thank you to Asian Media Awards – we are super super proud of accepting this award on behalf of Curve Theatre Leicester.
"I would like to thank everyone who made this production in particular our director Nikolai Foster, the writer Dougal Irvine and two amazing actors Jay Varsani and Hareet Deol and of course Riaz Khan."
Riaz Khan said, "I would like to thank the Curve Theatre for putting my life on stage."
Football was different for fans in the 1980s – more so if you were Asian.
Away from the racial tensions of British society and the pressure to stay true to his cultural roots at home, Rushey Mead teenager Riaz Khan, finds his place with Leicester City's infamous football hooligans, the Baby Squad.
Decked out in the latest designer gear and ready for a brawl with the rival firm on match day, Riaz and his friends create a multi-cultural gang advocating racial tolerance, where the only labels that matter are on clothes.
But as the years go by and the casualties of football firms around the country mount up, Riaz soon discovers the true price of belonging to a subculture of violence.
'Memoirs of an Asian Football Casual' was adapted for the stage by Dougal Irvine from the book by Riaz Khan; directed By Nikolai Foster and featured, Jay Varsani and Hareet Deol (Curve Theatre).
---
This year's Asian Media Awards took place the Hilton Manchester Deansgate on Thursday October 24 2019.
The University of Salford were premier sponsors and partners to the event included ITV, MediaCom, M.E.N, & Press Association Training.
The official Charity Partners for 2019 were Mosac & Woman's Trust.
The event was also supported by Manchester Metropolitan University, Routes Into Languages North West, AMT Lawyers, DKR Accountants, 6G Internet, Hilton Manchester Deansgate, Supreme Dream Events, Payal Events & Cleartwo.