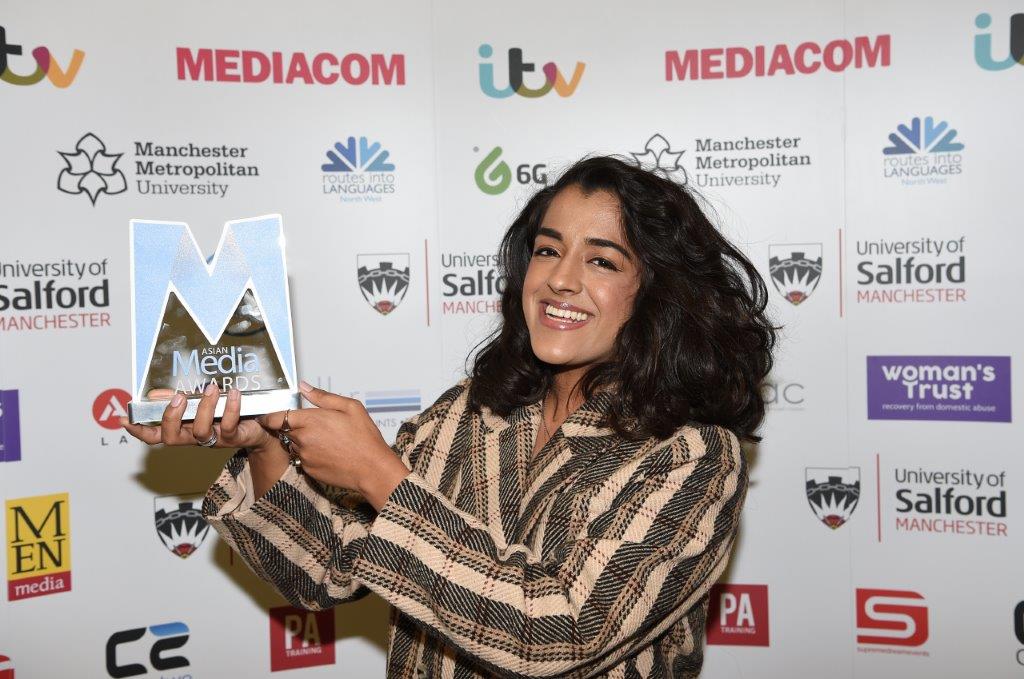 Twenty-two year-old fashion blogger Arooj Aftab won the Best Blog award at the 2019 Asian Media Awards. The Best Blog award was supported by Hilton Manchester Deansgate.
The seventh Asian Media Awards ceremony (October 24) at the Hilton Manchester Deansgate was attended by journalists, bloggers and media professionals from across the UK. The 2019 event was hosted by Dani Sinha of Channel 5 news.
Arooj uses Instagram and her website Vogue Wonders to raise awareness of her genetic condition, neurofibromatosis type 1 (NF1), which causes tumours to grow along her nerves.
Arooj describes herself as a 'gal styling menswear.' She is an influencer breaking down barriers in the quest for body positivity within fashion.
Last year she was part of the BBC Newsbeat documentary, 'My Tumour Made Me Trendy' which revealed more about her story and coming to terms with her condition. She was also nominated in the Cosmopolitan UK Influencer Awards.
Arooj was named as one of the Influential Women Instituting Change on Instagram by British Vogue for International Women's Day this year.
She is recognised in the industry as a spokesperson for body positivity and uses her styling tips to help empower others who are also living with similar conditions.
Arooj was presented the award by actor Ameet Channa.
Arooj said on stage, "I wasn't expecting to win this. It is such a  good category with everyone doing such great things.
"I want to thank the Asian Media Awards, I want to thank every single person in this room and thank you to my parents for pushing me to be better.
"This is for them as well."
The 2019 shortlist included some of the most diverse bloggers in recent year such as the Grewal Twins, The Punjabi League, Mita Mistry and Binny's Food & Travel diaries.
---
This year's Asian Media Awards took place the Hilton Manchester Deansgate on Thursday October 24 2019.
The University of Salford were premier sponsors and partners to the event included ITV, MediaCom, M.E.N, & Press Association Training.
The official Charity Partners for 2019 were Mosac & Woman's Trust.
The event was also supported by Manchester Metropolitan University, Routes Into Languages North West, AMT Lawyers, DKR Accountants, 6G Internet, Hilton Manchester Deansgate, Supreme Dream Events, Payal Events & Cleartwo.