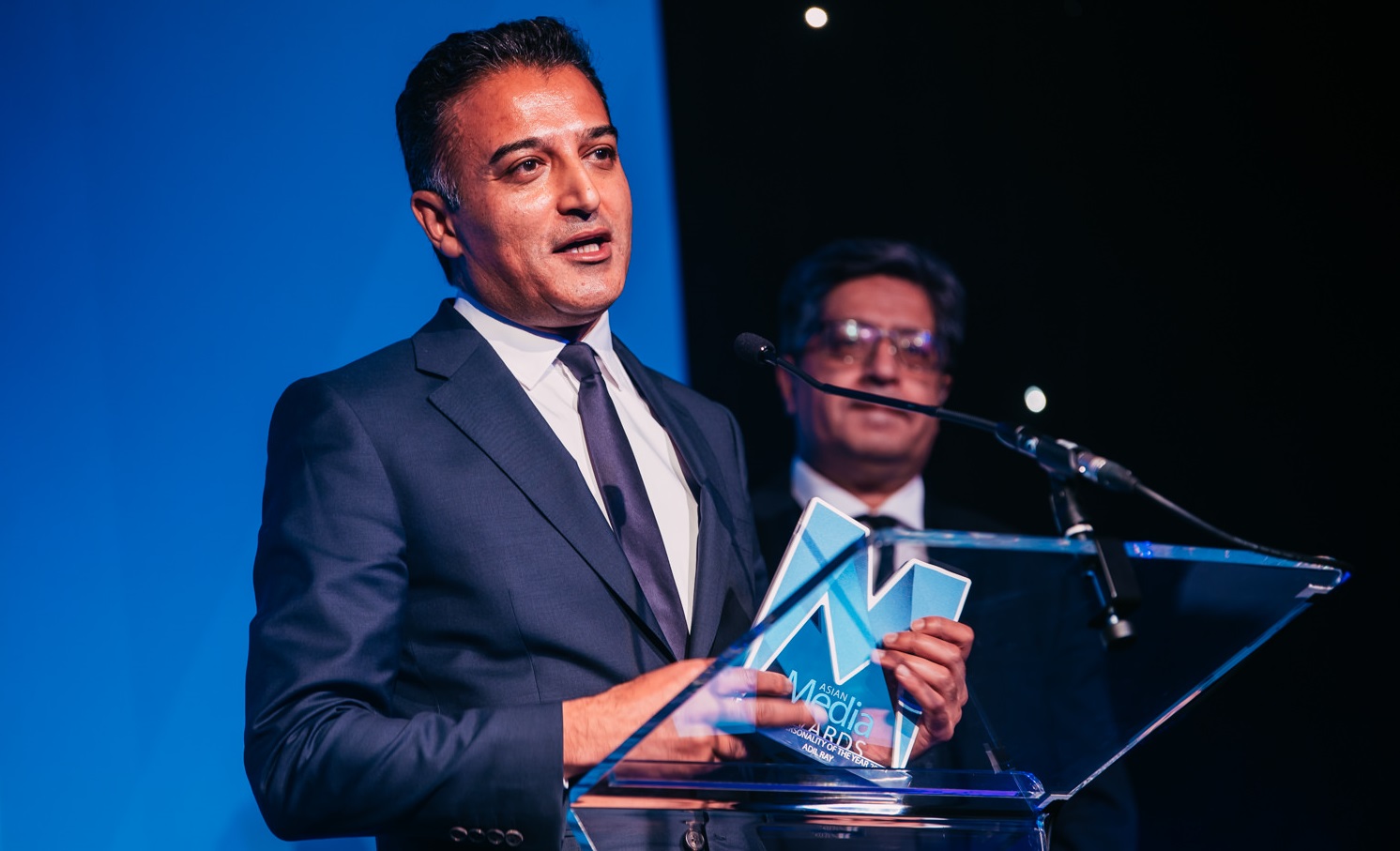 Adil Ray was named 2021 Media Personality of the year at the 9th Asian Media Awards in Manchester.
The first live AMA's ceremony in two years took place at the Emirates Old Trafford on Friday night (October 29) with some of the honours handed out by volunteers and local community groups.
The awards are supported by the University of Salford who are Premier partners.
Volunteers and community groups who had worked with AMA co-founder Umbreen Ali, who passed away last December following treatment for cancer, were invited to present awards on the night. The ceremony was this year supporting the work of Manchester based women's organisation Saheli.
Accepting the award Adil spoke passionately about how he always found it important in his career to ensure he helped others to reach the position he had. And it was very much about 'sending the elevator back down'.
He said: "What I realised and it took me a while was that what Great Morning Britain (GMB) does for me and Lingo does for is that it gives me a platform and that's incredibly important. I remember what one of my favourite actors, Jack Lemon said. He talks of a very simple thing – you send the elevator back down.
"It was something that stuck with me. That's what you have to do in this business and that is all that really matters."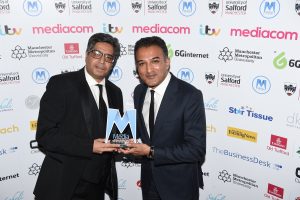 Adil presented the honour by AMA panel member BBC Children in Need's Directer of Content – Tommy Nagra (left).
Adil went on to speak of how important it also was to use his position to help influence people to take the Covid Vaccine – a campaign he was heavily involved with during the lockdown, calling it the 'greatest thing' he did.
Adil has been a familiar face on television and  radio for over 25 years featuring in speech and  music radio, television comedy, and drama and  feature film.
Adil is perhaps best known for the award winning comedy classic, Citizen Khan but he has also lent his voice to more serious issues too.  Adil was one of the first to explore the subject of sexual exploitation presenting the award-winning documentary 'Exposed: Groomed for Sex' in 2011.
In the past year alone, Adil took on one of UK television's most high-profile roles as a host  and presenter on Good Morning Britain where he has gained a reputation of holding politicians  on all sides to account and highlighting issues  and stories relevant to Britain's ethnic minority  communities.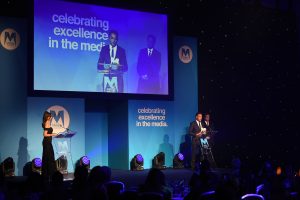 Also in the last twelve months Adil hosted  the ITV quiz show Lingo, with a second series  due next month, Have I Got News For You on  the BBC, appeared as lawyer Imran Khan in the  ITV drama Stephen, exploring the racist murder  of Stephen Lawrence and is due to appear in  Whirlwind, a war drama for Apple TV, executively  produced by Tom Hanks and Steven Spielberg.
Through his work both professionally and  privately, Adil has been at the forefront in challenging false narratives and speaking out  wherever he felt there was an injustice. This has not always been easy through a period of great uncertainly and mistrust.
During the Covid pandemic Adil has led campaigns to encourage more people from minority communities to adhere to government  guidelines and Covid restrictions for their own  safety and those of their family members.
His leadership, through this period, was something that helped to change perceptions and misconceptions between people.
Adil continues to speak passionately on many subject matters as well as support charitable causes such as the Acorn's Hospice dedicated to life limited children, Parkinson's  UK and Pancreatic Cancer UK.
This year Adil was announced patron of Screen Film School Birmingham with a £30,000  scholarship announced in his name – The Adil  Ray OBE Scholarship.
It was also announced this year that his former university, The University of   Huddersfield are to award Adil with an honorary doctorate in January 2022. Adil received and honorary doctorate from Birmingham City  University in 2016.
In 2021, Adil launched his own production company, Cornered Tiger that is currently developing projects with new and upcoming diverse writers.
(Lead Image: Emirates Old Trafford)