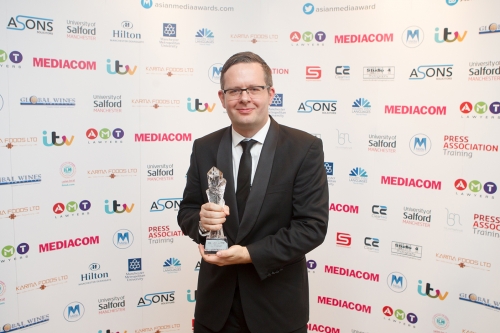 The BBC Asian Network held onto their title of Radio Station of the Year at this year's Asian Media Awards.
The BBC Asian Network continues to break new ground and it celebrated its most successful year in the history of the station, reaching a record audience of 668,000 weekly listeners.
As well a huge variety of programmes in different languages, the network has built up its reputation in delivering hard-hitting in-depth investigations on issues affecting all parts of the Asian community.
Mark Strippel, Head of Programmes, BBC Asian Network said,
"It feels great. Last year we took home the award. It means a lot to us as a network.
"We posted record audience figures last week.
"We are growing as a network.
"Some of the panel have been in Asian broadcasting for over 30 years.
"To receive this accolade from our people, the industry our peers, this is something really special.
"We have grown as a network in terms of the impact of our journalism.
"Also, the ambition of our music is to take Asian artists to a much bigger stage.
"We have real ambition, real scale, real stature, but we are taking British Asian culture and discussion to a much stage. That's our real higher purpose."
The Asian Media Awards were held at the Hilton Manchester Deansgate and were sponsored by the University of Salford and Asons Solicitors.
Special awards on the night went to Krishnan Guru-Murthy who was named Media Personality of the Year; Nina Wadia who collected the Sophiya Haque Services to British Television Award and Waris Hussein who was honoured with the Outstanding Contribution to Media Award.
The Best Investigation Award went to Ross Kemp for the Extreme World: India episode. Chris Bisson was named as Best TV character.
Event partners included ITV, MediaCom and Press Association Training.
The event was hosted by Manish Bhasin from the BBC and Sam Ali Khan of ITV Central.
Photo by Saty Singh – Studio 4 Photography
Media