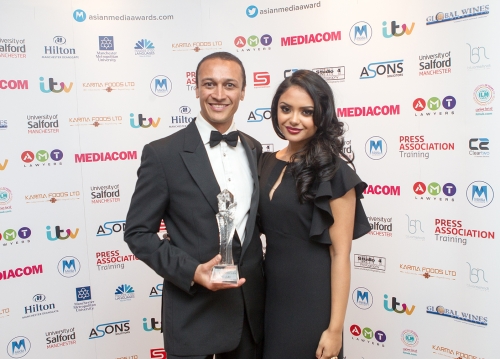 Chris Bisson who plays Jai Sharma on Emmerdale was chosen as Best TV character at the second Asian Media Awards.
The Asian Media Awards were held at the Hilton Manchester Deansgate and were sponsored by the University of Salford and Asons Solicitors.
The event was hosted by Manish Bhasin from the BBC and Sam Ali Khan of ITV Central.
Jai Sharma and his family form a thriving and integral part of Emmerdale's beating heart and community.
Jai is the leading figurehead for the business – a firebrand playboy whose heart and head very rarely find occasion to meet.
Son of Rishi, brother of Nikhil and Priya, his life has been a tumultuous one – no more so than in the last year, when he was forced to watch his beloved sister battle Pregorexia.
Played by Chris Bisson an accomplished screen actor on British Television who has featured in some of the country's best loved films and dramas.
He said, "It's been a good year and I am really pleased to be getting this.
"My character has been really busy this year with lots of emotional storylines and it is nice that people have recognised this."
Special awards on the night went to Krishnan Guru-Murthy who was named Media Personality of the Year; Nina Wadia who collected the Sophiya Haque Services to British Television Award and Waris Hussein who was honoured with the Outstanding Contribution to Media Award.
The Best Investigation Award went to Ross Kemp for the Extreme World: India episode.
Photo by Saty Singh – Studio 4 Photography
Media