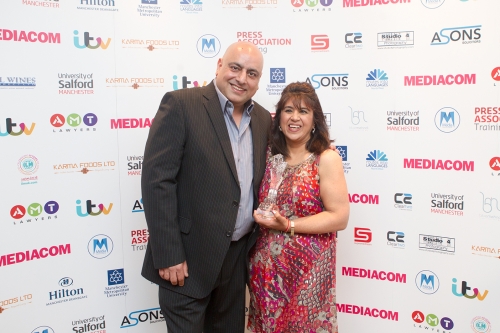 Media Moguls triumphed for the second year winning the Media Agency of the Year award.
Media Moguls are a PR and Media agency who for over 20 years have helped launch some of the biggest campaigns targeting the Asian community in the UK.
Anjna Raheja, Managing Director of Media Moguls said,
"It's a complete shock. We genuinely were not expecting this. Not for a second year!
"It's a real honour.
"We have been fortunate enough to work on some great projects in the last year, including campaigns for breast cancer and lung cancer. We have worked on exciting films like 'Million Dollar Arm.'
"Director Raj Ghai looks after the music artists like Jay Sean.
"That whole diversity of the projects we have been working on means we have had a fantastic and fun year."
The Asian Media Awards were held at the Hilton Manchester Deansgate and were sponsored by the University of Salford and Asons Solicitors.
The event was hosted by Manish Bhasin from the BBC and Sam Ali Khan of ITV Central.
Special awards on the night went to Krishnan Guru-Murthy who was named Media Personality of the Year; Nina Wadia who collected the Sophiya Haque Services to British Television Award and Waris Hussein who was honoured with the Outstanding Contribution to Media Award.
Media