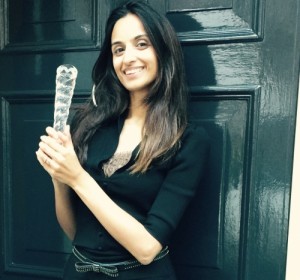 Farzana Baduel was named Media Professional of the Year at the 2014 Asian Media Awards.
Baduel is the Founder and Managing Director of Curzon PR. Founded in 2009, Curzon PR is a London-based strategic public relations and digital communications agency working across arts, culture, business and policy in growth markets.
She said:
"It is an honour and a pleasure to be awarded Media Professional of the Year.
"I established Curzon PR five years ago with the intention of building a PR company that would create innovative and strategic campaigns. Receiving this award is a touching recognition of our achievement and growth."
Baduel has nurtured Curzon PR since the business' inception into a leading media agency, representing international government projects and corporates listed on the New York Stock Exchange.
Baduel is a regular contributor to the Guardian, Hello! Pakistan, Business Today and the BBC and is the Editor-at-large for Epicurean Life, a quarterly luxury lifestyle magazine stocked in Harvey Nichols and throughout luxury London hotels.
She also writes regular content for her personal branded blog, FarzanaBaduel.com, covering topics through PR, marketing and journalism.
Under Baduel's direction, Curzon PR has headed campaigns for the Oscar-winning documentary, Saving Face; the Arts Council-backed initiative, Creative Industry Finance and the NYSE listed global rice brand, Amira.
Shortlisted candidates in 2014 included, Tony Gill of Canvas PR, Natasha Mudhar of Sterling Media and Nisha Sahdev of Sahdev Media.
Special awards on the night went to Krishnan Guru-Murthy who was named Media Personality of the Year; Nina Wadia who collected the Sophiya Haque Services to British Television Award and Waris Hussein who was honoured with the Outstanding Contribution to Media Award.
The Best Investigation Award went to Ross Kemp for the Extreme World: India episode. Chris Bisson who plays Jai Sharma on Emmerdale was named as Best TV character.
The Asian Media Awards were held at the Hilton Manchester Deansgate and were sponsored by the University of Salford and Asons Solicitors.
Event partners included ITV, MediaCom and Press Association Training.
The event was hosted by Manish Bhasin from the BBC and Sam Ali Khan of ITV Central.
Media