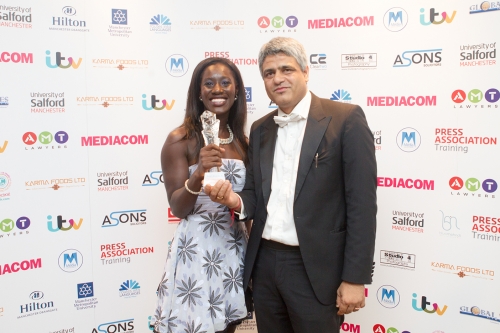 The Act Fast Stroke was the recipient of the Best Social and Charitable Campaign 2014 at the Asian Media Awards.
The Best Social and Charitable Campaign is one of four individual special awards which aims to recognise specific organisations and individuals.
The campaign, marketed by the team from Here and Now 365 is directed at BME groups and was developed to promote awareness in early recognition of stroke symptoms.
Edna Boampong, Head of Communications and Engagement, Greater Manchester Public Health Network said,
"We did this campaign to save lives and to make a difference. To get some recognition for that work is brilliant.
"It shows that things like this are worthwhile.
"When we did post campaign research, what we realised was that there was an increase in 10% in awareness in the signs and symptoms of stroke in the Asian and black communities.
"For us that's really important. If just one person calls 999 sooner when someone they know is having a stroke, it means they can save that person's life.
"If we save just one life through this campaign, it makes all the difference."
The 2014 Asian Media Awards took place at the Hilton Manchester Deansgate in front of journalists, actors, presenters and marketing professionals from across the world.
The event was hosted by Manish Bhasin from the BBC and Sam Ali Khan of ITV Central, showcased the very best talent working in the Asian media industry and those working in the mainstream media.
Photo by Saty Singh – Studio 4 Photography
Media