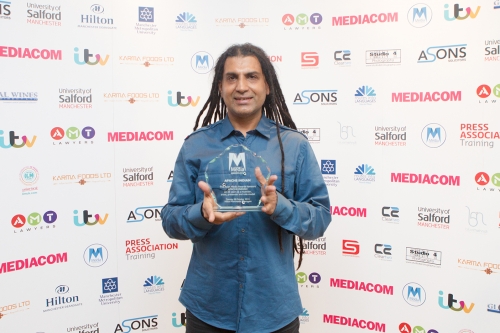 This year's Asian Media Awards honoured Apache Indian on a distinguished 25 year career as a musician, artist, presenter and role model.
Tommy Nagra from the BBC presented a special award celebrating this achievement to Apache Indian.
It is remarkable to note that it has been a quarter of a century since Apache Indian made his musical debut.
Since then he has been played at some of the most high-profile venues on the planet with some of the biggest musical names and had immense chart success. But what is evident is that he has not lost that common touch.
He began his career in the UK dancehalls where many Asian pop / bhangra music found a level of fame. Apache released a series of singles in the early '90s and achieved three number 1's in both the Reggae and Asian charts.
Many of these singles would appear on his 1993 major-label Island Records debut, 'No Reservations', including "Don Rajah", a song that exemplifies Apache Indian's cross-cultural fusion and earned him a new nickname as well.
Since then, Apache has enjoyed more success including; winning various awards from the Asian and Reggae Industries, 7 British top 40 hits, 4 Brit Award nominations, Mercury Music nomination, Ivor Norvello Award & the International Dance Award in 1995.
His big hit single 'Boomshackalak' has been featured in over 75 International TV commercials and in 7 Hollywood Movies including 'Dumb & Dumber', 'Scooby Doo 2 and 'Threesome'.
But there was always more to Apache Indian than just music.
Apache Indian was the first Asian artist to have his very own show on Radio 1 and has been keen over the years to aim to challenge and debate specific issues within the Asian community.
His efforts were noted when in 2013 at the Asian Media Awards, Apache and his team picked-up the Best TV Show award for Brit Asia TV's RealTalk. A programme which made an effort to air people's views on race, religion and culture.
Earlier in the month he picked-up a Lifetime Achievement Award at the Brit Asia TV Music Awards. But one of the hardest working musicians in the business just continues to innovate.
Apache Indian has just released his new album 'It Is What It Is 'on Universal Music Indian celebrating 25 years in the music business.
The Asian Media Awards are delighted to have commended Apache Indian for his 25 years as a musician, an artist and presenter.
The Asian Media Awards were held at the Hilton Manchester Deansgate and were sponsored by the University of Salford and Asons Solicitors.
The event was hosted by Manish Bhasin from the BBC and Sam Ali Khan of ITV Central.
Special awards on the night went to Krishnan Guru-Murthy who was named Media Personality of the Year; Nina Wadia who collected the Sophiya Haque Services to British Television Award and Waris Hussein who was honoured with the Outstanding Contribution to Media Award.
Photo by Saty Singh – Studio 4 Photography
Media