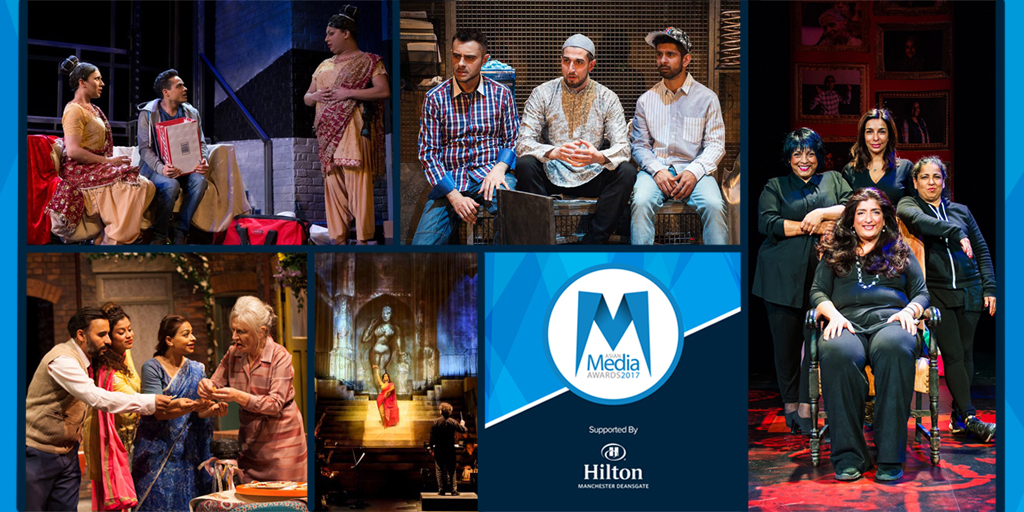 The 2017 Best Stage Production category is a fascinating look at the complexities of being British and Asian. This category is supported by Hilton Manchester Deansgate.
Anita and Me – Adapted by Tanika Gupta; Directed by Roxana Silbert; Based on the book by Meera Syal. The Touring Consortium Theatre Company and Birmingham Repertory Theatre
Based on the much celebrated book by Meera Syal this coming-of-age tale follows Meena, a young girl growing up in the only Punjabi family in a 1970s Black Country mining village.  Meena spends her days happily getting into scrapes with the other local children until one day the impossibly cool Anita enters her life. Suddenly Meena knows exactly who she wants to be but is Anita all that she seems
Combustion – Written and Co-Produced by Asif Khan (AIK productions); Co-Producer: Jonathan Kennedy (Tara Arts); Directed by: Nona Shepphard; Designed by Mila Sanders Featuring: Mitesh Soni; Nigel Hastings; Shireen Farkhoy; Rez Kempton; Beruce Khan
Combustion is an extremely relevant production that explores conflicting views and opinions and how this affects communities. In Combustion, racists plan to march through Bradford during Ramadan, inflaming local tensions.  Meanwhile Shaz, a local garage mechanic, desperately tries to keep his business running smoothly so he can marry well. In this volatile environment, Shaz's sister Samina is determined to make her voice heard.
Miss Meena and the Masala Queens – Artistic Director Pravesh Kumar; Written by Harvey Virdi, Featuring: Ali Ariaie; Harvey Dhadda; Raj Ghatak. Rifco Arts and Watford Palace Theatre
An entertaining and thoughtful production which lifts the lid on the British Asian drag queen community. Miss Meena and the Masala Queens combines the thrill of performance with the realities of a life led outside cultural and social conventions. Created in consultation with the LGBTQ (Lesbian, Gay, Bisexual, Transgender and Queer/Questioning) community, it uncovers the untold stories of men who choose a female persona.  Dazzling saris, grand Bollywood lip-sync dance numbers and queues of adoring fans – for Miss Meena this is all now a distant memory.
Mother Tongues from Farther Lands – Written and Directed by Sajeela Kershi; Produced by Dawinder Bansal. Featuring: Shobna Gulati, Shobu Kapoor, Shyama Pereira. (Replaced by Ayesha Hazirika at Southbank show); Set design: Shanaz Gulzaar. Commission from Southbank centre in partnership with Alchemy national partners: Black Country touring, cast Doncaster and Oldham Coliseum Theatre. Working with regional South Asian women's groups throughout its creation.
Stories of real life inspirational women who have overcome the odds are captured in this intriguing production. Female celebrities led by acclaimed actresses Shobna Gulati and Shobhu Kapoor have brought stories filled with emotion, hope and battling against challenging circumstances with beautifully crafted monologues. Writer and comedian Sajeela Kershi and producer Dawinder Bansal worked with South Asian women in Doncaster, London, Oldham and Wolverhampton to unearth the gripping stories rooted in reality.
Sukanya: An Opera by Ravi Shankar – Directed by Suba Das; Conducted by David Murphy. Featuring: Susanna Hurrell, Alok Kumar, Keel Watson, Michel de Souza, Njabulo Madlala. London Philharmonic Orchestra, Royal Opera House and Curve Theatre
The legendary Ravi Shankar was composing his pioneering opera Sukanya at the time of his death in 2012. It is an opera exploring the common ground between the music, dance and theatrical traditions of India and the West and is brought to the stage for the first time here. The production features British soprano Susanna Hurrell in the title role, Indian born tenor Alok Kumar, bass-baritone Keel Watson, baritone Michel de Souza, baritone Njabulo Madlala, the BBC Singers and the full force of a 60-strong London Philharmonic Orchestra. The Orchestra was supplemented with Indian classical instruments including the sitar, shennai, tabla, mridangam and ghatam.
---
This year's Asian Media Awards returns to the Hilton Manchester Deansgate on Wednesday October 25 2017.
Previous recipients of an Asian Media Award include Krishnan Guru-Murthy, Waris Hussein, Art Malik, Mehdi Hasan, Nina Wadia and Anita Anand.
The University of Salford are premier sponsors and partners to the event include ITV, MediaCom, M.E.N, Press Association Training & Primesight.
The official Charity Partners for 2017 are Sightsavers.
The event is also supported by Manchester Metropolitan University, Routes Into Languages, AMT Lawyers, Hilton Manchester Deansgate, Supreme Dream Events, Payal and Cleartwo.