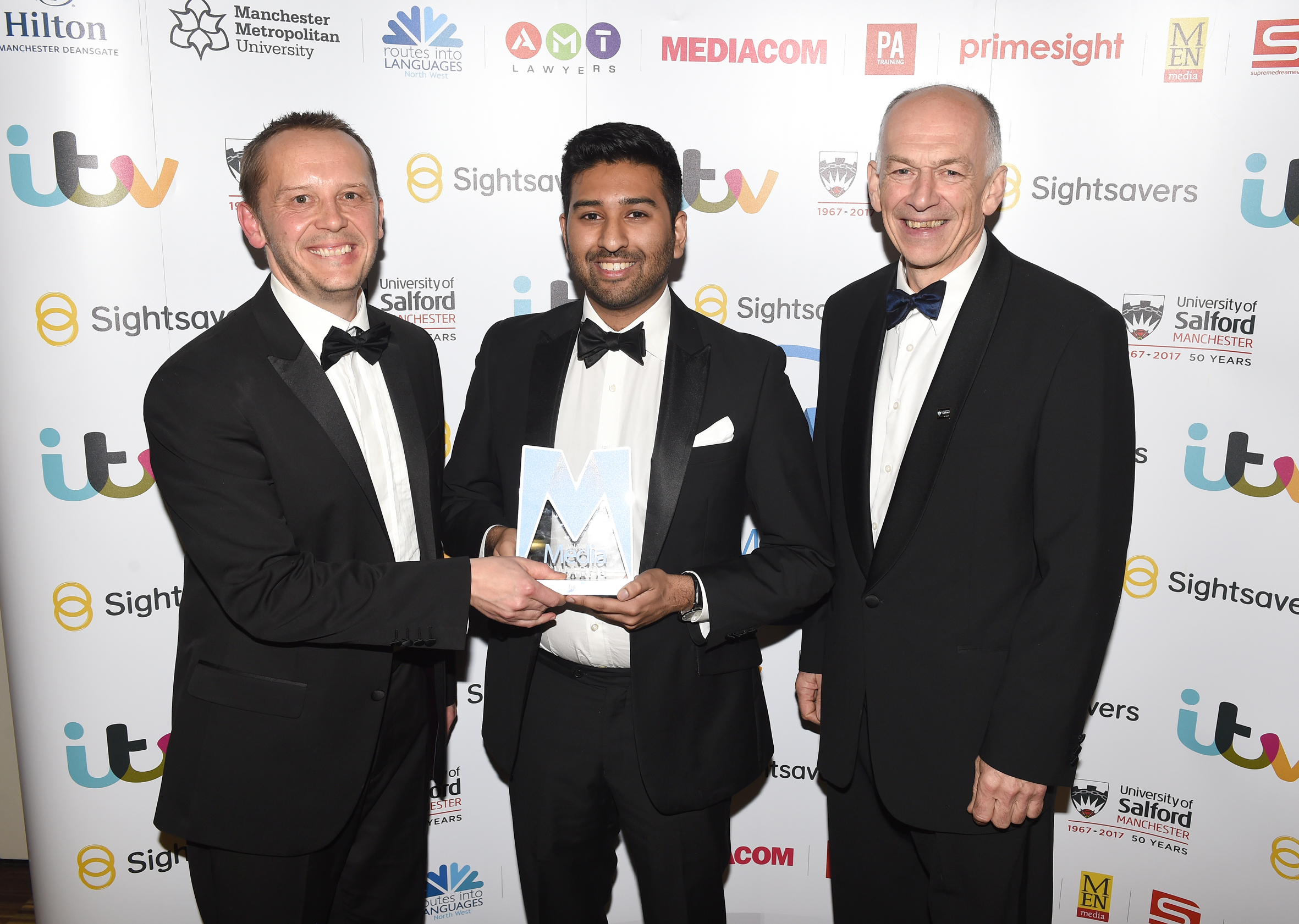 News Reporter and Political Columnist for The Independent, Shehab Khan was named the University of Salford supported Outstanding Young Journalist the fifth Asian Media Awards.
The Asian Media Awards honours journalists, broadcasters, presenters, bloggers and marketing professionals and took place at the Manchester Hilton Deansgate (Wednesday 25 October).
Shehab was chosen from a list of strong young journalists and Shehab was keen to commend his fellow finalists when he was invited on stage.
When he began working for The Independent, Shehab was the youngest reporter there.
Now, at the age of only 23 he currently holds the position of Reporter and Political Columnist for the title.
In the past year he has reported on a range of national and international stories. This has included extensive coverage of the General Election and Brexit.
His exclusive work has been published on the front page of The Independent. Notable interviews in the past two years include the former Prime Minister of Italy, the former Prime Minister of Belgium and the President of the European Parliament. Shehab also features on a regularly basis on Sky News, London Live, BBC Radio and LBC.
He was presented with the award by Professor Alan Walker, Dean of the School of Arts and Media Professor Allan Walker and Director of Journalism, Politics and Contemporary History Paul Broster.
Speaking on stage Shehab said, "This ceremony really does a fantastic job of highlighting the work that our community does, especially in an industry where we are so under-represented. It is so important that our voice is heard and that the people in this room continue to do the brilliant job that they are doing.
"I want to pay tribute to the other nominees in this category. I looked through everybody's work and was blown away by how unbelievably talented each and every one of you is.
"I want to thank the editor's of the Independent who have been fantastic and the producers at Sky, LBC, London Live, BBC, everyone who is willing to get me on and let me moan about politics and all the things I don't like in the world.
"And above all I want to thank my family and my significant other who is at home hoping that I message to say it's good news."
He added, "My dad, who is sitting in the audience, is my number one fan. He reads every single one of my articles and watches every single one of my shows.
And above everything else, my mum without whom nothing would be possible.
"I grew up in the East End of London in a disadvantaged area in a community where people don't quite get the same chances as those from more privileged backgrounds.
"My mum went above and beyond to make sure I had every single opportunity.
"Whether that was waking up at 6am to drive an hour and a half to take me to school, whether she stayed up all night when I was studying and panicking for my finals.
"Mum, I know you're disappointed I didn't become a doctor, but hopefully this makes up for it and I dedicate this award to you."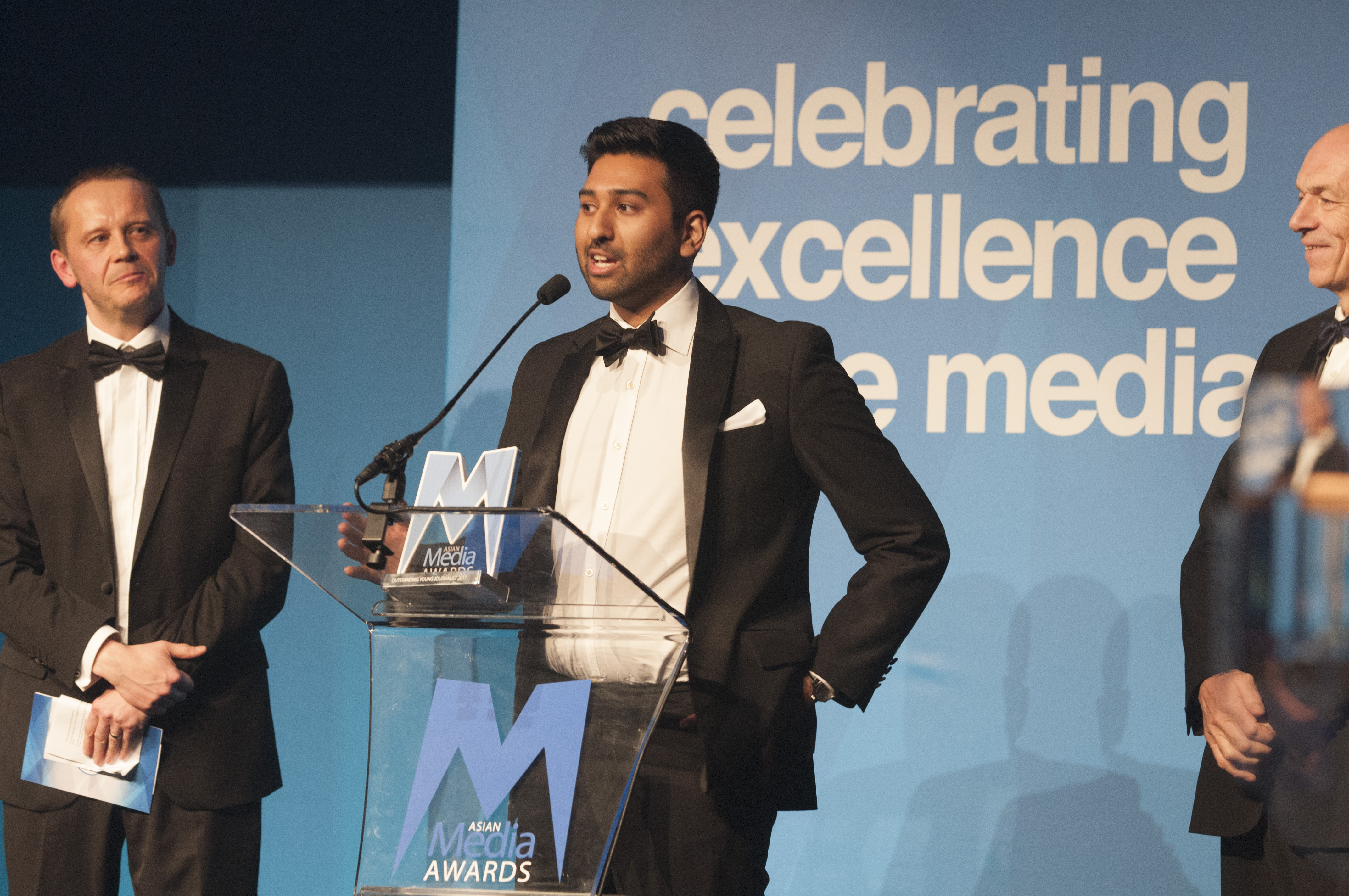 Speaking to the audience Professor Allan Walker said, "After the events of the last year the University remains even more committed to the very important work that these awards celebrate.
"We believe our sponsorship has helped to inspire others by showcasing the brilliance that exists in the Asian media.
"We are also excited to work with people on the ground in changing the game.
"We've heard a lot of stories come out about the support that parents have given and the next generation also needs that support from their parents as well.
"I've worked with the Asian communities school children, college students, our students, industry professionals. This is because we want the media to be more diverse both in the workplace and its output.
"Tonight we have our students filming this event, interviewing the winners. They're doing an absolutely brilliant job.
"Four of our recent graduates are working in the creative industries.
"We are making a difference together and will carry on making a difference together."
Paul Broster said, "This is the fourth year I've had the pleasure of judging the Outstanding Young Journalist award.  Every year it does get tougher.
"In fact, this year it has been agony because we've had five brilliant nominees, five young people producing great journalism, making a difference."