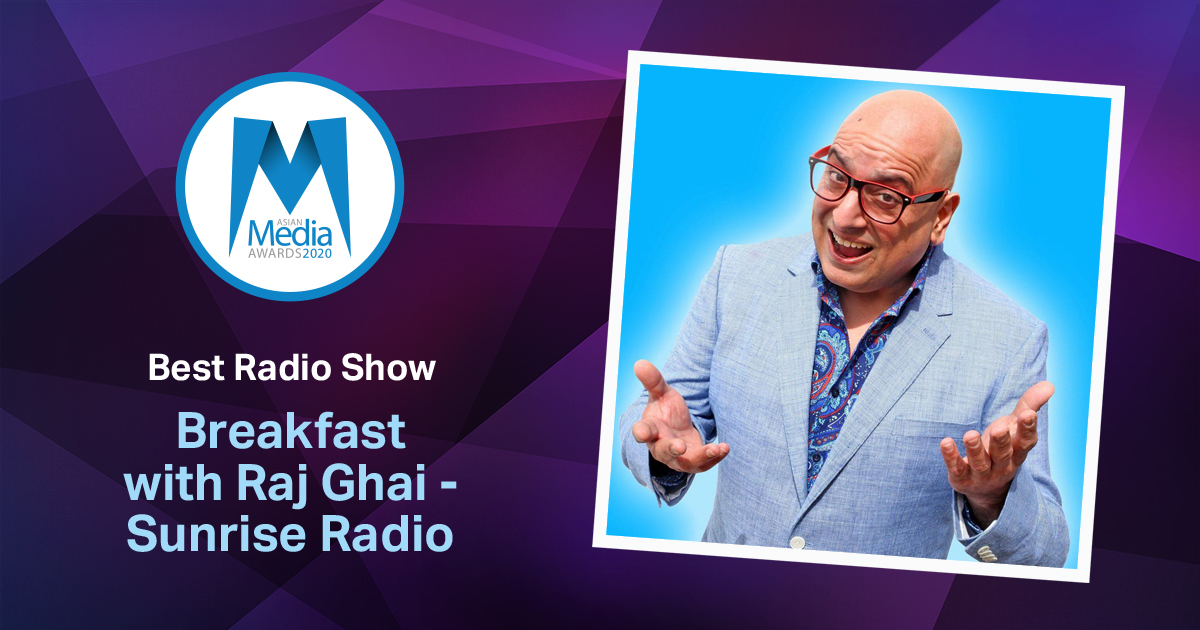 Raj Ghai's Breakfast show on Sunrise Radio won the Best Radio Show accolade at the 8th Asian Media Awards.
The 2020 awards honoured the dedication and commitment of the individuals and teams behind these fantastic shows who have kept listeners entertained and informed throughout the pandemic.
Due to the Covid-19 and government restrictions winners to a select number of awards in journalism, radio and stage were announced digitally on Thursday 19 November. The winner was announced by journalist and AMA panel member Shelina Begum.
Despite not having a team of dedicated producers, researchers, social media experts or huge budgets it has become (RAJAR figures) the most listened to Asian breakfast show on commercial radio in the UK.
Speaking to the AMA's he said, "I'm truly honoured to have been given this trophy, which is not as big as I thought it would be but still, it's the thought that counts.
"I've been around in the industry for some time now and I've worked in many of its sectors including TV (on-screen and behind), news (print and digital), events (too many to mention or even remember) music (promotion and production) and of course radio.
"Whatever I've done over the years has been more for pleasure than money. I enjoy making people smile and I try to bring joy into the lives of those I meet or those who watch or listen to my shows.
"That's why this award means a lot to me. It tells me that my formula is working, by no means perfect but I'll strive to take it to the next level. The award tells me that I'm making people happy and that makes me ecstatic."
During the pandemic and lockdown period, Raj hosted the show live from the studio, never missing a day, providing support and information for the Asian community.
He thanked his fellow media professionals and finalists for the work they continue to do in testing times, "I obviously want to thank everybody at The Asian Media Awards and the judges. I obviously want to thank my colleagues at Sunrise Radio, to Tony Lit MBE and Paul Shah without whom I wouldn't have been on the radio.
"Big thanks to the team in the office and a huge shout out to all my presenter colleagues especially those who have co-presented with me over the past 5 years and have played a significant role in getting me to this point.
"But just as importantly, I would like to give a 'from-the-heart' shout out and respect to all the nominees and finalists in every category, most of whom I know well and/or have worked with at some point in my career.
"I'm 'too long in the tooth' now to be saying I won this and it's me, me, me! I've realised that we are in an industry where we need to work together, respect each other's strengths and support where there are weaknesses, and together, which has been a long time coming, strive to build a stronger and more powerful voice for the next generation of Brit-Asian media professionals. We are all winners."
During the pandemic and lockdown period, Raj hosted the show live from the studio, never missing a day, providing support and information for the Asian community.
He was on hand to explain new rulings as well as ask it meant for people across the country. Raj says he firmly believes laughter is the best medicine. His love of wildlife also saw him introduce his pets to his army of listeners – with the 'Zoo Radio' format.
---
This year's Asian Media Awards ceremony took place digitally on Thursday 19 November.
Previous recipients of an Asian Media Award include Krishnan Guru-Murthy, Waris Hussein, Art Malik, Mehdi Hasan, Nina Wadia, Anita Rani, Shobna Gulati & Faisal Islam.
The University of Salford are premier sponsors and partners to the awards include ITV, MediaCom, Reach PLC, M.E.N, & Press Association Training.
The awards are also supported by Manchester Metropolitan University, Routes Into Languages North West, AMT Lawyers, DKR Accountants, 6G Internet, Hilton Manchester Deansgate, Supreme Dream Events, Payal Events & Cleartwo.