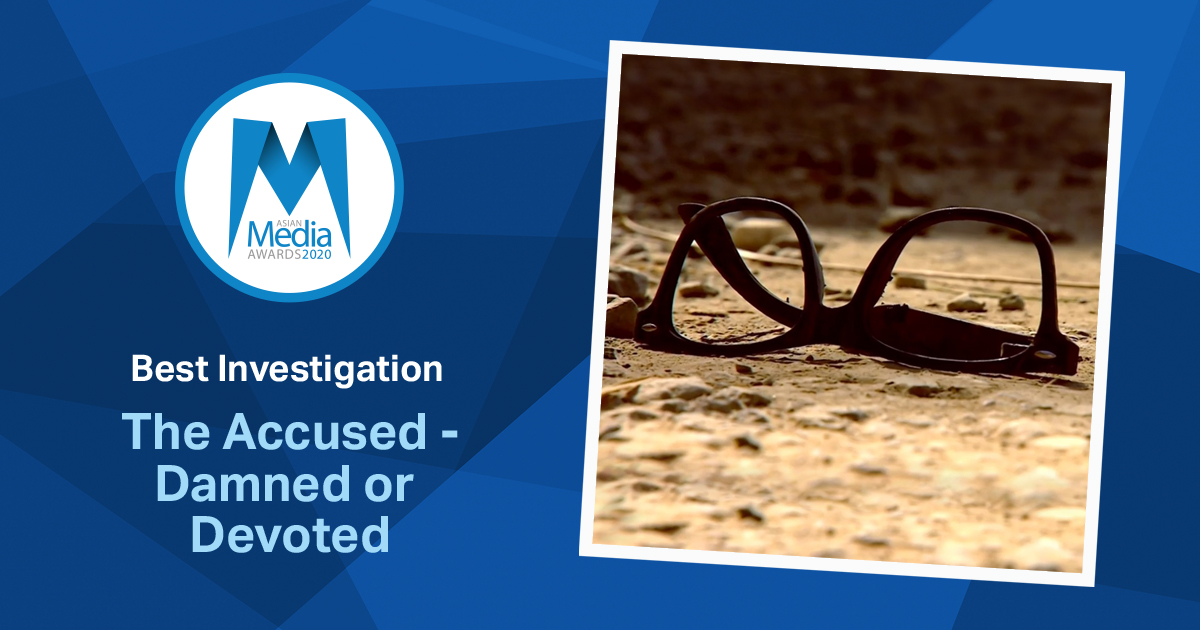 The Accused – Damned or Devoted, a documentary film examining Pakistan's blasphemy laws won the Best Investigation Honour at the eighth annual Asian Media Awards.
Due to the Covid-19 and government restrictions winners to a select number of awards in journalism, radio and stage were announced digitally on Thursday 19 November.
The winning entry was announced by journalist and AMA panel member Shamim Chowdhury who commended all the finalists in 2020 for producing ground-breaking and exclusive content which addressed important issues.
The Accused – Damned or Devoted has been broadcast in the UK and subsequently telecast and screened all over the world at film festivals and foreign broadcasts.
Director Mohammed Ali Naqvi said, "What an honour and privilege it is to have our work be recognized by the Asian Media Awards. Winning this on the same day as Khadim Rizvi's demise is a strange feeling.
"Despite my strong opposition to his ideology, I don't celebrate anyone's passing. Our goal, and reason for making this film is to hold despots accountable. And to further expose those who use a facade of Islam to promote their political agenda.
"Blessed to have one the best and bravest teams out there."
The documentary details Pakistan's controversial Blasphemy Laws which prescribe a mandatory death sentence for disrespecting the Prophet Muhammad.
Many Pakistanis who have criticized the law for being too harsh risk being charged with blasphemy or assassinated themselves.
In November 2017, the Pakistani Parliament passed legislation that was considered a first step towards relaxing the Blasphemy Law. Suddenly, Cleric Rizvi, the leader of a militant religious political party descended upon Islamabad and put the city under siege.
The programme looks into the clerics background and his ambitions. More aptly, The documentary offered an alternative narrative to the western media's representations of Muslims and Pakistan, which at times producers said was intellectually dishonest In reality, the Blasphemy Law has been used to target both Muslims and Christians.
In Pakistan, approximately 55% of the people accused of blasphemy are Muslims, the remaining 45% are minorities. Given the subject matter producers had almost entirely local Pakistani production team.
Credits
Directed & written by Mohammed Ali Naqvi, Brook Lapping Productions for BBC Four Storyville.
Produced By: Mohsin Abbas, Nicholas Franklin, Mohammed Naqvi, Musharraf Shah & Fiona Stourton.
---
This year's Asian Media Awards ceremony took place digitally on Thursday 19 November.
Previous recipients of an Asian Media Award include Krishnan Guru-Murthy, Waris Hussein, Art Malik, Mehdi Hasan, Nina Wadia, Anita Rani, Shobna Gulati & Faisal Islam.
The University of Salford are premier sponsors and partners to the awards include ITV, MediaCom, Reach PLC, M.E.N, & Press Association Training.
The awards are also supported by Manchester Metropolitan University, Routes Into Languages North West, AMT Lawyers, DKR Accountants, 6G Internet, Hilton Manchester Deansgate, Supreme Dream Events, Payal Events & Cleartwo.