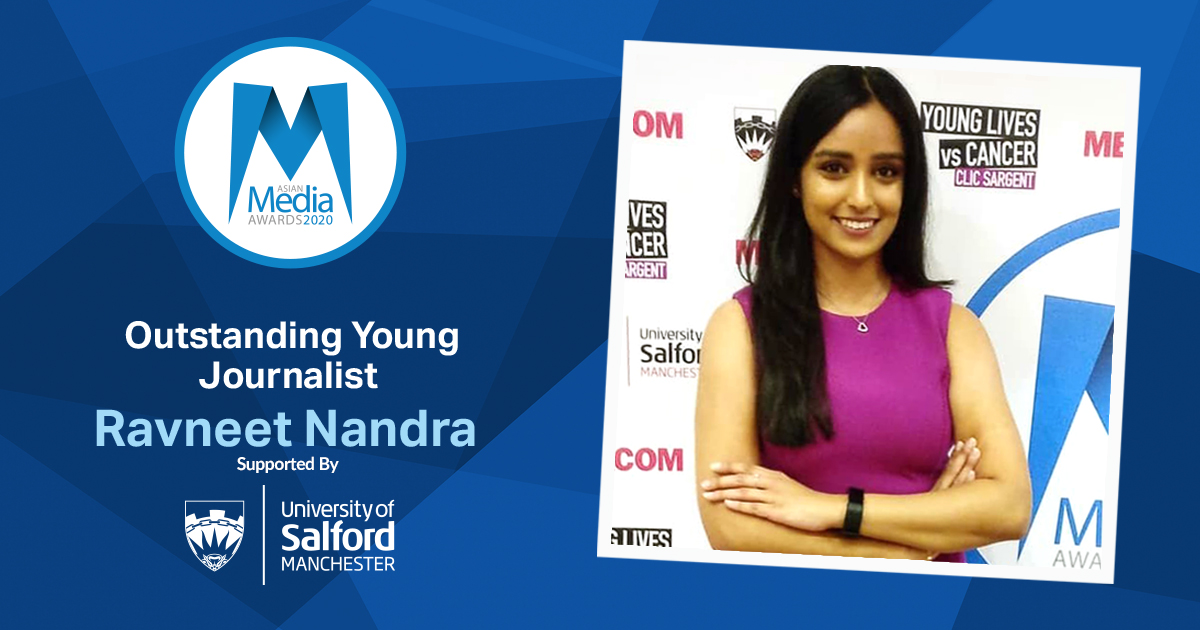 Outstanding Young Journalist 2020 winner Ravneet Nandra dedicated the win to her mother and hoped her achievements would help to inspire others.
Due to the Covid-19 and government restrictions winners to a select number of awards in journalism, radio and stage were announced digitally on Thursday 19 November.
The award was announced by Director of Journalism at the University of Salford Paul Broster who commended all the finalists this year for pushing the boundaries in what was a very testing and difficult year for everyone.
The Outstanding Young Journalist award aimed to recognise the talented professionals at different stages in their burgeoning careers who are highlighting a range of issues and encouraging debate and discussion.
Ravneet joined ITV News Meridian three years ago and was thrown into the deep end with bulletins she has produced over the past years.
Ravneet said, "I never thought I'd win any type of award throughout my journalism career. Even though I'm still quite new and constantly learning, I always thought an award was out of my reach. But I was wrong. I don't think I can say 'thank you' enough but thank you.
"Thank you to the judges who saw something in me. Thank you to Asian Media Awards who even considered me for this award.
"Thank you to my family, friends and all my loved ones who act like my cheering squad whenever I do something that breaks the boundaries of the society I come from. And thank you to my team at ITV News Meridian who have always supported me to become a better journalist and encourage that belief in me.
"I would like to dedicate this award to my mother. Though you are no longer with us, I'm sure you're watching with delight that your little girl has something to be proud of!
"I've been inspired by the recipients of this award that have come before me and I hope to inspire those who come after me. The future is bright for young Asian journalists and I hope this is only the start of what is a flourishing career for me."
One of Ravneet's notable moments was breaking the news of the death of PC Andrew Harper and the arrests of 10 men and boys. Ravneet single-handedly news gathered and produced a riveting lunch bulletin live at the scene of the incident.
Her persistence in finding new angles to stories pays off and we receive great praise from our viewers on the strong bulletins she produces. She has developed a strong rapport with ITN and other regions too.
Ravneet holds a number of key roles within our busy news operation that serves the South, South East and Thames Valley.
She is the youngest member of the team to take on the demanding role of chief News Editor.
Ravneet regularly produces the lunch, late and now the very demanding 6pm half-hour programme, producing stories such as the leadership contest which saw Boris Johnson becoming our new Prime Minister, and the recent summer heatwave which saw a major incident declared on Bournemouth Beach.
Her tenacity was rewarded when she won the highly competitive month-long attachment to ITN, where she produced some of 2019's toughest stories, such as the rise in UK's knife crime and the devastating Christchurch mosque shootings in New Zealand.
---
This year's Asian Media Awards ceremony took place digitally on Thursday 19 November.
Previous recipients of an Asian Media Award include Krishnan Guru-Murthy, Waris Hussein, Art Malik, Mehdi Hasan, Nina Wadia, Anita Rani, Shobna Gulati & Faisal Islam.
The University of Salford are premier sponsors and partners to the awards include ITV, MediaCom, Reach PLC, M.E.N, & Press Association Training.
The awards are also supported by Manchester Metropolitan University, Routes Into Languages North West, AMT Lawyers, DKR Accountants, 6G Internet, Hilton Manchester Deansgate, Supreme Dream Events, Payal Events & Cleartwo.