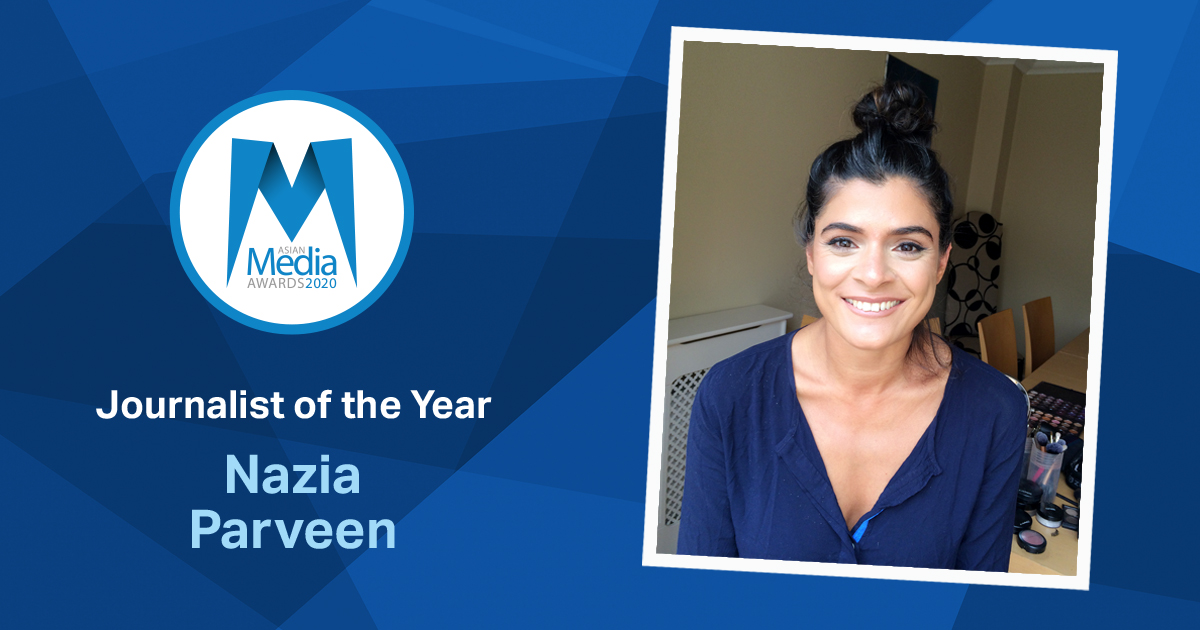 Nazia Parveen was named Journalist of the Year at the eighth annual Asian Media Awards.
Due to the Covid-19 and government restrictions winners to a select number of awards in journalism, radio and stage were announced digitally on Thursday 19 November.
The 2020 list was made up some of the UK's leading journalists who have kept us informed on changing world events, raised important subject matter and questioned those in authority.
The winner was announced by AMA 2015 Journalist of the Year, BBC producer Kavita Puri.
Nazia has been working in a fast-paced news environment as a journalist for more than a decade now and since joining the Guardian from the Daily Mail four years ago.
Nazia said, "I have got to where I am against all the odds. People like me in our industry are rare, not just because of my ethnicity or gender, but because of my class, so this is for all you working class kids out there, those of you that didn't have the best start in life, those that weren't supported.
"This shows what you can achieve. You can be successful and you will do well.
"Awards like this are so important to recognise people from minority backgrounds who have managed to break through into the media industry and I am over the moon to have won.
I would like to give a special mention here to the editors, who I've been fortunate enough to work with, those who always encouraged me: Ian Singleton, Ben Taylor and Archie Bland. Archie, thank you for making my copy truly sing.
"But most of all I am here because of my unofficial news editor and husband, Sam, who never tires of looking at my work and listening to my ideas."
During the qualifying period she covered the Hashem Abedi case from it onset and weeks and months after the bombing pursuing the story and the whereabouts of his family. For this reason following his trial she was able to demonstrate to secure a number of exclusives.
With the BAME community disproportionately affected by coronavirus Nazia wrote a number of features and shorter pieces so that our readers were able to grasp the enormity of the crisis unfolding within these pockets in the UK, whilst others remain relatively unscathed. In reference to a UN complaint, she visited plantations in Kenya to experience first-hand the emotion felt by the people of Kericho.
Demystifying hiking and the countryside was the subject matter for The Asian hiking group blazing a trail through Scotland's peaks.
She explored why the Labour party would suffer a devastating result in the Midlands partially due to their staunch Muslim supporters deciding to take their votes elsewhere.
She also secured a number of further exclusives including how LGBT protests were being hijacked by people with extremist leanings and in an investigation.
And in the 'Children in the dock series' she investigated the youth justice system in England and Wales that involved the Manchester team spending a month monitoring every case at Greater Manchester youth court.
---
This year's Asian Media Awards ceremony took place digitally on Thursday 19 November.
Previous recipients of an Asian Media Award include Krishnan Guru-Murthy, Waris Hussein, Art Malik, Mehdi Hasan, Nina Wadia, Anita Rani, Shobna Gulati & Faisal Islam.
The University of Salford are premier sponsors and partners to the awards include ITV, MediaCom, Reach PLC, M.E.N, & Press Association Training.
The awards are also supported by Manchester Metropolitan University, Routes Into Languages North West, AMT Lawyers, DKR Accountants, 6G Internet, Hilton Manchester Deansgate, Supreme Dream Events, Payal Events & Cleartwo.