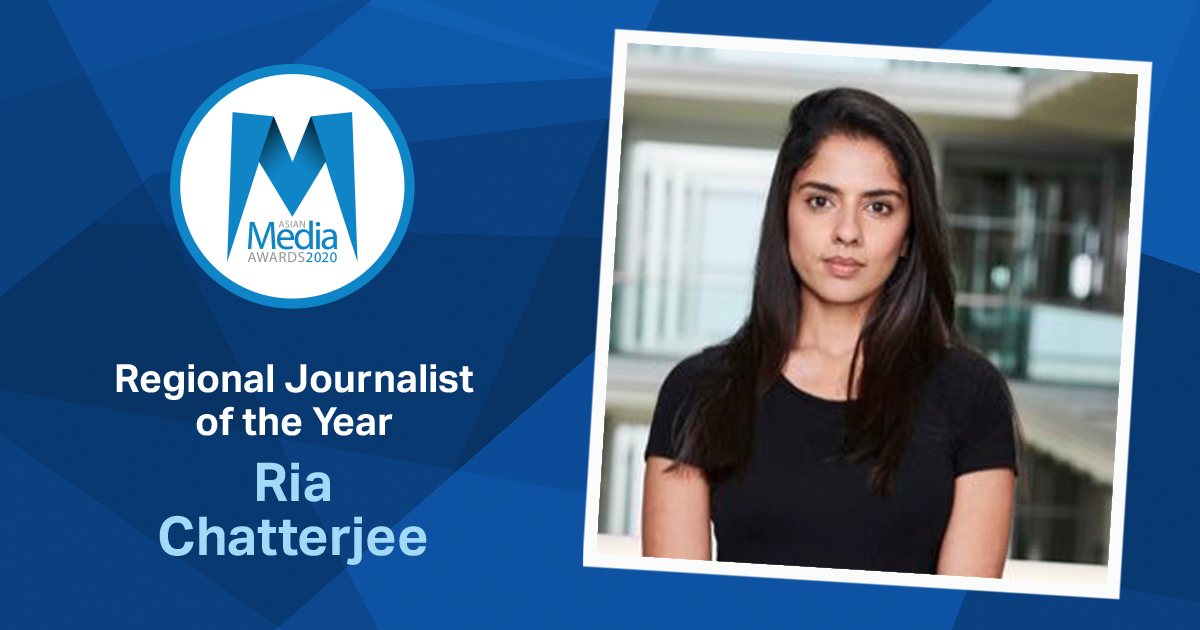 ITV London's Ria Chatterjee was named Regional Journalist of the year at the eighth annual Asian Media Awards.
Due to the Covid-19 and government restrictions winners to a select number of awards in journalism, radio and stage were announced digitally on Thursday 19 November.
Regional journalist teams have been at the forefront of delivering news and features to their audiences in what has been one of their most challenging years.
The Regional Journalist of the Year award was announced by Lynda Moyo, Head of What's on and Emerging Content at Reach PLC.
During the qualifying period Ria reported on an array of issues across the London region.
She said, "I am so delighted to be named Regional Journalist of the Year at the AMA's. It's really important to me to listen to those who feel unheard and invisible. Though it can be tough sometimes, I love my job. It's a privilege to be able to share people's stories.
"I think it's vital that the Asian Media Awards exists. As we strive for greater parity, it gives us an opportunity to celebrate the commitment, drive and creativity of individuals who might otherwise be overlooked. Congratulations to all who were shortlisted and awarded."
Ria spent time on an estate in North London, where there had been multiple stabbings in a few days. It let to her to examine how factors such as poverty, mental health, policing, domestic abuse, social media and school exclusions play a part in knife and gun violence on the streets of London.
Her work has taken her to Chicago where she fronted a series of documentary-style films on the city's public health approach to gun violence, with the aim of exploring what London might learn.
During the coronavirus pandemic she filmed exclusively with a Border Force Heathrow whistle-blower regarding his fears over lack of PPE for staff.
She also gained exclusive access to a pupil referral unit to film with vulnerable young people whose mental health had been further impacted by lockdown.
Ria has developed a huge following on social media because of her dedication over the last year in bringing to the screen stories that simply don't feature in mainstream media.
From young girls having to deal with their boyfriend's stab wounds, to the ease with which children were weapons online, her investigations her complex aimed to highlight a range of issues.
---
This year's Asian Media Awards ceremony took place digitally on Thursday 19 November.
Previous recipients of an Asian Media Award include Krishnan Guru-Murthy, Waris Hussein, Art Malik, Mehdi Hasan, Nina Wadia, Anita Rani, Shobna Gulati & Faisal Islam.
The University of Salford are premier sponsors and partners to the awards include ITV, MediaCom, Reach PLC, M.E.N, & Press Association Training.
The awards are also supported by Manchester Metropolitan University, Routes Into Languages North West, AMT Lawyers, DKR Accountants, 6G Internet, Hilton Manchester Deansgate, Supreme Dream Events, Payal Events & Cleartwo.