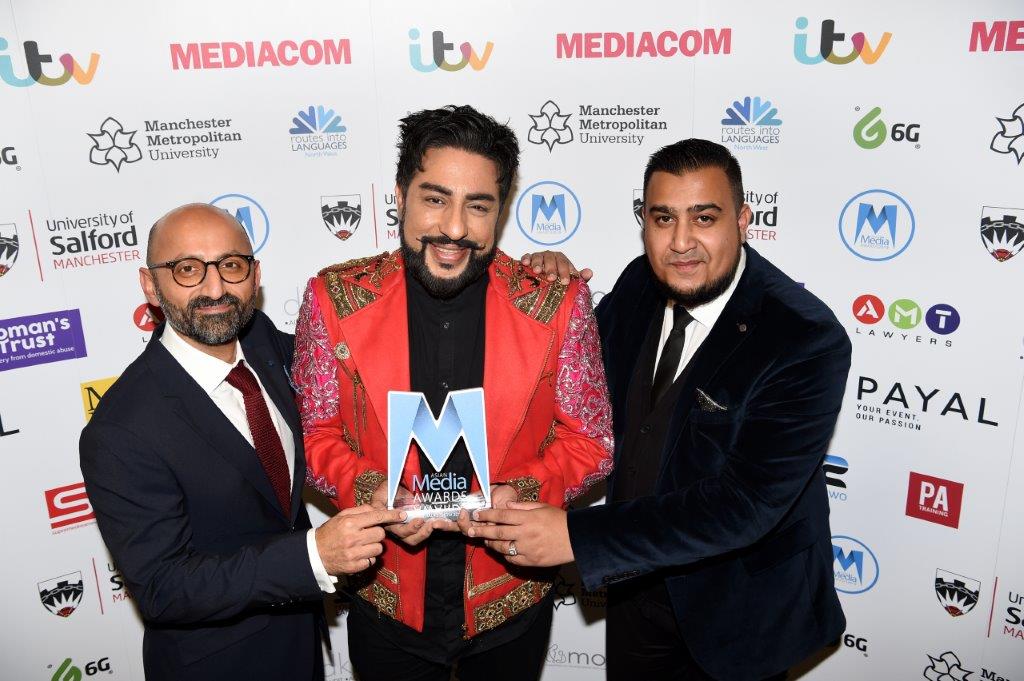 Bobby Friction's innovative range of music and support for grassroots music helped him bag the Best Radio Show honour. The Best Radio Show category was supported by AMT Lawyers.
The seventh University of Salford Asian Media Awards ceremony (October 24) at the Hilton Manchester Deansgate was attended by journalists, bloggers and media professionals from across the UK. The 2019 event was hosted by Dani Sinha of Channel 5 news.
Bobby Friction was presented the award by 2017 Best Video Channel winner, blogger, Rucksar Naaz of Brown Girl Problems.
Bobby Friction said, "First of all I want to big up all the other nominees. Lots of Asian Network people and people outside of the Asian Network.
"Radio is such an amazing force in the media. This new show only started last year and it is a global desi beat show.
"We don't just play Asian music. We play stuff from Afghanistan, Sri Lanka, Bangladesh, India, Canada and the United States of America.
"What has been really beautiful is meeting musicians."
He added, "I want to thank the Asian Network for letting me do what I want to do and give them (listeners) brown beats from across the world."
Bobby Friction on the BBC Asian Network showcases a journey of perfectly curated music, taking listeners through a soundscape of Bhangra, Bollywood, Desi, Hip Hop, alternative progressive beats and everything in between.
Hosting a UK platform for both high profile artists and as-yet undiscovered talent, Bobby creates a musical mood board representing the best in British-Asian and global sounds from the US, Canada, India, Pakistan and the Middle East.
Bobby is committed to breaking new music artists, both globally and here in the UK. He has unearthed brand new music genres, backing them with passion before watching them explode onto the wider scene.
His "No Filter" sessions with the cream of British-Asian talent have evoked conversations never heard before on the airwaves. Putting challenging subjects to the toughest artists with ease, Bobby Friction leads candid, raw and intimate emotional expression from the highest industry profiles.
Bobby Friction Show
Producer: Shehzaad Lohar/ Rumana Hoque
AP: Shashi Wilson-Joshi
Editor: Deena Narshi-Chohan
---
This year's Asian Media Awards took place the Hilton Manchester Deansgate on Thursday October 24 2019.
The University of Salford were premier sponsors and partners to the event included ITV, MediaCom, M.E.N, & Press Association Training.
The official Charity Partners for 2019 were Mosac & Woman's Trust.
The event was also supported by Manchester Metropolitan University, Routes Into Languages North West, AMT Lawyers, DKR Accountants, 6G Internet, Hilton Manchester Deansgate, Supreme Dream Events, Payal Events & Cleartwo.