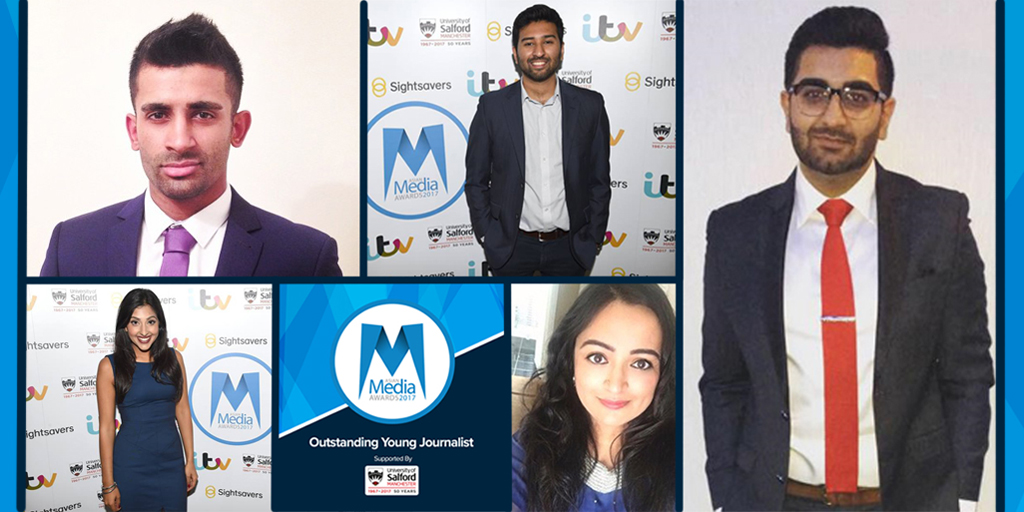 The 2017 Outstanding Young Journalists list includes a mix of TV, radio and print journalists. The 2017 Outstanding Young Journalist category is supported by the University of Salford.
Arandeep Singh Dhillon – Reporter, Warrington Guardian
Aran is a reporter at the daily Warrington Guardian and is largely responsible for covering political issues in the town. During his time at the title he has reported on a number of high profile stories. His highlights include a story of the council who was due to offer resettlement places to Syrian refugees fleeing persecution; a live Facebook video interview with actress Maxine Peake and a Behind the News special on the Partition of India. He also has a monthly slot on Radio Warrington.
Shehab Khan – News Reporter and Political Columnist, The Independent
When he began working for The Independent, Shehab was the youngest reporter there. Now, at the age of only 23 he currently holds the position of Reporter and Political Columnist for the title. In the past year he has reported on a range of national and international stories. This has included extensive coverage of the General Election and Brexit. His exclusive work has been published on the front page of The Independent.
Shehnaz Khan – Freelance Writer
Shehnaz is a freelance journalist and writer from the Midlands. Although she started out in music journalism and working at media outlets such as Yahoo! News, MTV and various music blogs she decided to start writing on matters that are more important to her. Her investigative articles on social and societal issues have won her praise for their thoughtful insight. These pieces have helped to highlight the rise of acid attacks; she investigated the background of right-wing radicalisation and in Bauer Media's 'The Debrief' she addresses the issues of reporting on terror attacks without bias.
Monika Plaha – Broadcast Journalist, BBC Breakfast
Monika started working at her local BBC radio station as a teenager ten years ago but now works as an input and output news producer on a morning news programme watched by more than 7 million people each day.  Through her role she has worked on some of the most high profile stories of the past year. This has included features on the 70th anniversary of the Partition of India; work on the highly commended 'My family, Partition and Me' and interviews with Gurinder Chadha at the launch of the movie Viceroy's House.
Inzy Rashid – Broadcast Journalist, BBC Radio Manchester
Inzy Rashid is a multi-platform journalist and has produced high quality reports for BBC's online, radio, television and digital platforms. During his time at Radio Manchester Inzy produced original journalism which has reached a wider audience including his 'Spice' package. His work with the BBC News has seen Inzy at the forefront of vital news interviews with senior politicians such as Sajid Javid MP, Jeremy Corbyn MP and Sadiq Khan.
---
This year's Asian Media Awards returns to the Hilton Manchester Deansgate on Wednesday October 25 2017.
Previous recipients of an Asian Media Award include Krishnan Guru-Murthy, Waris Hussein, Art Malik, Mehdi Hasan, Nina Wadia and Anita Anand.
The University of Salford are premier sponsors and partners to the event include ITV, MediaCom, M.E.N, Press Association Training & Primesight.
The official Charity Partners for 2017 are Sightsavers.
The event is also supported by Manchester Metropolitan University, Routes Into Languages, AMT Lawyers, Hilton Manchester Deansgate, Supreme Dream Events, Payal and Cleartwo.