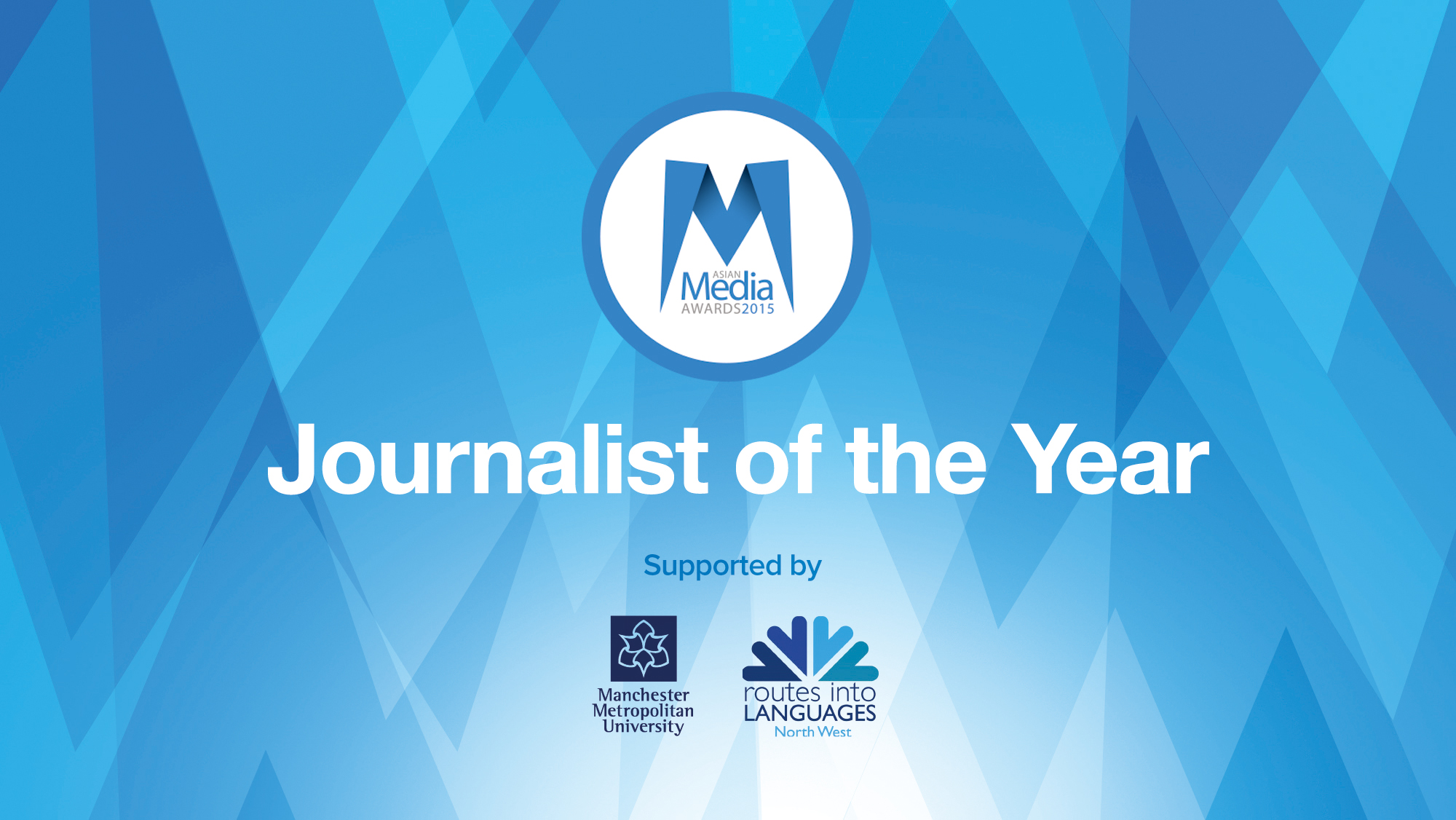 The Journalist of the Year award at this year's Asian Media Awards includes some of the most accomplished professionals in their field.
The award is once again supported by Manchester Metropolitan University and Routes into Languages North West.
In 2015 the AMA's list highlights work that has tackled complex issues regionally, nationally and globally.
Dipesh Gadher is Chief Investigative Reporter at the Sunday Times and has been one of the leading journalists in his field for many years. In the past year his work has focused on extremism in the UK, especially the Islamic State of Iraq and Syria's (ISIS) drive to recruit followers from the country. His reports have regularly highlighted the background to extremism in the UK as well as featuring those who were close to people travelling to the Middle East. 
Nelufar Hedayat is a reporter for Channel Four and a journalist working on the 'Unreported World' series. She made her debut on 'Unreported World' with an investigation into shocking scenes of animal cruelty in Vietnam.  She followed that up with 'Vaccination Wars' which explores the dangerous work of health workers on the border areas of Pakistan taking part in polio vaccination drives. Her other work has included a documentary looking at multi-faith Britain from the perspective of Christian, Jewish and Muslim faiths all looking to marry in modern day Britain.
Secunder Kermani is a reporter on BBC Newsnight and has in the past year helped to break a number of exclusive stories – particularly relating to British men and women joining ISIS.  He was the first journalist to communicate with the teenage Somali twin sisters who left Manchester for Syria and the first journalist to interview a British Isis member fighting in Iraq. His other work has included an in-depth interview with the father of two British Sudanese young men who had joined ISIS. Throughout the year he has also reported on the growing refugee crisis and stories about modern Britain.

Shabnam Mahmood is a Senior Broadcast Journalist for BBC Asian Network. She has produced a range of investigative pieces in 2014 and 2015 that have aimed to change perceptions of particular communities. Earlier this year Shabnam made a feature piece on Dewsbury which came into the spotlight over fears Muslim teenagers in the town are being drawn to terrorism. She was the first journalist to dispel the myth that 'white girls' were victims of 'grooming' and interviewed an 18 year old Pakistani girl who had been abused by men in Rotherham.  Her recent piece on society weddings in Karachi looked at rich and poor divisions in society.
Kavita Puri is Deputy Editor at BBC TV Current Affairs and has been at the forefront of producing insightful documentaries tackling a range of subject matters. She presented a major Radio 4 series on South Asian history and broadcasted a second series of the award-winning 'Three Pounds in My Pocket.'  In November 2014 Kavita presented and produced a documentary 'Switzerland: Stolen Childhoods'  broadcast on BBC World, the News Channel and the BBC World Service and has also been executive producer on a number of other documentaries including 'Kidnapped for a Decade' and 'Saving Gaza's Grand Piano.'
Dharmesh Sheth is a reporter for Sky Sports. Dharmesh is a familiar face on Sports bulletins on Sky TV and in 2015 has helped to break some of the biggest sports stories of the year. Dharmesh joined Sky Sports News in 2001 and since then has been involved in regular news live news bulletins for the channel. As well as reporting live from games he is also tasked with interviewing some of the best known sports personalities in the world. In 2015 his reports have become a key part of live news reports on one of the UK's biggest and most widely watched news channels.
The Asian Media  Awards  take place  on Thursday October  29 at the Hilton  Manchester Deansgate.
The University of Salford are premier sponsors and partners to the event include ITV, MediaCom & Press Association Training.
The 2015 AMA's will be supporting Plan UK's 'Because I am a Girl' Campaign.
The Asian Media Awards 2015 is supported by University of Salford, Hilton Manchester Deansgate, Carter Law Solicitors, Manchester Metropolitan University, Routes into Languages, Evoque Medical, Zac Dean, Ride Leasing, AMT Lawyers, ITV, MediaCom, Press Association Training, Supreme Dream Events, Cleartwo, Payal, Plan UK & Because I Am A Girl.
For further information please e-mail umbreen@asianmediaawards.com.