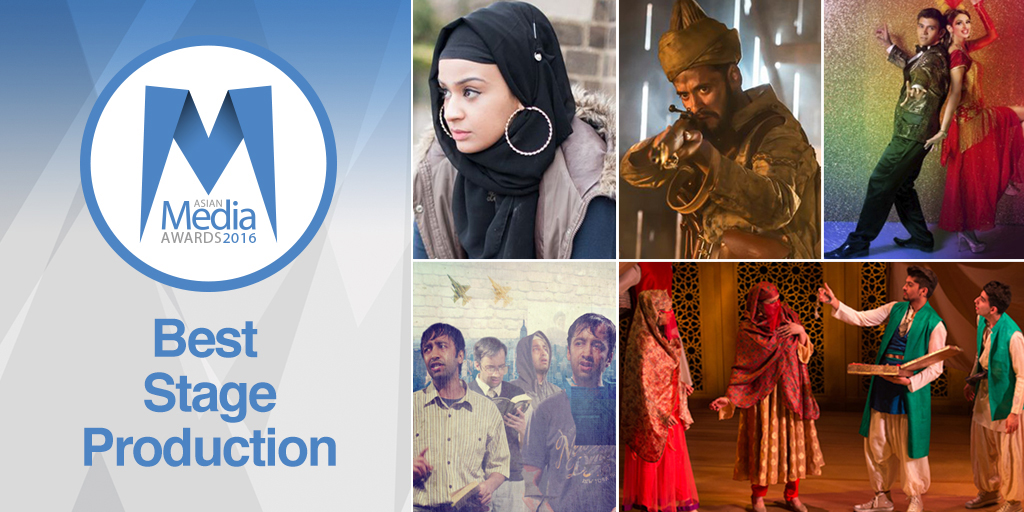 The 2016 shortlist for the AMA Best Stage Production features five distinctly unique productions.
The productions have aimed to explore cultural, historical and social issues through drama and comedy.
The AMA Best Stage Production award was introduced for the first time in 2015 and we are delighted only a year on we are able to showcase five productions of this quality.
Bring on the Bollywood
Written and directed by Sâmir Bhamra. Phizzical Productions.
The cast features Sohm Kapila, Adam Samuel-Bal, Sakuntala Ramanee, Rohit Gokani, Bhavin Bhatt, Rishi Nair, Nikkita Chadha, Rasheeda Ali, Chrissie Chanel, Jo Bispham, Prem Rai, Subhash Viman, Hemisha Dave, Dan Jordan, Rupali Pattni and Dhyani Modessa.
A lively romantic comedy of errors with a witty take on what it means to be South Asian, in love and carrying the expectations and ambitions of neo-liberal parents. The production is described as a strong family drama with music, dance and comedy incorporating many cultural traditions from South Asia. It features the essential ingredients of a Bollywood production – wit, pathos, romance and high drama all brought together with storytelling and innovative high energy dance that illuminates and entertains. It was recently announced the production will launch on a national tour in 2017 ahead of the summer celebrations marking 70 years of India's independence.
Laila: The Musical
Written and directed by Pravesh Kumar, Music by Sumeet Chopra, Lyrics by Dougal Irvine. Rifco Arts / Watford Palace Theatre / Queens Palace Theatre.
Cast includes: Reece Bahia, Ravin J Ganatra, Mona Goodwin, Kush Khanna, Sami Lamine, Sheena Patel, Vedi Roy, Shin and Yinka Williams.
This contemporary musical retelling of the greatest love story from the east – Laila Majnu played to audiences across the country. In a Yorkshire town, Laila takes shelter from a raging storm in an old bookshop, where she chances upon a book with her name on it.  She is compelled to open the book and is consumed by the story. Laila finds herself in an old story and on a new journey. From the Persian deserts, the bittersweet story of star-crossed lovers Laila and Majnu, has been passed down through verse and song over centuries. The story of young love and feuding families is given a modern musical twist with elements of Sufi Pop.
Love, Bombs and Apples
By Hassan Abdulrazzak & Directed by Rosamunde Hutt.
Performed by Asif Khan. AIK Productions & Turtle Key Arts
Using comedy to tackle problems facing the Arab, Jewish and Muslim communities across the world, this one-man stand up show features four vignettes detailing the lives of four different men with four individual struggles, all performed by Asif Khan. A Palestinian actor learns there is more to English girls than pure sex appeal. A Pakistani-born terror suspect figures out what is wrong with his first novel. A British youth suspects all is not what it seems with his object of desire. A New Yorker asks his girlfriend for a sexual favour at the worst possible time.
The Diary of a Hounslow Girl
Written and Performed by Ambreen Razia, Directed by Sophie Moniram, Lighting Design by Paul O'Shaughnessy, Design by Petra Hjortsberg, Dramaturgy by Neil Grutchfield, Executive Director, Jonathan Kennedy, Produced by Black Theatre Live/Tara Arts, Commissioned by Ovalhouse.
Ambreen Razia performs this one woman show of a 16 year old British Muslim teenager growing-up in the borough of Hounslow. From traditional Pakistani weddings to fights on the night bus this is a funny, bold, provocative play highlighting the challenges of being brought up as a young woman from a traditional family alongside the temptations and influences growing up in London. This is a comic story of dreams, aspirations and coming of age. Here, our 'Hounslow Girl' falls in love with someone not from her religion and culture and soon finds life outside the confines of pre-defined rules might well be a possibility.
Wipers
Written by Ishy Din and directed by Suba Das, Curve Theatre / Watford Palace Theatre.
Performed by: Jassa Ahluwalia, Waleed Akhtar, Sartaj Garewal and Simon Rivers
This inspiring piece of work honours the contribution of the million South Asian soldiers who fought alongside British soldiers during the First World War. The production is set in October 1914, Ypres, Belgium. The British forces, bolstered by huge numbers of volunteer soldiers from across the Empire have suffered massive casualties in one of the first bloody battles of The Great War. A group of South Asian and British soldiers seek refuge in an abandoned barn. Over the course of a single night, this group of men must confront their fears and find a way to come together if they are to survive.
---
Winners and recipients of AMA special awards will be announced at the Hilton Manchester Deansgate on Thursday 27 October.
Click here to view the full 2016 shortlist.
Previous AMA recipients have included, amongst others, Ranvir Singh, Krishnan Guru-Murthy, Mehdi Hasan, Waris Hussein and Nina Wadia.
The University of Salford are premier sponsors to the 2016 events and partners include ITV, MediaCom, Press Association Training and the Manchester Evening News.
The official charity partners for 2016 are The Asian Circle and Oxfam.
The Asian Media Awards 2016 are supported by Hilton Manchester Deansgate, Manchester Metropolitan University, Routes into Languages, AMT Lawyers, Espoke Living, Cleartwo & Payal.
For further information please e-mail umbreen@asianmediaawards.com.