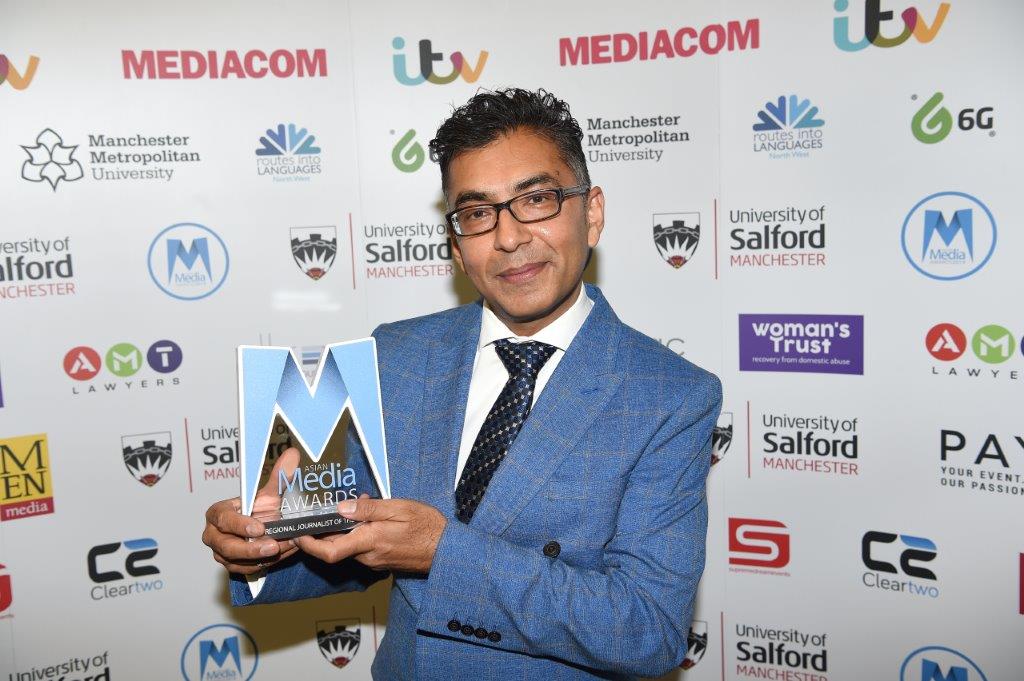 One of the biggest cheers on the night went to journalist ITV Central's journalist Rajiv Popat. The Regional Journalist of the Year category was supported by M.E.N Media.
Rajiv was named Regional Journalist of the Year and keeping with the theme of winners thanking their parents he phoned his dad from the stage to share the great news.
The seventh University of Salford Asian Media Awards ceremony (October 24) at the Hilton Manchester Deansgate was attended by journalists, bloggers and media professionals from across the UK. The 2019 event was hosted by Dani Sinha of Channel 5 news.
The Regional Journalist of the Year category featured five reporters who helped to raise a range of issues both locally and nationally.
The award was presented by Business Editor from the Manchester Evening News Shelina Begum and Group Head, What's On for Reach PLC, Lynda Moyo.
Rajiv said, "I'm a bit shocked. I just want to say thank you to ITV Central.
"Great bunch to work with and thank you Liz our head of News and lets me get on with getting news stories and exclusives.
"I also know this is really cliched and I want to thank my mum and dad."
In 2018 and 2019 Rajiv has delivered a series of exclusive reports for ITV Central.
Earlier this year, when three men were found guilty of murder after an explosion which killed five people, Rajiv secured a compelling, moving and exclusive interview with Jose Ragoobeer, whose wife and two sons were among those killed.
In another exclusive interview, Rajiv spoke to the brother of an 11-year-old girl who tragically died during a school trip to Drayton Manor theme park.
Last year, when news broke on a Saturday night that a helicopter crashed outside Leicester City Football Club's stadium, Rajiv played an important role in a special programme about the crash, giving context to how people across the city reacted when they heard the news.
Earlier this year, he helped to expose a 'Crash for Cash' scam speaking to a number of taxi drivers. He also reported on the murder of Ramniklal Jogiya and the impact his shocking death had on his family, friends and people in the business community.
---
This year's Asian Media Awards took place the Hilton Manchester Deansgate on Thursday October 24 2019.
The University of Salford were premier sponsors and partners to the event included ITV, MediaCom, M.E.N, & Press Association Training.
The official Charity Partners for 2019 were Mosac & Woman's Trust.
The event was also supported by Manchester Metropolitan University, Routes Into Languages North West, AMT Lawyers, DKR Accountants, 6G Internet, Hilton Manchester Deansgate, Supreme Dream Events, Payal Events & Cleartwo.