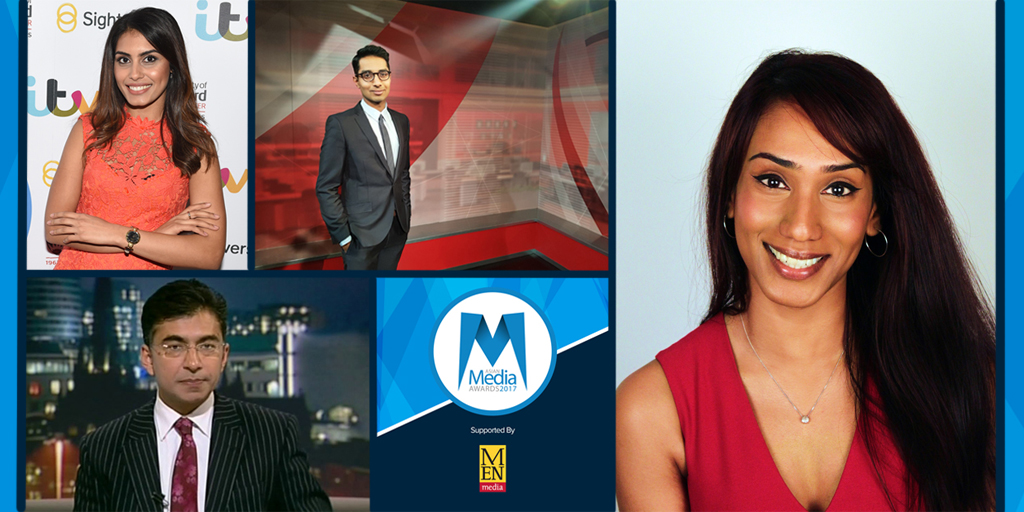 Campaigns, interviews and exclusive reports: Regional Journalist of the Year finalists 2017. This category is supported by M.E.N.
Four of the UK's leading broadcasters feature in the 2017 Regional Journalist of the Year category.
Anila Dhami – Producer & Reporter, ITV Tyne Tees
Anila Dhami is a Producer for ITV News in the Border and Tyne Tees region and in the qualifying period has covered key political and sporting events as well as major trials. She produced breaking news of the Manchester and Westminster terror attacks and the Grenfell Tower fire. As well as her daily role she had two three-part series commissioned for ITV News Tyne Tees – 'Later in Life' and 'Mind Your Head'. 'Later in Life' explored the impact, consequences and solutions to an ageing population. 'Mind Your Head' will form part of a national campaign to raise awareness on mental health issues.
Audrey Dias – Broadcast Journalist, BBC Midlands Today
Audrey Dias is a broadcast journalist for BBC Midlands Today where she has produced a  number of exclusive stories in the qualifying period. Her reports have included a passionate plea from an Afghan interpreter who waived anonymity to tell Audrey about his struggle to get asylum and a report on a woman who was brave enough to reveal the painful story of how she was sexually abused by a man she trusted, her Imam. She spoke to the members of the Power family who have been desperately looking for answers over the murder of Ranjit Singh Power. She has broken a number of exclusive stories in the Midlands and nationally.  Audrey's reports have been featured on the Jeremy Vine Show, Victoria Derbyshire, The Today programme, the News Channel and the World Service.
Navtej Johal – BBC East Midlands Today
Navtej has only been in the role of Derby reporter for BBC East Midlands Today for 18 months. During that time he has helped to highlight a wide range of causes and conducted engaging interviews on subject matter ranging from politics to human interest pieces.  He has reported on the Teaching Assistants' pay dispute over the past twelve months and the story gained national newspaper attention and an intervention from Labour leader, Jeremy Corbyn. He gained one of the interviews of the year for BBC East Midlands Today when he met with the mother of murdered backpacker Mia Ayliffe-Chung. This was the first time that Rosie Ayliffe had agreed to do a British television interview. He also went on to produce a memorable interview with Derby's Hollywood rising star, Jack O'Connell.
Rajiv Popat – Journalist, ITV News Central
Rajiv Popat, based in Leicester, has reported on a number of high-profile and investigative features for ITV Central. Using a mixture of archives and interviews he produced two powerful reports on partition. He reported on the repatriation of convicted paedophile Mohammed Avais from the United Arab Emirates back to the UK. He gained an exclusive interview with the family of Sam Boulton, a cyclist who tragically died after a taxi passenger opened her door and knocked him into the path of a van.  His work for ITV London saw him produce engaging interviews with families affected by the Grenfell Tower fire. He also conducted in sign language an interview with Lawand Hamadamin, a six-year-old from Iraq, who is deaf and was threatened with deportation.
---
This year's Asian Media Awards returns to the Hilton Manchester Deansgate on Wednesday October 25 2017.
Previous recipients of an Asian Media Award include Krishnan Guru-Murthy, Waris Hussein, Art Malik, Mehdi Hasan, Nina Wadia and Anita Anand.
The University of Salford are premier sponsors and partners to the event include ITV, MediaCom, M.E.N, Press Association Training & Primesight.
The official Charity Partners for 2017 are Sightsavers.
The event is also supported by Manchester Metropolitan University, Routes Into Languages, AMT Lawyers, Hilton Manchester Deansgate, Tauheedul Education Trust, Supreme Dream Events, Payal and Cleartwo.