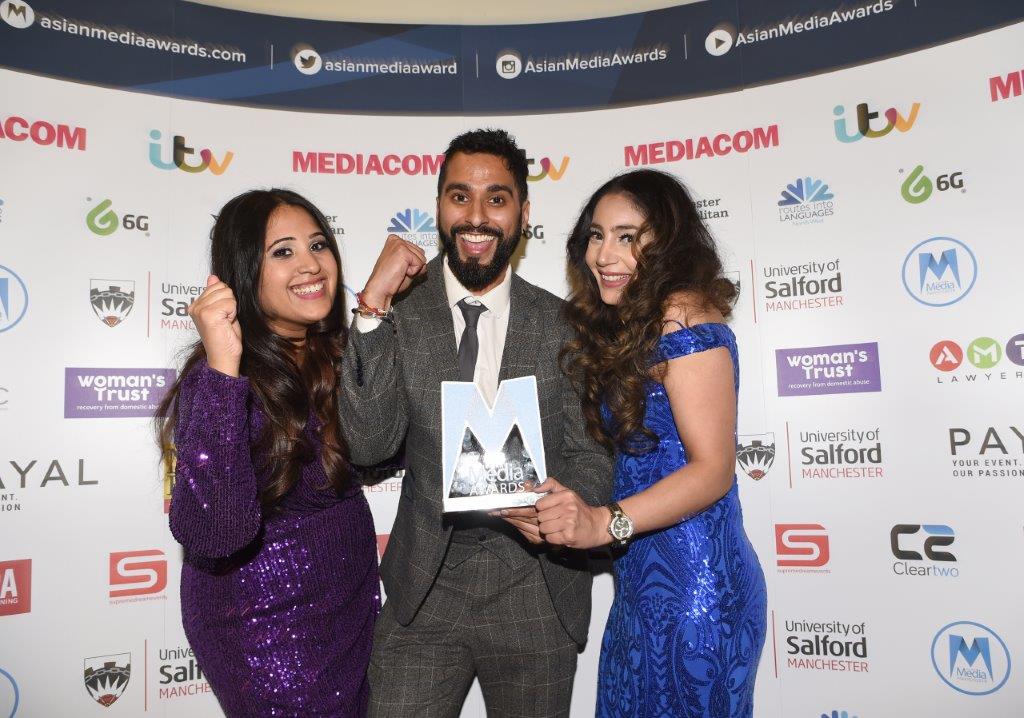 Sabras Radio picked up the Regional Radio Station of the year award at the Asian Media Awards. The Regional radio Station of the Year category was supoorted by AMT Lawyers.
The seventh University of Salford Asian Media Awards ceremony (October 24) at the Hilton Manchester Deansgate was attended by journalists, bloggers and media professionals from across the UK. The 2019 event was hosted by Dani Sinha of Channel 5 news.
It was another incredible year for the radio station who hosted and supported a number of high-profile events and supported a range of charitable causes.
The award this year was presented by panel member Mirage Islam.
Accepting the award Raj Baddhan said, "Thank you very much to the Asian Media Awards for this award.
"It has not been easy for commercial radio stations. It is a bit of a struggle. But with an amazing team and amazing sponsors and listeners that support Sabras Radio it makes us what is today."
Sabras Radio is a broadcast radio station in Leicester providing south Asian music and culture.
The majority of the schedule is presented in Hindi and English. There are also speciality shows broadcasting in Bengali, Gujerati and Punjabi. Sabras Radio is available on 1260AM in the whole of the East Midlands and other regions.
Web streaming across the internet has now made Sabras a global entity reaching over 75 countries.
Sabras Radio was featured in the Leicester based musical, Bollywood Jane at the Curve Theatre, with extracts from Sabras Radio's on-air audio being used prominently in the show.
Sabras Radio work alongside Leicester Education Business Centre, as well as with local schools and colleges to provide students placements at the radio station.
---
This year's Asian Media Awards took place the Hilton Manchester Deansgate on Thursday October 24 2019.
The University of Salford were premier sponsors and partners to the event included ITV, MediaCom, M.E.N, & Press Association Training.
The official Charity Partners for 2019 were Mosac & Woman's Trust.
The event was also supported by Manchester Metropolitan University, Routes Into Languages North West, AMT Lawyers, DKR Accountants, 6G Internet, Hilton Manchester Deansgate, Supreme Dream Events, Payal Events & Cleartwo.