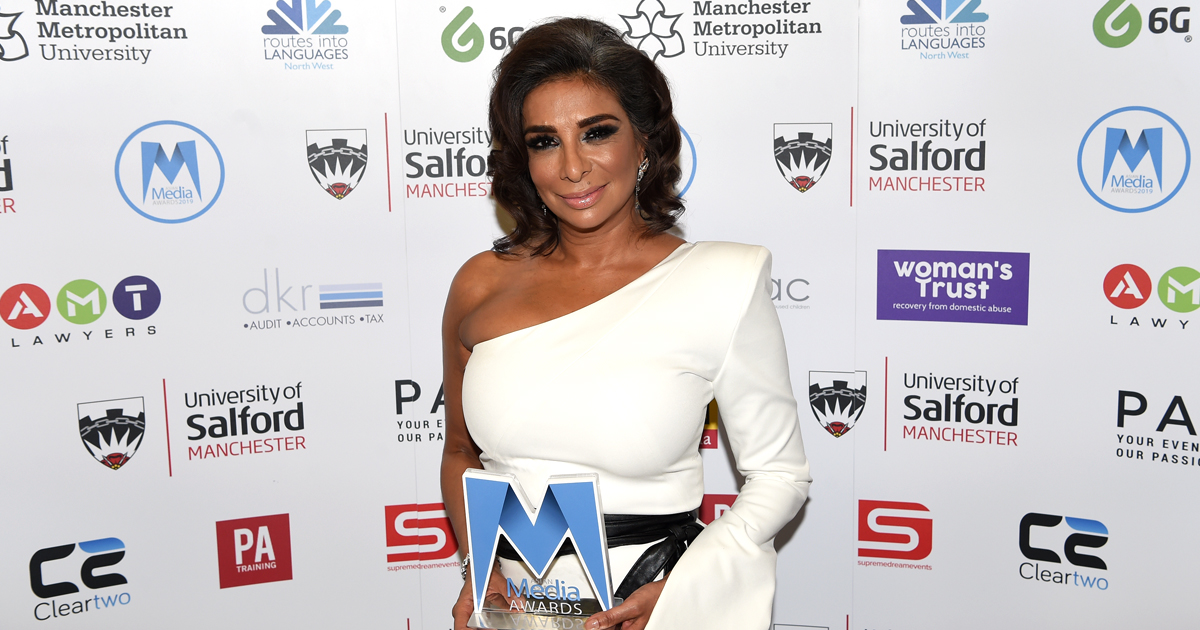 Click here to view full list of AMA 2019 winners.
Celebrated royal photographer Anwar Hussein, actress Shobna Gulati and journalist Ash Sarkar were among the recipients of an Asian Media Award in Manchester (Thursday 24 October).
The ceremony was presented by  Channel 5 News presenter Dani Sinha.
The seventh ceremony at the Hilton Manchester Deansgate sponsored by the University of Salford was attended by journalists, bloggers and media professionals, with Ash Sarkar named Media Personality of the Year 2019, making her the youngest recipient of the award.
Ash said, "I genuinely believe that there is no such thing as individual success. I think we are the grateful recipients of all the people who fought before us, all the people who fight for us who we don't know and all the people who fight alongside us.
"The first person I want to thank fighting for me is my mum. The reason I want to thank her is that any one of the values I hold dear is because of her. She is a dedicated anti-racist, a feminist. Her and my grandmother set up the first domestic violence shelters in this country. And she also raised me and my sister single-handedly."
She also joked on stage, "Thank you to the Asian Media Awards for this. To win an award which previously honoured the likes of Krishnan Guru Murthy, Fatima Manji, Naga Munchetty…thank you so much for lowering your standards this year!
And added, "…I still haven't processed it, because the people who won it before me are the people I grew up watching on screen. What I can't compute is that I'm a person who shares a screen with them, so in terms of what it means, ask me in ten years because right now I'm just stunned."
Shobna Gulati was presented with The Sophiya Haque Services to British Television & Film Award.
She said: "It feels incredible. When I first found out I thought it wasn't for me. In fact I said when I was up there, I'm accepting this for all the pioneers, the South Asians that have been on screen. There's not been many, but it's for all of them that have been there on our journey together, opening those doors."
Nabhaan Rizwan who was first seen by viewers in the thrilling six-part drama 'Informer' for the BBC and Amazon, was named AMA Best Newcomer 2019.
The series follows Raza Shar, a British-Pakistani man from East London and his unexpected encounter with Gabe Waters and Holly Morten who work as counter-terrorism officers.
It was a good night for the BBC's Newsnight who picked up both the much coveted MMU Journalist of the Year honour and the TV Report of the Year.
Yasminara Khan was named Journalist of the Year for her work in exposing a wide range of investigations. And alongside Katie Razzall she also picked up the TV Report award for 'Britain's Yellow Vest Activists'.
Yasminara said: "It's shocking, exciting and I'm just really happy. I've been lucky to work on a range of films that particularly impact on the South Asian community, like the far right, LGBT issues or Windrush.
"…My advice for anyone is it's hard, but be authentic. And chase. Chase stories. When you feel it, you know. Obviously be backed up by the facts, but chase it, be authentic and be tenacious."
Rising Silence won the Best Investigation Award. The documentary tells the story of Birongona women, as they describe the horrors inflicted on them during the 1971 Bangladeshi war of Independence.
Leesa Gazi filmmaker said on the night, "I am truly honoured today so thank you. Thank you to listening to the Birongona women of Bangladesh.
"Our film Rising Silence has nine accounts of the nine survivors. Five of them died during the post production of the film but their stories will live on.
"So, thank you so much for recognising their plight and for listening to them.
"I would like to take this opportunity to express my gratitude and love for the entire production team of Rising Silence."
Rajiv Popat of ITV Central was named Regional Journalist of the Year, while the Sports Journalist of the Year honour went to Sky News presenter Dharmesh Seth. Presenting the award, broadcaster Mihir Bose paid tribute to all the finalists in the category.
The Outstanding Young Journalist of the Year for 2019 was Sky News Correspondent Inzamam Rashid.
Royal photographer Anwar Hussein was given the Outstanding Contribution to Media Award 2019 in honour of his 60 year career photographing everyone from Johnny Rotten to Princess Diana.
He said: "I'm pleasantly surprised to get this award. I never expected this so I will take it gracefully. Thank you.
"…It's flabbergasting that I've been able to photograph all these people, not only that but sometimes to chat with them and their families. From Mandela to Mother Theresa, John Wayne, everybody.
"When I was living in Africa in a village, the only picture I saw of the queen was a little stamp. Then you come back 20 or 30 years later and my pictures are used in her stamps. I've got six pictures in her royal collection. It's amazing.
"People like John Wayne, I used to see them in little cinemas and then I come to meet John Wayne, and I sit with him and he teaches me how to smoke a cigar. Who would have thought?"
Islah Abdur-Rahman also known as 'Mistah Islah' picked up the Best Video Channel honour for Corner Shop Show. The writer, director and actor produced his own sitcom with no budget. It went on to acquire a cult following.
He said, "I feel overwhelmed that my hard work has been given this recognition, I couldn't have done it without my team. I'm still that boy from South London with a dream and it's milestones like this that make it all worth it!"
Marketing & PR
In Marketing & PR, the Creative Media Award went to 'Asian Women and Cars: The road to Independence' by Dawinder Bansal which celebrated the battle to drive vehicles by British Asian women.
Media Hive won the highly contested Media Agency of the year for the second time.
Live Productions
The London Mela won the Best Live Event Award and the Memoirs of an Asian Football Casual was named Best Stage Production.
TV
In the TV categories, the Best TV Character Award went to Suntera Sarker for her role as Kaneez Paracha in Channel 4's Ackley Bridge.
The Best TV Programme factual award went to Curry House Kid and the Entertainment Show award went to Man Like Mobeen.
The TV Channel of the Year for 2019 was Star Plus.
Radio
The Radio category saw Sunrise Radio reclaim the honour for Radio Station of the Year on their 30th anniversary.
But it was a double success for the BBC Asian Network, with Harpz Kaur becoming the youngest winner of the Radio Presenter of the Year honour and Bobby Friction and his team picking up Best Radio Show. Bobby's show is unique for having won the award a second time for its work showcasing new and upcoming talent.
The Rising Star in Radio Award went to 5Live's Aaron Paul and Sabras Radio collected the Regional Radio Station of the Year honour.
Print & Online
The Best Blog award went to Arooj Aftab of Vogue Wonders, while Bizasialive.com was named Best Publication / Website for the second year running.
Whilst Arooj Aftab won the Best Blog award for 'Vogue Wonders'.
---
This year's Asian Media Awards took place the Hilton Manchester Deansgate on Thursday October 24 2019.
The University of Salford were premier sponsors and partners to the event included ITV, MediaCom, M.E.N, & Press Association Training.
The official Charity Partners for 2019 were Mosac & Woman's Trust.
The event was also supported by Manchester Metropolitan University, Routes Into Languages North West, AMT Lawyers, DKR Accountants, 6G Internet, Hilton Manchester Deansgate, Supreme Dream Events, Payal Events & Cleartwo.