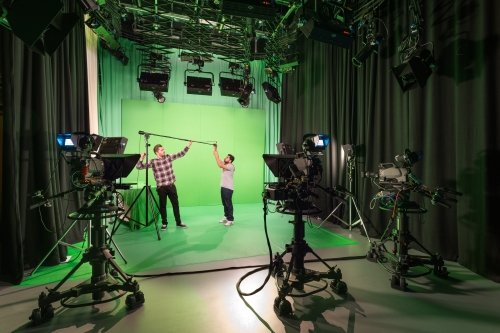 The Asian Media Awards premier sponsor the University of Salford will open its doors to prospective undergraduate students on 18 October.
The Undergraduate Open Day is for anyone wanting to find out about what the University can offer.
During the Undergraduate Open Day, potential students will be able to talk to tutors, find out what courses are available, and get advice on which course is best suited. Everyone is invited to attend talks and presentations, getting a flavour of what different courses include.
The School of Arts & Media at the University of Salford offers a diverse and exciting range of undergraduate courses, from Comedy Practice and Fashion Design, to Television and Radio; Drama and Theatre; Journalism; Music; and Media Technology. Their courses combine theory with practice based, real-world work experience. By the time the student's graduate, they will have a broad range of skills, knowledge and abilities, ready for their career in the media, whether in front or behind the camera.
During the Open Day, there will be a tour of their campuses at Peel Park and MediaCityUK. The University of Salford's multi-million pound facilities at MediaCityUK offer student's access to professional standard TV studios, radio studios, digital audio workstations, craft edit and video editing suits, and the Digital Performance Lab- an experimental performance/lecture space featuring one of the largest HD screens in Europe.
Staff will be on hand to answer questions about how to apply to the University, offer advice on student finance and student support. Attendees can also visit the on-campus student accommodation, learn more about the Students' Union, and sport at Salford. More importantly, people can meet current students and find out what life as a Salford student is really like!
Undergraduate Open Day
University of Salford
Saturday, 18 October 2014
10:00 to 16:00 (BST)
Salford, United Kingdom