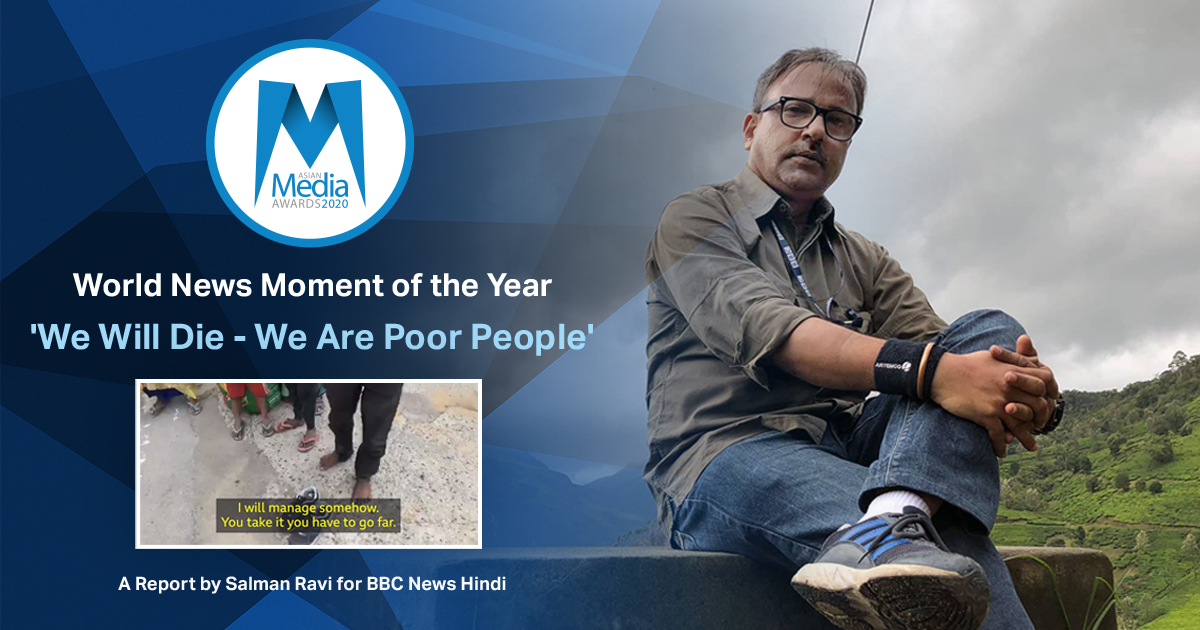 A reporter's spontaneous act of kindness and determination to highlight the plight of families affected by the coronavirus lockdown has been named the AMA World News Moment.
The viral video, which was viewed tens of millions of times across world encapsulates how some things are always more important than the story itself.
Salman Ravi is a Bilingual Correspondent with BBC's Hindi Service and is based out of the BBC South Asia Bureau in New Dehli. He has been a journalist for 30 years and delivers for multiple platforms across different language outlets of BBC including Radio, TV and online.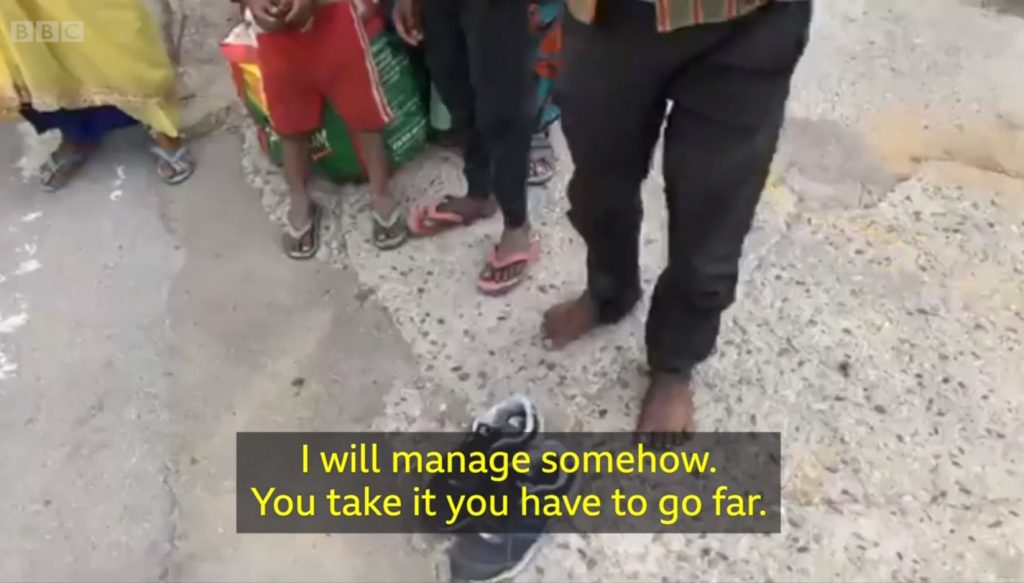 You can view the full report here:
https://www.bbc.com/news/av/world-asia-india-52684569
In May of this year he met families fleeing cities trying to return to their villages following the Coronavirus lockdown. Some had walked over 150 miles in stifling heat and without food. As we hear of their experiences on the side of a road Salman is taken in by the fact many are walking barefoot.
He then decides to hand one man his own shoes.
Speaking to the Asian Media Awards he said, "First of all, that was the most difficult time for me emotionally as a journalist.
"I could not have offered them any money on the Live show. The least that I could do was offer my shoes to a bare-footed weeping father who was carrying his baby on his shoulders. He and the family had already walked 200 kilometres in the blazing sun before they could reach Delhi and had several hundred kilometres furthermore to negotiate.
"What I did was spontaneous. That is what that particular moment made me do instantly without another thought. I gave my shoes and moved on to the next interviewee."
The video was shared across the world and led to an outpouring of kindness from ordinary people.
He said, "People were huddled up in their comforts during the initial days of the lockdown. Even though television channels beamed live visuals of the hardships being faced by migrants who were heading back to their villages, few came forward to help. I was not surprised but aghast over the insensitivity of the people who could have afforded to help those in distress.
"But, deep in my heart, I have a contentment feeling now. I never thought the video would go viral. But, when it did, it changed the entire course. It shook people's conscience. People began arranging food, footwear, shelter and transport for the migrating population.
"Later, even the authorities decided to ply special trains that could ferry people. Good Samaritans and organisations could be seen distributing food on the road while the authorities started opening shelters for the millions on the highways."
Whilst he has reported on many stories he says the pandemic brought a whole new dimension to things, "Though I had covered a number of caste massacres, inter-gang rivalry killings, the insurgency in many states and the heavily mined conflict zones, this pandemic was the most difficult time for me to report as a journalist who already had so much in the kitty over the years.
"I never felt scared covering many situations in the last three decades. But this was really scary. The pandemic was spreading fast. No one ever could have imagined that the whole world would suddenly stop one day all of a sudden.
"It was the worst crisis, when people were struggling with the pandemic and hunger at the same time. It was a trying time for me and my colleague Piyush Nagpal who was handling the camera."
"Crowds on the highways made us vulnerable. Possibilities of being exposed to the virus were very alarming. Yet, we had to report on the plight of the starving poor workers and their families.
"We had to report not for the sake of a news story, But, with a hope that it could shake the conscience of the concerned officials and even individuals."
When asked what he would like to say to any aspiring young journalist he had this to say, "Social media could be tempting. They may be driving the newsroom agenda for the time being. Tweets and social media trends could be curated into saucy pieces of a story. The real serious issues never make it to the top trends.
"But, I tell you, the real stories are still where they were when I began my career. One has to step out of the bank-like newsrooms and reach out. Real stories need to be looked, like the same era when there were little means of communication.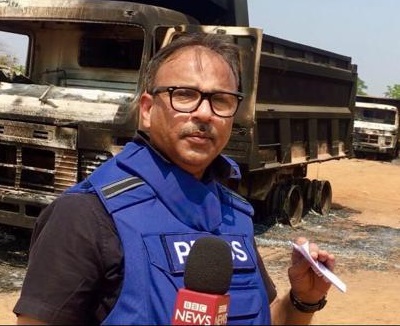 He adds, "In an era when fake news poses a big challenge, we need to be even more cautious with the keypads of mobiles in our hands tempting us to post any and every information that we see on the screen on our mobile phones.
This is leading to the spread of opinionated news pieces that are based on completely unconfirmed and unverified sources. The difference that I see now is that opinions are a part of the news.
"News is just news that is reported as it happens with authentic, verified and corroborated information. It cannot be opinionated. But every individual has the liberty to opinion.
"But, that should not reflect on journalistic work. Journalists are impartial. But not judges. Let the people not be deprived of their right to decide. A journalist cannot impose opinions in news reports.
"Journalism should not be confined just to curation of material available online without checking its authenticity. It should not be confined to gather visuals, sound bytes only.
"There are dedicated journals that carry only opinions. But the news should always be free from the personal opinion of journalists.
"The world needs Kindness, compassion, and love even more than it used to. And, we the journalists can pave the way for it. We should be firefighters rather than being seen as the ones who fan the flames."
---
This year's Asian Media Awards ceremony took place digitally on Thursday 19 November.
Previous recipients of an Asian Media Award include Krishnan Guru-Murthy, Waris Hussein, Art Malik, Mehdi Hasan, Nina Wadia, Anita Rani, Shobna Gulati & Faisal Islam.
The University of Salford are premier sponsors and partners to the awards include ITV, MediaCom, Reach PLC, M.E.N, & Press Association Training.
The awards are also supported by Manchester Metropolitan University, Routes Into Languages North West, AMT Lawyers, DKR Accountants, 6G Internet, Hilton Manchester Deansgate, Supreme Dream Events, Payal Events & Cleartwo.