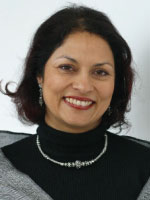 Chair of Performances Birmingham PLC & Previously with BBC for 25 Years
Anita is currently Chair of Performances Birmingham PLC (Town Hall and Symphony Hall), Chair of  Creative City Partnership, Director of Greater Birmingham and Solihull LEP (Local Enterprise Partnership), Governor of the RSC, Non-Executive Birmingham & Solihull Clinical Commissioning Group, Vice-Chair of the  Council of Warwick University.
Anita is chair of  the Leadership Commission for the West Midlands Combined Authority.
Anita's media career  has been extensive of which over 25 years with the BBC; from setting up the BBC Asian Network in the West Midlands to a news Correspondent, Documentary maker to  being Head of Political and Community Affairs in England then  Head and Editor of the BBC's Public Space Broadcasting and  President of Circom (a European wide group of public service broadcasters).
Anita has a strong commitment to public service and her past portfolio in this area ranges from being a Commissioner on The Chancellor's Commission (Warwick University), member of Birmingham's Social Inclusion Commission to being the past chair of mac (Midlands Arts Centre), a previous chair of a Junior and Infant School, member of the governing body of Birmingham City University to currently being a Trustee of the Children's University.
Anita has won several awards including the CRE's Race in the Media National Television News Award and the Windrush Broadcaster of the Year. In 2009 she was awarded an OBE for her services to Broadcasting and Communities.
In 2012 Anita was the High Sheriff for the West Midlands.  Anita has been awarded Honorary Degrees from Wolverhampton University, Birmingham City University and Warwick University. She is also a fellow of the Royal Society of Arts.