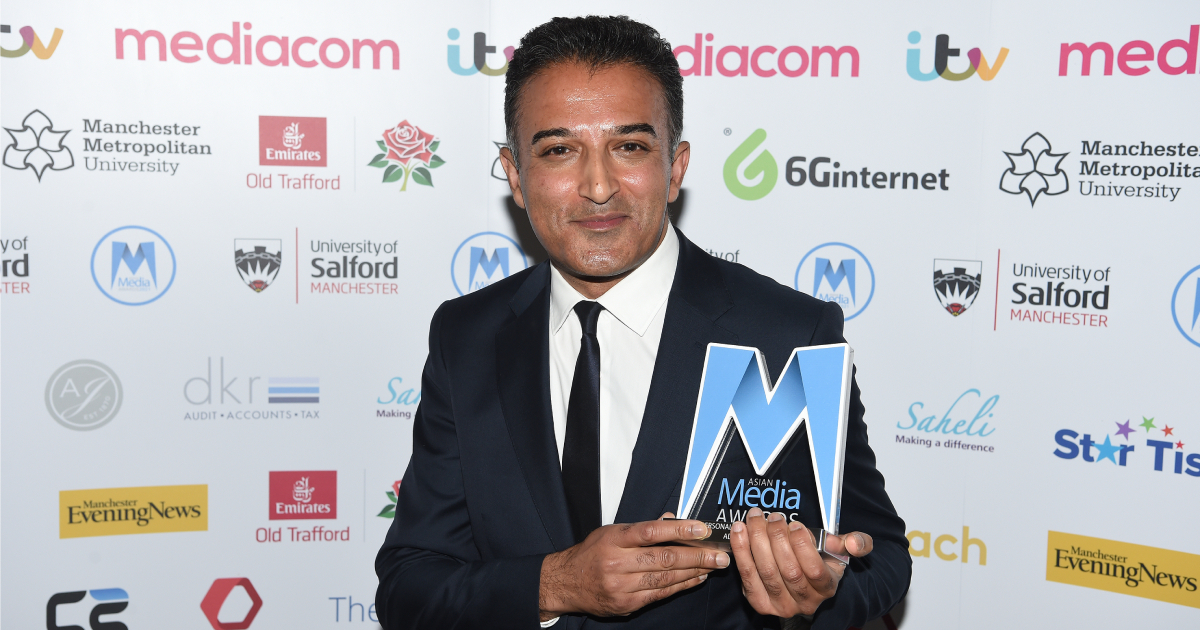 Click here to view full list of AMA 2021 winners.
The UK's leading broadcasters and journalists were honoured at the 9th Asian Media Awards in Manchester.
The first live Asian Media Awards ceremony in two years took place at the Emirates Old Trafford on Friday night (October 29) with some of the honours handed out by volunteers and local community groups.
The awards are supported by the University of Salford who are Premier Partners at the event.
Sky Sports news presenter Bela Shah hosted the 2021 ceremony.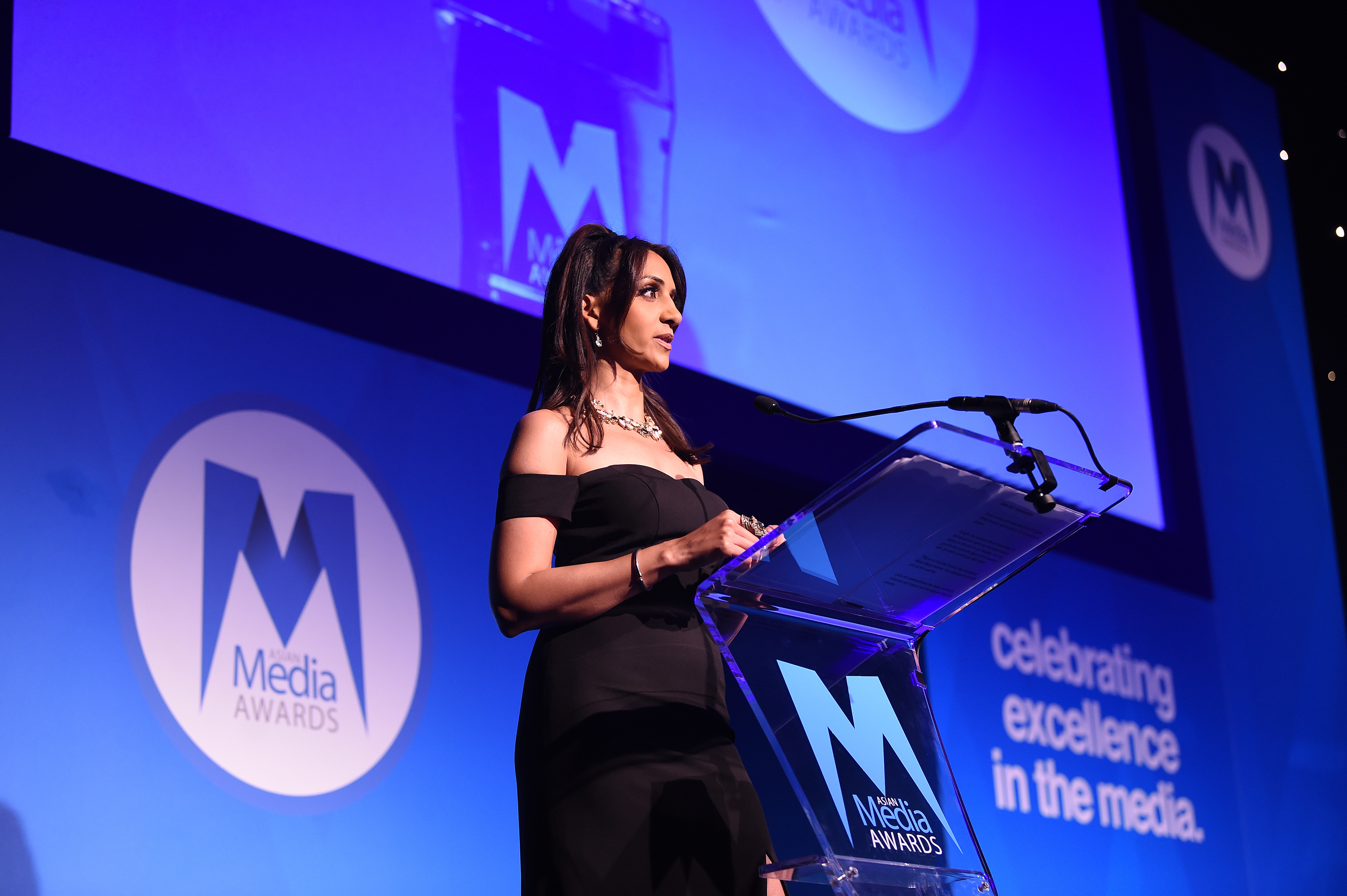 A special invitation was also extended to the ten 2020 winners and tributes were paid throughout the night to all those who were unable to be at the awards after a tumultuous 18 months.
Volunteers and community groups who had worked with AMA co-founder Umbreen Ali, who passed away last December following treatment for cancer, were invited to present awards on the night.
The ceremony was this year supporting the work of Manchester based women's organisation Saheli.
The event was held with Covid safety protocols with lateral flow testing on site and Covid passes checked on entry for all guests.
Adil Ray was named Media Personality of the year. In the past year the broadcaster took on one of UK television's most high-profile roles as a host and presenter on Good Morning Britain.
Through his work both professionally and privately the past two years, Adil Ray has been at the forefront in challenging false narratives and speaking out wherever he felt there was an injustice.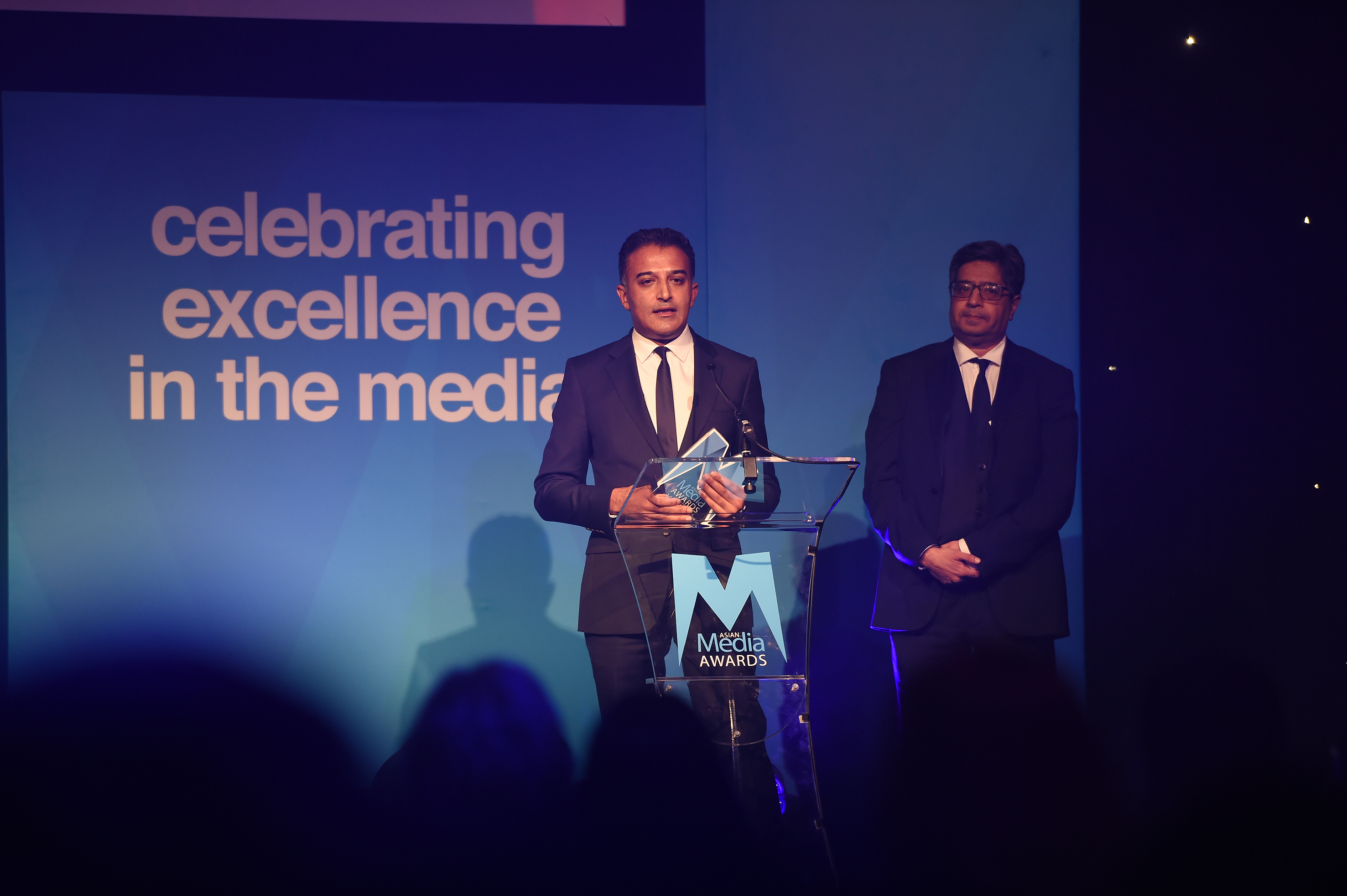 Accepting the award he spoke passionately about how he always found it important in his career to ensure he helped others to reach the position he had. And it was very much about 'sending the elevator back down'.
He said: "What I realised and it took me a while was that what Great Morning Britain (GMB) does for me and Lingo does is that it gives me a platform and that's incredibly important. I remember what one of my favourite actors, Jack Lemon said. He talks of a very simple thing – you send the elevator back down.
"It was something that stuck with me. That's what you have to do in this business and that is all that really matters."
Adil went on to speak of how important it also was to use his position to help influence people to take the Covid Vaccine – a campaign he was heavily involved with during the lockdown, calling it the 'greatest thing' he did.
Global Security Editor with ITV, Rohit Kachroo was named MMU Journalist of the Year award.  Rohit has been reporting and investigating some of the biggest stories such as the storming of the Capitol and was the only British journalist to be live at the scene of George Floyd's murder.
He said in a message: "An award like this I am really proud to have won. TV news stories are not about single journalists but teams. I am delighted to work with everyone. To the videographer and producer I am lucky enough to work with every day."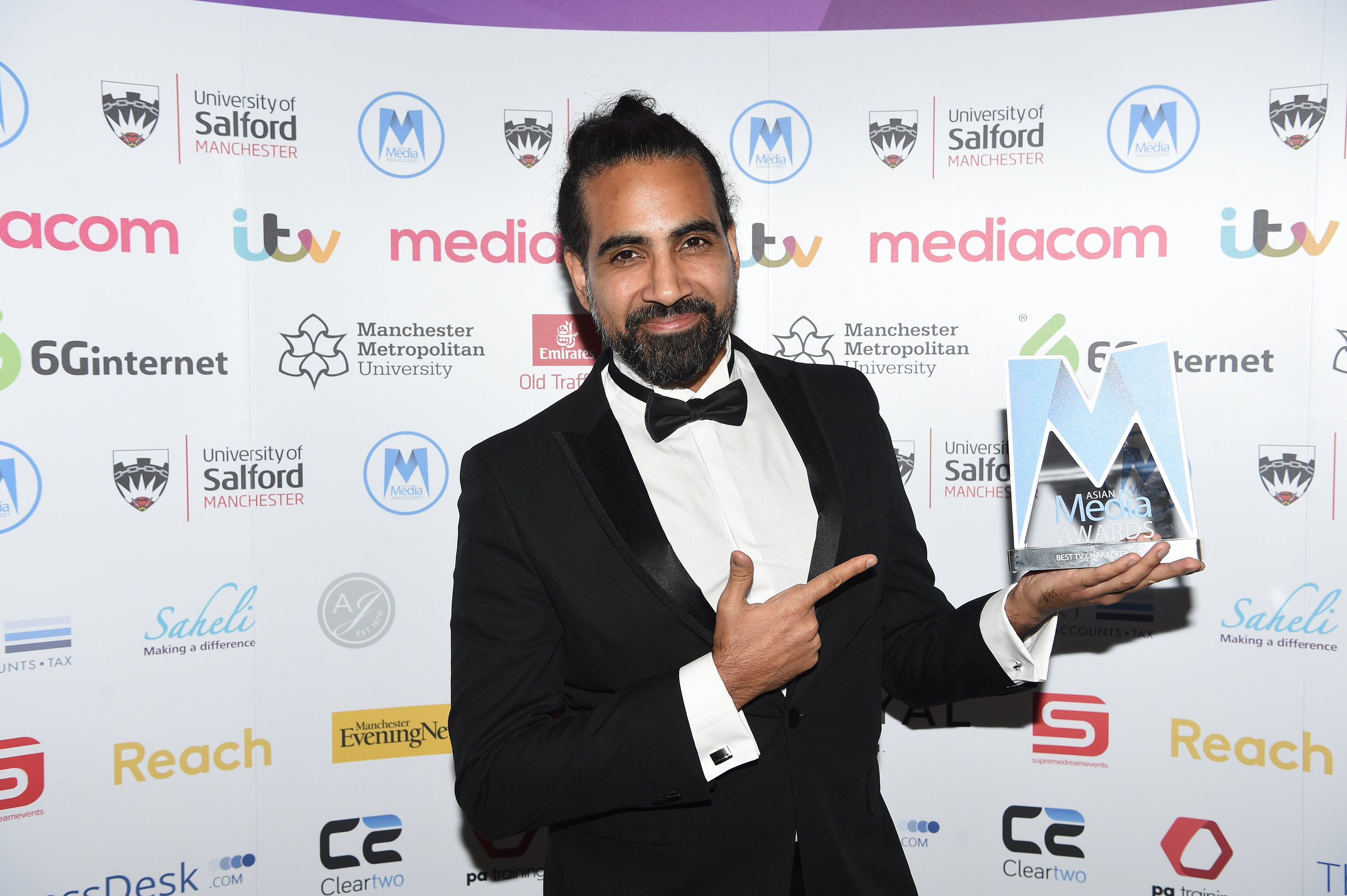 The Outstanding Young Journalist honour was won by 23-year-old Jeevan Ravindran. Jeevan is a journalist and presenter whose work has been showcased across multiple platforms
The Regional Journalist of the year went to Yasmin Bodalbhai, whilst Darshna Soni won the Report of the Year accolade for her interview with the family of the first child Covid victim in the UK.
Vaishali Bhardwaj was the recipient of the Sports Journalist of the Year category.
'Libya's Game of Drones', which explored the killed of a battalion of men won the Best Investigation Award.
The Outstanding Contribution to Media Award went to Lalita Ahmed. Lalita was a presenter on BBC television fronting special programmes on daytime television in the late seventies.
The programmes were mostly filmed in Urdu in a bid to reach out to those whose first language was not English.
She later went on to appear in a range of TV and film roles and also penned a number of Indian cookery books. Lalita is the mother of BBC journalist Samira Ahmed.
Lalita said; "I am happily retired mother of three loving children and a very proud grandmother of 6 wonderful grandchildren. I have enjoyed my hard work and God has been kind to me.
"Your recognition with this award is the cherry on top of the cake.
"My heartfelt thanks to you and your committee for giving me this honour. My good wishes and blessings to you all."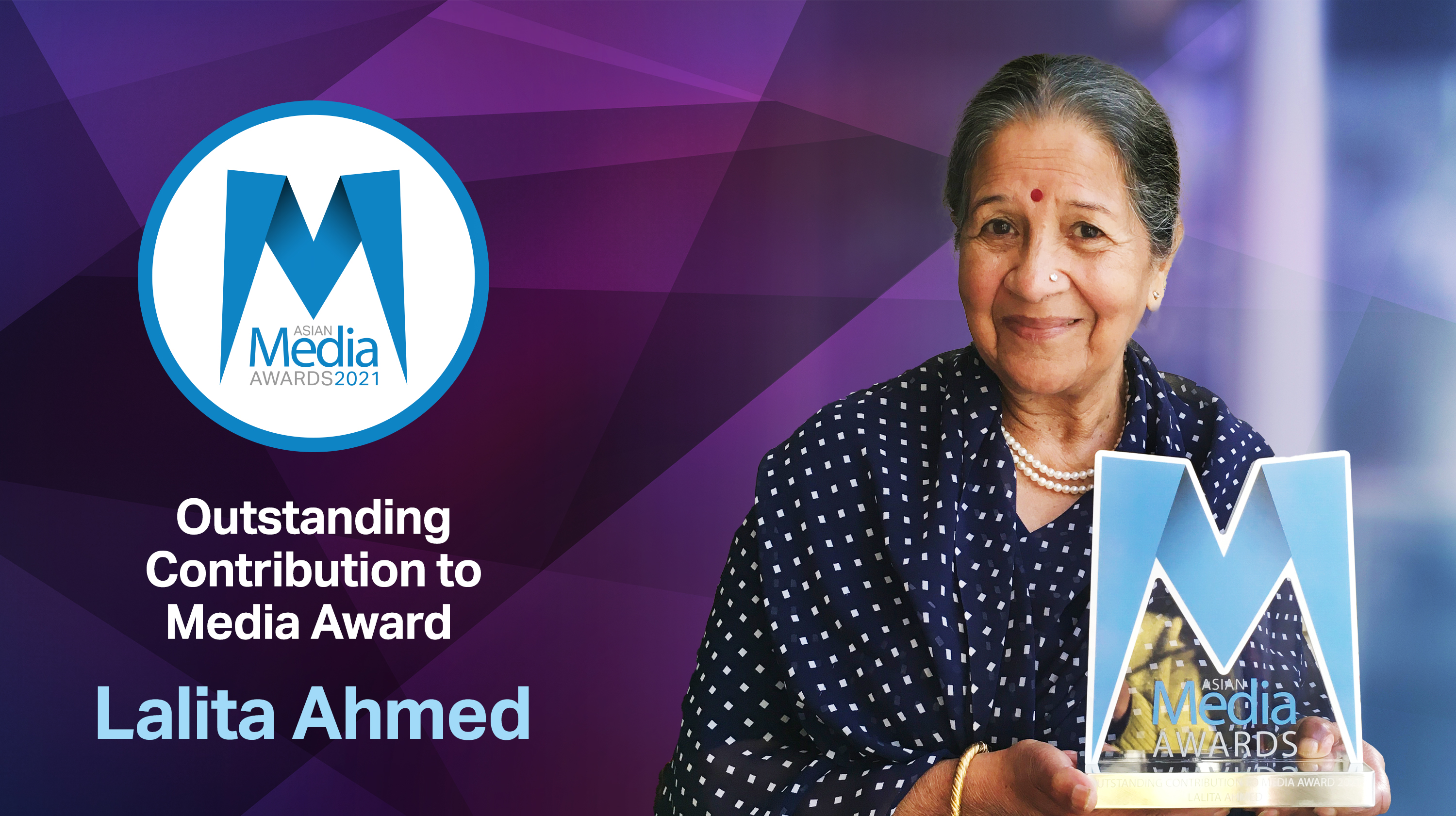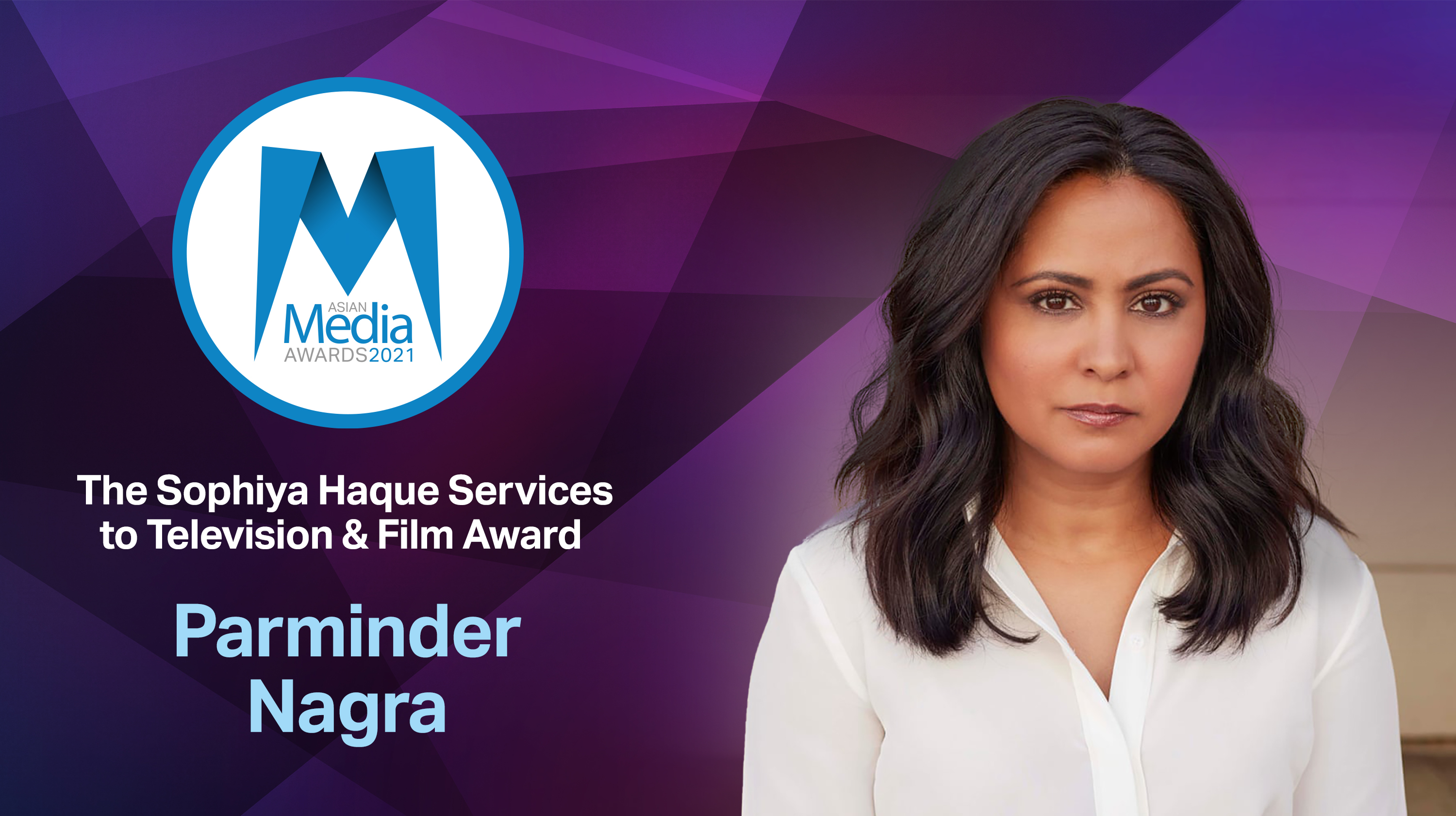 The Best TV Character award went to Jaz Deol for his portrayal of Kheerat Panesar in Eastenders. Jaz said on stage: "To hear your name being called in a room full of people you admire and respect is an experience in and of itself.
"It's surreal, emotional and overwhelming. In particular this one because it comes from MY community.
"To be embraced by such an audience and hearing those who came up to me afterwards share their feelings of connection to Kheerat Singh Panesar almost had me in tears."
The Sophiya Haque Services to Television & Film award was recipient for 2021 was Parminder Nagra.
'Full English' which retells the experiences of white women who married Pakistani men was named Best Stage Production.
An emotional Natalie Davies took to the stage and said: "I'm in absolute shock. Its me it's being quarter Pakistani and it means the absolute world and it means I fit in. So, thank you very much."
The Best Programme / Show honour went to 'My God, I'm Queer' a Behind The Facade Films production for Channel 4. The programme follows the journey of a bereaved fiancé who goes on a deeply personal journey to try and prevent a future tragedy.
In the radio categories, BBC Asian Network's Bobby Friction won Best Radio Show, whilst colleague Noreen Khan was named Radio Presenter of the Year.
The Radio Station of the Year accolade went to Sunrise Radio.
The Best Publication /Website honour went to Birmingham based DesiBlitz.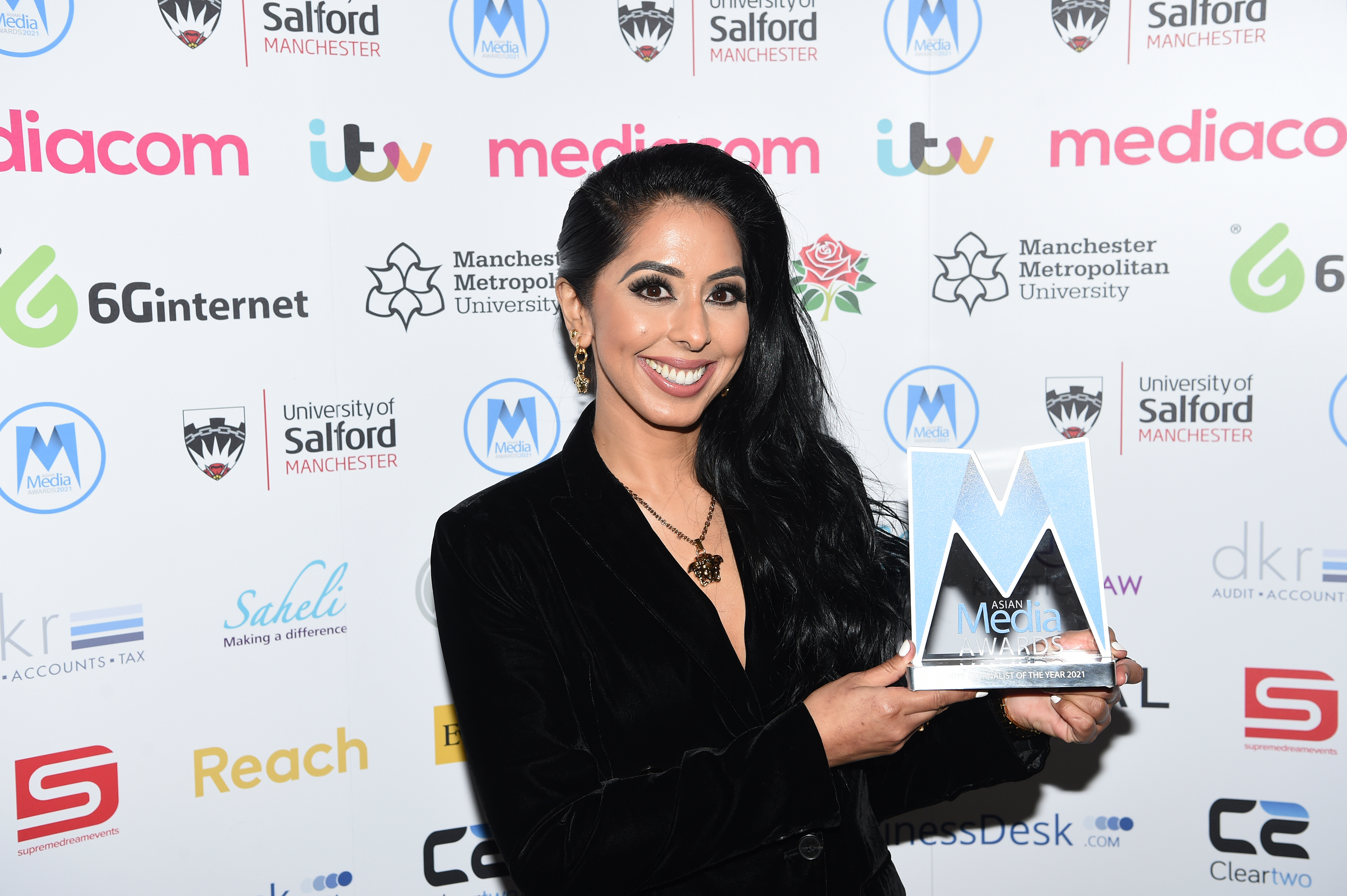 The Best Blog award which featured four unique blogs and vloggers was presented to Kiran Hothi and Sonam Kaur for 'NotYourWife'.
The newly created Best Podcast award was handed to Brown Girls Do It Too.
In the creative marketing categories Ethnic Reach won the much-coveted Media Agency of the year award. The 6g Internet Creative Media Award as awarded to The Football Association's 'Football and Me' campaign.
Chandni Sembhi was named AMA Best Newcomer. In the midst of a global pandemic which has had far-reaching affects across the creative industry Chandni launched 'SoYouWantToBeAJournalist' – a platform aiming to enlighten and inform those looking to forge a career into the media.
Chandni said: "It means the world to be recognised in this way for my work on SoYouWantToBeAJournalist, by such an outstanding organisation that nurtures and supports Asian people working in the media. I endeavour to continue to make the media industry a more diverse place to work, and want to thank the Asian Media Awards for providing me with the opportunity to achieve further visibility."
---
The Asian Media Awards 2021 ceremony took place on Friday October 29 at the Emirates Old Trafford in Manchester.
Previous recipients of an Asian Media Award include Krishnan Guru-Murthy, Waris Hussein, Art Malik, Mehdi Hasan, Nina Wadia, Anita Rani, Shobna Gulati & Faisal Islam.
The University of Salford are Premier Partners to the Asian Media Awards.
Partners to the awards include ITV, MediaCom, Reach PLC, Manchester Evening News, Press Association Training & TheBusinessDesk.com.
The awards are also supported by Manchester Metropolitan University, AMT Lawyers, DKR Accountants, 6G Internet, Emirates Old Trafford & L.C.C.C, Supreme Dream Events, Payal Events & Cleartwo.
Women's organisation Saheli were official charity partners in 2021.