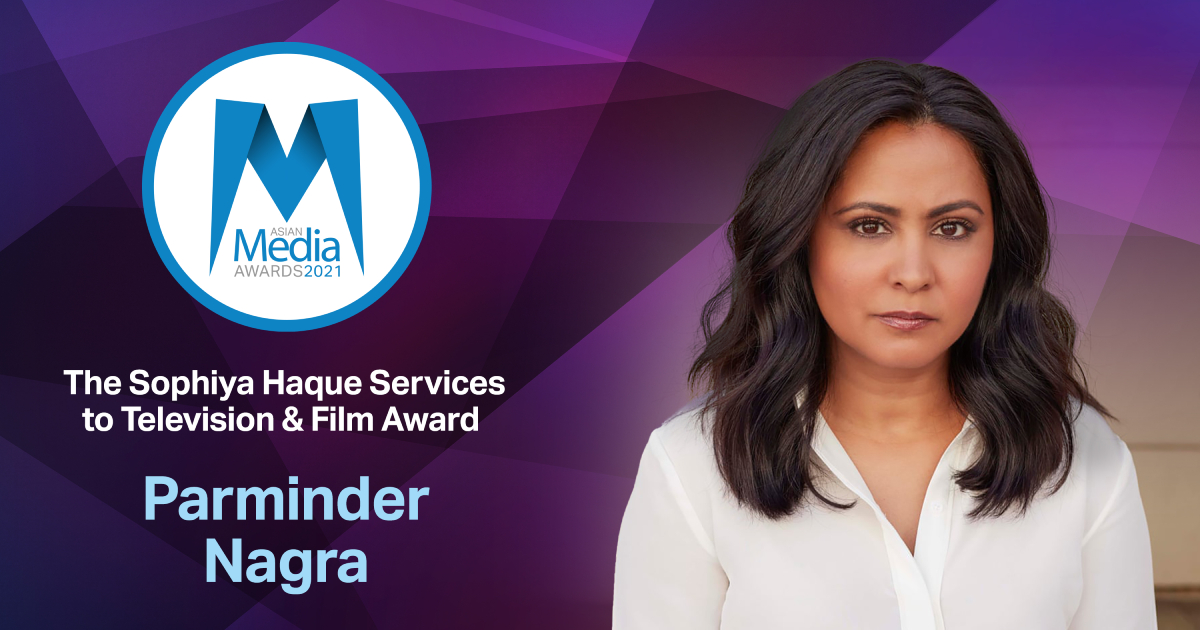 The Asian Media Awards in 2021 honoured someone who from a young age has been an inspiration to actors, film makers and the creative arts.
The first live AMA's ceremony in two years took place at the Emirates Old Trafford on Friday night (October 29) with some of the honours handed out by volunteers and local community groups.
The Services to Television and Film Award is named after the late Coronation Street and stage actress sadly passed away in 2013 aged 41. Attending the event in Manchester was Sophiya's sister Sayera and niece Nirvana Jamieson.
Whilst her wide-ranging roles on television and film are well known, Parminder has been keen to call for more genuine diversity on screen and spoken regularly of her own experiences in the media both here and on Hollywood.
Parminder is best remembered for her first role where she played a student trying her best to balance her culture for her love of football. The film celebrates its 20th anniversary in 2022 and is still regarded as the breakthrough story that helped to define a generation.
She went on to play the role of Dr Neela Rasgotra in the NBC medical drama series ER from 2003 to 2009. Parminder is also known for her roles as Meera Malik in the NBC crime drama series 'The Blacklist' and in Marvel's Agent of S.H.I.E.L.D.
In 2016, she joined the second season of British arctic psychological thriller Fortitude and in 2018 starred in the Netflix series 13 Reasons Why as Priya Singh, the new counsellor of Liberty High.
She has also lent her voice to productions and voiced Cassandra in Batman: Gotham Knight.
Leicester born Parminder landed her first role in a lead at the Haymarket Theatre. She later left the city and headed to London was cast as the Princess in the pantomime Sleeping Beauty at the Theatre Royal Stratford East. She then worked with Tara Arts and Tamasha.
The city of Leicester was something that was always close to Parminder's heart and when she finished filming the eleventh season of ER in 2005, she returned to star in 'Love in Little India' directed by Amit Gupta.
Presently, Parminder is filming for ITV's new detective drama 'DI Ray'. The four-part drama set in Birmingham is written by Maya Sondhi and produced by Jed Mercurio.
From where she sent this message:  "A huge huge thank you to the AMA's. It's a huge honour and I'm completely humbled. I am so so sorry that I couldn't be there for the event, we are currently in the throws of shooting our new drama DI Ray for ITV helmed by the force that is  Jed Mercurio and written by the equally fantastic Maya Sondhi.
"So please forgive my absence. I'm truly grateful and I thank you so much!"
---
The Asian Media Awards 2021 ceremony took place on Friday October 29 at the Emirates Old Trafford in Manchester.
Previous recipients of an Asian Media Award include Krishnan Guru-Murthy, Waris Hussein, Art Malik, Mehdi Hasan, Nina Wadia, Anita Rani, Shobna Gulati & Faisal Islam.
The University of Salford are Premier Partners to the Asian Media Awards.
Partners to the awards include ITV, MediaCom, Reach PLC, Manchester Evening News, Press Association Training & TheBusinessDesk.com.
The awards are also supported by Manchester Metropolitan University, AMT Lawyers, DKR Accountants, 6G Internet, Emirates Old Trafford & L.C.C.C, Supreme Dream Events, Payal Events & Cleartwo.
Women's organisation Saheli were official charity partners in 2021.