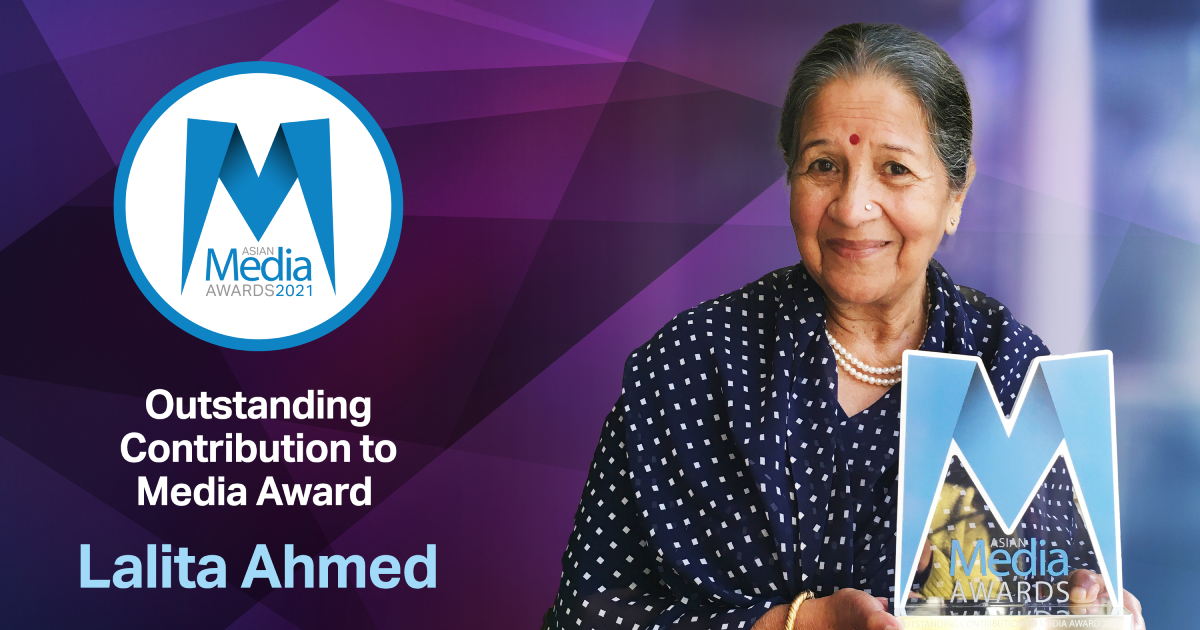 Lalita Ahmed, a pioneer of British TV in the 1960's and 70's was honoured with the Outstanding Contribution to Media Award 2021.
The first live AMA ceremony in two years took place at the Emirates Old Trafford.
In 2021, the Asian Media Awards recognised the efforts and contributions of someone who was amongst the first generation of media professionals to work on British television.
Lalita Chatterjee was born in Lucknow in India. Whilst her mother tongue was Bengali she went on to learn Hindi and Urdu. She graduated with a science degree from Lucknow University and got a job as a newsreader, on India's new state TV channel Doordarshan in Delhi in 1959.
In 1961 Lalita was awarded a government bursary to travel to the UK to train further as a broadcaster. She arrived in London and began working for the BBC World Service at Bush House.
She joined the BBC's Asian Unit at Pebble Mill studios in Birmingham a few years later, becoming a TV presenter on Naya Zindagi Naya Jeevan. She went on to present the women's magazine programme 'Gharbar'.
Gharbar' – a mid-week life-style programme for Asian families in Britain, broadcast on BBC2 started in 1977. It ran for ten years and offered practical advice and discussions on everything from health and safety, to shopping and education, to help families settling into British life.
The programmes were mostly filmed in Hindustani, in a bid to reach out to those whose first language was not English.
Lalita wasn't just broadcasting to Asians in Britain, though. With the nation at large increasingly in love with Indian food, she helped introduce a whole country to Indian Cookery with her lunchtime cookery slots on BBC's Pebble Mill at One TV programme in 1978.
She went on to publish a number of popular cookery books including two for the BBC, starting with 'Indian Cookery from Pebble Mill' and the first Indian Cookbooks for Marks and Spencer and British Home Stores.
At the same time Lalita had a parallel acting career. On TV she appeared in such British shows such as The Bill, Canterbury Tales, Casualty, Ruth Rendell Mysteries, and Dangerfield. Her feature films include Bhaji on the Beach, Love Aaj Kal, Brick Lane, The Big Battalions, Wild West, Robert Rylands's Last Journey co-starring Ben Cross, Bollywood Queen, and David Cronenberg's Eastern Promises.
Lalita Ahmed is now retired and living in London near her three children and six grandchildren.
She said; "I have enjoyed my hard work and God has been kind to me. Your recognition with this award is the cherry on top of the cake.
"My heartfelt thanks to you and your committee for giving me this honour. My good wishes and blessings to you all."
In a message to guests from her home she recollected, "When I arrived 60 years ago in Great Britain I had no idea there would be an Asian Media Awards and I would be receiving one.
"The programmes we did in the 1960s and 1970s were all new territory. It was a very exciting time and I worked with some very exciting people.
"The Asian community were coming into country and establishing themselves and we made the programmes to suit them and help them."
---
The Asian Media Awards 2021 ceremony took place on Friday October 29 at the Emirates Old Trafford in Manchester.
Previous recipients of an Asian Media Award include Krishnan Guru-Murthy, Waris Hussein, Art Malik, Mehdi Hasan, Nina Wadia, Anita Rani, Shobna Gulati & Faisal Islam.
The University of Salford are Premier Partners to the Asian Media Awards.
Partners to the awards include ITV, MediaCom, Reach PLC, Manchester Evening News, Press Association Training & TheBusinessDesk.com.
The awards are also supported by Manchester Metropolitan University, AMT Lawyers, DKR Accountants, 6G Internet, Emirates Old Trafford & L.C.C.C, Supreme Dream Events, Payal Events & Cleartwo.
Women's organisation Saheli were official charity partners in 2021.