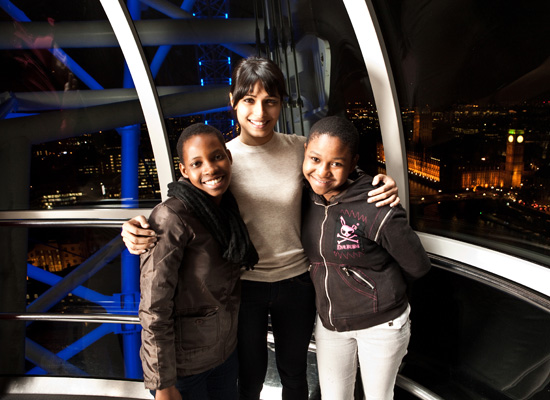 The Asian Media Awards 2015 are supporting the world's biggest campaign for girls' rights.
Plan International's flagship 'Because I am a Girl' campaign helps protect girls from FGM, child marriage and other forms of violence, and ensures that they can go to school and have their voices heard. 
The 'Because I am a Girl' campaign empowers girls and boys to become agents of change.
Putting children's voices at the centre of the social movement is a core belief that underpins Plan International's work and their desire to create lasting change.
Girls continue to be amongst the most excluded and discriminated people in the world.
Education is a key human right, but at least 1 in 5 adolescent girls around the world is denied their right to an education by the daily realities of poverty, conflict and discrimination.
Every day, girls are taken out of school and forced into work or marriage where they risk isolation and abuse. Missing out on school can mark the end of a girl being able to choose her own future.
With education, protection and support, girls can transform their lives and their communities, becoming a powerful force for change.
So investing in girls is one of the best interventions that can be made to end poverty for all.
Protecting the rights of adolescent girls, keeping them safe from harm, giving them access to a quality education and delaying marriage or childbirth means they can break the cycle of poverty and look forward to a brighter future.
Mike Thiedke, Director of Public Engagement will be speaking on behalf of Plan International at the Asian Media Awards Shortlist Announcement on Monday September 28 at ITV, The London Studios.
How you can help Plan UK
Plan is a global children's charity which works with children in the world's poorest countries to help them build a better future. A future you would want for all children, your family and friends.
The charity has 95,000 sponsors in the UK and 1 million sponsored children worldwide. Sponsorship starts at £15-a-month and, rather than going to individual children and their families, funds projects to improve schooling, health, nutrition and livelihoods across communities.
Plan's activities are guided by the principals of the United Nations Convention on the Rights of the Child and other internationally-recognised human rights treaties, and is informed by the local context and knowledge of the country and region.
To donate and to find out further information please see www.plan-uk.org
This year's Asian Media Awards returns to the Hilton Manchester Deansgate on Thursday October 29.
Before then a shortlist announcement will take place at ITV, the London Studios on Monday September 28.
Previous recipients of an Asian Media Award include Krishnan Guru-Murthy, Waris Hussein, Nina Wadia and Anita Anand.
The University of Salford are premier sponsors and partners to the event include ITV, MediaCom & Press Association Training.
For further information please e-mail umbreen@asianmediaawards.com.