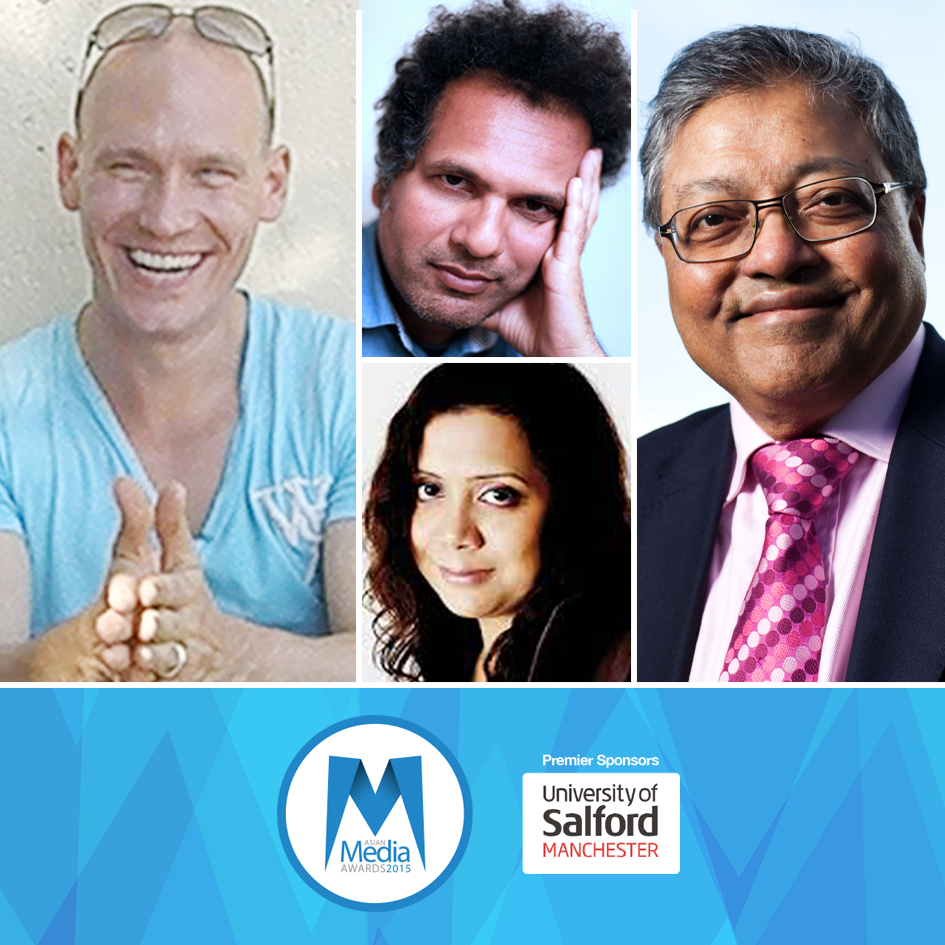 The speakers for this year's Asian Media Awards shortlist announcement have been revealed.
Writer and broadcaster Sarfraz Manzoor will be joining ITV news producer Roohi Hasan and journalist and broadcaster Mihir Bose at the shortlist announcement which is due to take place on Monday 28 September at  ITV, The London Studios.
As ITV celebrates its 60th anniversary in 2015, guests will be welcomed to the event by Asif Zubairy, Commissioning Editor for ITV Entertainment.
Speaking on behalf of official charity partner Plan UK will be Mike Thiedke, Director of Public Engagement.
Professor Allan Walker, Dean of the School of Arts and Media from the University of Salford will be speaking on their support and partnership with the awards.
Sarfraz Manzoor has been a print journalist for twenty years. His work has most often been featured in the Guardian but he has also written for the Times, the Sunday Times Magazine, the Independent, the Telegraph, the Spectator and Esquire magazine.
He is also a familiar voice on Radio 4 where he has presented documentaries for more than ten years on subjects as varied as Indian jazz, black cowboys, Johnny Cash and John Lennon. 
Roohi Hasan is a senior producer working for ITV News at ITN with extensive experience in current affairs.
Roohi's journalism has taken her around the world and she has received a number of accolades including her series being shortlisted for a prestigious Broadcast Award in 2013.
Roohi also won 'Media Professional of the Year' in the Asian Women of Achievement Awards very early on in her career at ITN for quickly climbing high in the competitive world of broadcast journalism.
Mihir Bose is one of the world's foremost sports journalists. As well as writing for the London Evening Standard he continues to be a commentator on social and historical issues as well as sport for a range of outlets including the BBC, the Financial Times, the Independent and the Sunday Times. 
He has written for nearly all the major UK newspapers, editing the Inside Track column of the Sunday Times, launching the Inside Sport column in the Daily Telegraph and editing several business publications. He has presented programmes for radio and television and was the BBC's first sports editor. He has written 28 books including Bollywood: A History.
His sports books include Game Changer: How the English Premier League Came to Dominate the World, The Spirit of the Game: How Sport Made the Modern World and the award winning History of Indian Cricket.
This year's Asian Media Awards returns to the Hilton Manchester Deansgate on Thursday October 29.  
Previous recipients of an Asian Media Award include Krishnan Guru-Murthy, Waris Hussein, Nina Wadia and Anita Anand.
The University of Salford are premier sponsors and partners to the event include ITV, MediaCom & Press Association Training.
The 2015 AMA's will be supporting Plan UK's 'Because I am a Girl' Campaign.
The Asian Media Awards 2015 is supported by University of Salford, Hilton Manchester Deansgate, Carter Law Solicitors, Manchester Metropolitan University, Routes into Languages, Evoque Medical, Zac Dean, Ride Leasing, AMT Lawyers, ITV, MediaCom, Press Association Training, Supreme Dream Events, Cleartwo, Payal, Plan UK & Because I Am A Girl.
For further information please e-mail umbreen@asianmediaawards.com.